Wine Region of the Month
WINEry OF THE MONTH – Daou vineyard
March 1 – 28, 2017


DAOU was founded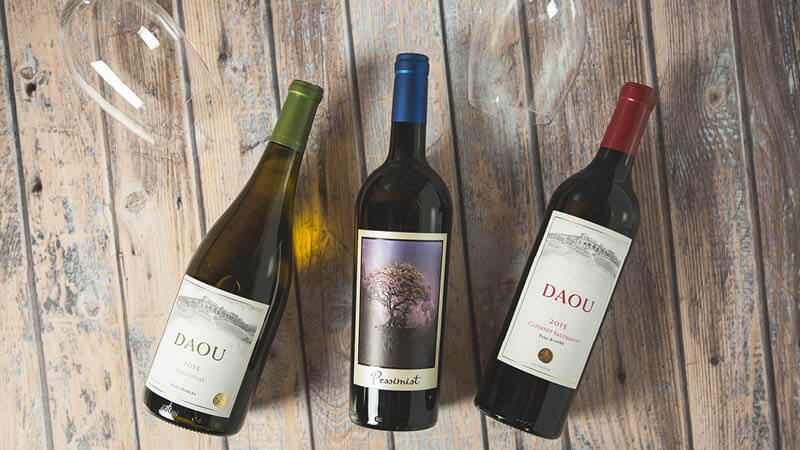 in 2007 by brothers Daniel and Georges Daou. Growing up in France, the two wanted to be part of the entrepreneurial revolution. Daniel, the winemaker, revered Cabernet Sauvignon and wanted to create one as good as any in the world. The brothers looked at vineyard land in Napa, Sonoma, Southern California, Spain's Ribera del Duero, and Argentina's Mendoza region. Eventually, they found their way to California's central coast, where they discovered a gem with historic pedigree. Hoffman Mountain Ranch (HMR) was a famous Paso Robles property in the Santa Lucia Mountains planted by Dr. Stanley Hoffman with the assistance of André Tchelistcheff in 1964. Great soil and pedigree. Their vision is to produce California "first growth" wine, fulfilling the district's destiny as the world's next benchmark for premiere varietals. They have included a nod to Burgundy with their Estate Chardonnay and to the Rhone region with their Chemins de Fleurs bottling. DAOU Vineyards may be the semi-new kid on the block but they are developing quickly into the next super star of the Paso Robles region.
---
Chemin de Fleurs
Reg $34.99 WROM Special $29.99
Translated to 'trail of flowers', this Rhone-like blend of Grenache Blanc, Roussanne and Viognier creates a wine of sensual beauty and harmony. With the hue and brilliance of morning sunlight, this wine offers vibrant aromas of pineapple, banana, fresh cut pears and warm toast. Spicy notes of cinnamon and nutmeg complement the wet stone and lemon chiffon, with nice vanilla accents. Rich, mouthwatering and voluminous on the palate, the wine expresses generous flavors of casaba melon, ripe pear, honey and figs. Hints of papaya and white peach round out a crisp, yet elegant finish that lingers steadily and gracefully. The perfect match with Cassoulet, our handmade Bristol Farms pork and poultry sausage and Asian fare. This is a sort of "wine for all seasons and cuisine". 95 points Connoisseurs Guide to California Wine  2014.
Chardonnay
Reg $22.99 WROM Special $16.99
A powerful nose of smoky oak, buttered toast and lemon chiffon. Green apple, vanilla bean and pear accents are rounded out with hints of honey, almond and nutmeg. Lush and succulent on the palate, delivering flavors of Crenshaw melon, pineapple and honeysuckle, with notes of citrus, spiced apple and hazelnut. A big and fleshy Chardonnay, exhibiting the great varietal character of this noble grape, holding its power through a rich, smooth and persistent finish. Serve with our own stuffed chicken, pork chops on the grill and salmon or shellfish cakes. 90 – 92 points Robert Parker's Wine Advocate 2015.
Chardonnay Reserve
Reg $41.99 WROM Special $36.99
This rich and voluptuous wine offers aromas of lemon, peach, vanilla and toasty oak. Floral and spicy notes of honeysuckle, star jasmine, nutmeg and almond follow. Lush, weighty, and mouth- filling on the palate. A silky smooth texture delivers flavors of pineapple, lemon cream pie, honeydew melon and sweet ginger. Secondary layers reveal hints of toffee, hazelnut and toast. The finish is graceful and elegant, with essences of papaya and spiced apple, and a perfect crispness at the end. 90 – 92 points Robert Parker's Wine Advocate 2015.
Cabernet Sauvignon
Reg $27.99 WROM Special $24.99
Smooth, yet robust aromas of blackberry, black currant, and blueberries are infused with sage, dried herbs, espresso bean, and dark chocolate. Secondary aromas of hints of cigar box and vanilla fill the nose. Bold and full-bodied on the palate, this wine offers flavors of dark cherry and cassis with subtle mocha and truffle nuances. A robust, smooth texture of pure blackberry fruit and coffee brings this balanced wine a well-rounded finish backed by a firm tannin structure. A great marriage of flavors when paired with steaks, grilled veggies, burgers and our own handmade meatloaf. 90-92 points, Robert Parker's Wine Advocate 2015.
The Pessimist Red Blend
Reg $29.99 WROM Special $21.99
The Pessimist is a very dark wine that offers gorgeous crème de cassis, black cherry, boysenberries, and toasted vanilla beans accompanied with sweet tannins and purity of fruit. Firm, yet elegant tannins balance the powerhouse of fruit and lead to a strong, lasting finish of black pepper, tobacco, and spicy oak. The blend is dominated with Syrah, followed by Petite Sirah, Zinfandel, Tannat and Grenache. 2015 vintage not yet rated – the 2014 received 90 points – Robert Parker's Wine Advocate. 
---
All selections are 750ml unless otherwise noted. While Bristol Farms takes every effort to ensure adequate supply, all offerings are subject to availability