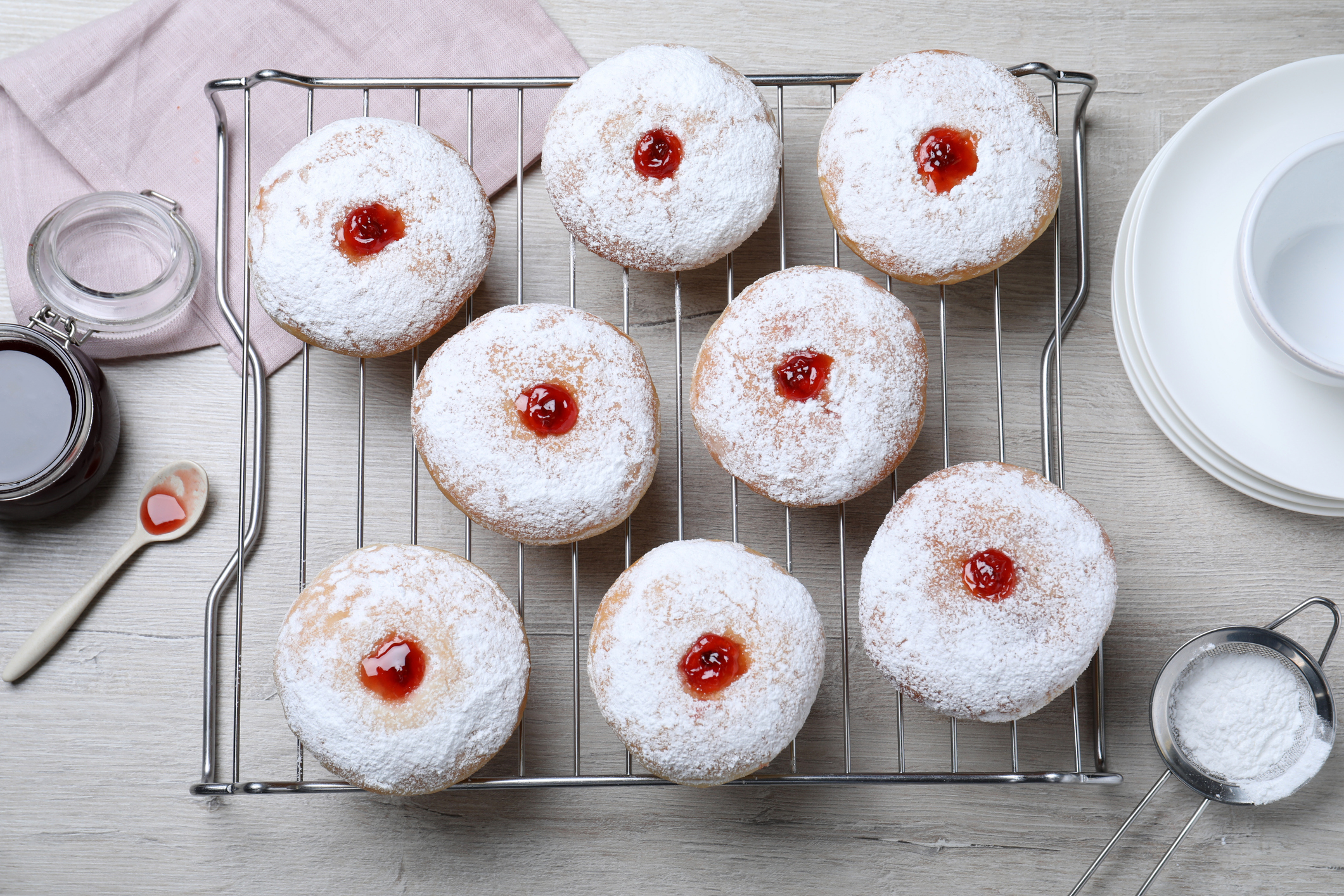 The Festival of Lights is a time for enjoying traditional fried foods like sufganiyot  -- Israeli jelly donuts.
Serving Size

12

Cook Time

2 minutes
Ingredients
1 packet active dry yeast

3 cups and 1 tbsp all-purpose flour, separated

1/4 cup granulated sugar

1/4 cup butter melted

1/2 teaspoon vanilla extract

2 large egg yolks

1 1/2 cups strawberry jam

1 1/4 cups room temperature water

1 cup powdered sugar

1 pinch kosher salt

8 cups Bristol Farms Avocado oil
Directions
In a small bowl, combine 1 tbsp of flour with the active dry yeast, 1 tbsp sugar, and the water. Mix thoroughly and cover until the mixture begins to foam.

In a separate and larger bowl, combine the remaining flour, sugar, melted butter, egg yolks, and a pinch of salt. Slowly stir in the yeast mixture into the large bowl.

Once smooth, cover the bowl with a clean kitchen towel and set aside for about 2 hours.

Once the dough has risen, punch it down and move it to a lightly floured surface.

Roll out the dough until it is about 3/4 inches thick.

Use a 3-inch round cookie cutter to cut circles out of the dough. Reroll the scraps once.

Transfer each circle of dough to a parchment-lined baking sheet and cover again with a kitchen towel. Let it rise for about 45 minutes.

Pour your avocado oil into a large saucepan until it is about 4 inches deep. Heat the oil over medium-high heat until a thermometer reads 350°. Line a baking pan with several layers of paper towels.

Fry the dough in batches. Fry each side for about 1 minute or until it is golden and then transfer on top of the paper towel-lined baking sheet.

Once finished, allow the donuts to cool for a few minutes before filling.

Before piping, use a food processor to smooth out the strawberry jam and make it softer. If you don't have a food processor, simply stir the jam by hand for a few minutes in a bowl.

Transfer the jam into a piping bag and fit it with a 1/4-inch tip.

Insert the tip into the top of the doughnut and fill until you see jam poking out of the hole.

Once each sufganiyot is complete, dust the entire batch with powdered sugar right before serving.