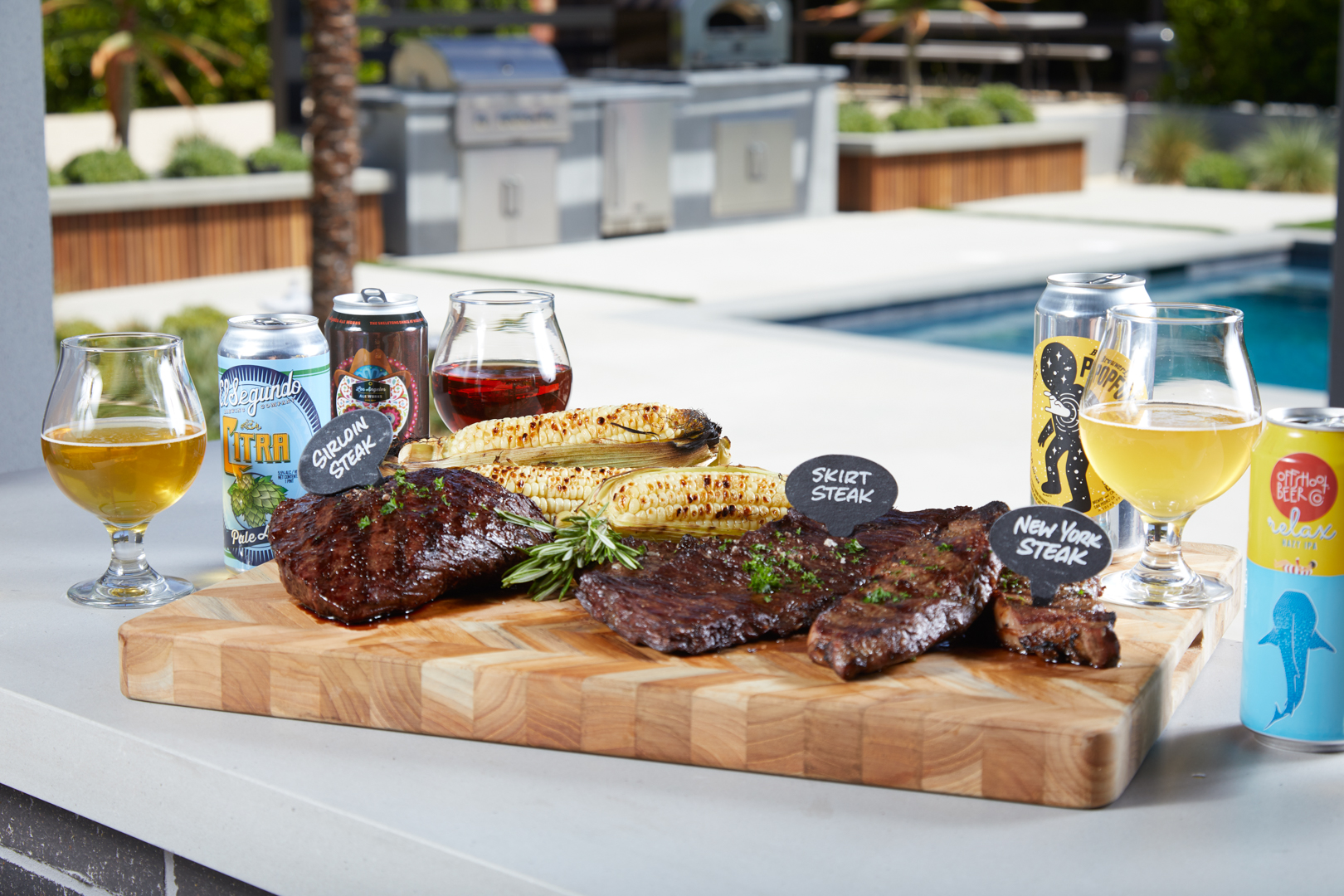 Take your guests a tasty trip with a twist on pairings, starring our stellar steaks, marinades, and brews. Get to the grill, because there's still a lot of summer left to enjoy with some fun al fresco!
Sirloin Steak + Raspberry Chipotle BBQ Sauce
Although it's on the lean side, sirloin steak offers the thick cut and full flavor that meat lovers crave. Want to add a touch of sweet smoky flavor they'll really love? Look no further than our Raspberry Chipotle BBQ Sauce — full of vibrant berries, roasted jalapeño, and chipotle peppers — it's the perfect marinade or dipping sauce for your sirloin.
Beer Pairing: Offshoot Hazy IPA
Create a fruit-forward pairing with the Offshoot Hazy IPA and our Raspberry Chipotle BBQ Sauce. This soft and smooth beer brings citrus-forward notes and tropical vibes all the way to its mellow finish.
Skirt Steak + Thai Chili Lime Marinade
Skirt steak (similar to flank steak), is a long and flat cut known for its bold, beefy flavor. That's just about perfect, but you can make it even tastier with our spicy and citrusy Thai Chili Lime Marinade! Made with ginger, lime, and cilantro, these fresh flavors are sure to brighten his day.
Beer Pairing: Popfuji Pilsner
Popfuji Pilsner is light, smooth, and refreshing, creating the perfect contrast for our spicy Thai Chili Lime Marinade. Pro tip: Stock up with an extra six-pack, because this easy-drinking pilsner is practically made for summer.
New York Strip Steak + Honey Sriracha BBQ Sauce
Honey and sriracha? Trust us, they make the perfect pair in our Honey Sriracha BBQ Sauce. Juicy New York Strips don't necessarily need anything extra, but everyone will love this one-two punch of sweet-heat.
Beer Pairing: Dead Cowboy Ale
Balance out the sweetness of the Honey Sriracha BBQ Sauce with the malt-forward Dead Cowboy Ale. This red lager has a lower ABV than most brews with a dry finish that your guests are sure to love.