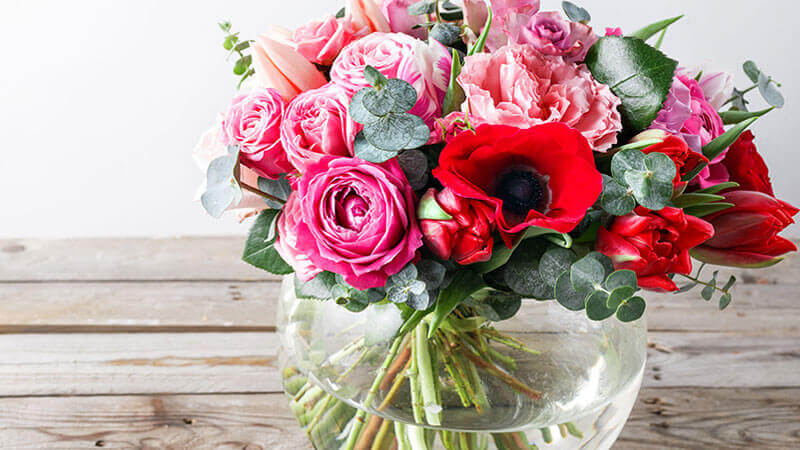 This Mother's Day, show Mom how special she is with a beautiful bouquet. Our Floral Department has everything you need and our team members are ready to assist you!
You'll need three kinds of florals to create the perfect arrangement:
Thrillers are the centerpiece that draw your eyes to the bouquet. Think roses, lilies, peonies, tulips, sunflowers, hydrangeas, etc.
Fillers are a necessary part of building out your bouquet. Baby's Breath, lilac, pom pom daisies, heather, and alstromeria are a few striking options.
Greenery refers to non-flowering stems added to provide balance. Pink and white local wax flowers, tree fern, Salal Tips (lemon leaves), assorted Eucalyptus, and myrtle are all popular choices.
Create a color palette around your centerpiece flowers, choosing complementary fillers and greenery to create a cohesive look.
Arrangements
Start with your vase. Whether you go classic with a beautiful glass vase, or farmhouse chic with a mason jar or metal container, starting with an appropriately sized vessel is essential. You want your bouquet to stay upright and filled with water. Pro tip: to keep flowers in place, use wet floral foam and create a grid with clear tape.
Once you've chosen your florals, the fun begins:
Optional: Use tape to create a grid.
Cut each stem on an angle before placing it into the vase. This keeps them fresh and beautiful for longer.
Place your thriller florals into the grid, positioning so that they are evenly distributed.
Begin adding fillers and greenery, alternating so they are evenly placed. Add your smallest flowers last (like Baby's Breath), so they stay fluffy.
Once all florals are added, take a few steps back to look at it from another angle. Then make any necessary adjustments.

Bouquets
To hold your bouquet together, you'll need ribbon, floral tape, twine, or rubber bands.
Clear an area to build your bouquet.
Start with the largest thriller flower as the centerpiece, holding it in your hand.
Begin to layer in filler and greenery around it. Then, add the next largest flowers, evenly spacing them apart with filler and greenery. The goal is to create a balanced look of thriller, filler, and greenery.
Once all the flowers have been added, use floral tape, twine, ribbons, or rubber bands to secure the flowers into place.
Then, use a sharp pair of shears to cut each stem to an even length.
Remove any excess leaves from the stems and wrap with a large ribbon. Use the ribbon to cover the floral tape, twine, or rubber bands, and for a bit of flair.
Not in the mood to DIY? Let us help you with a custom bouquet or pick up a show-stopping floral arrangement in our Floral Department. Don't forget to grab a card and chocolates!