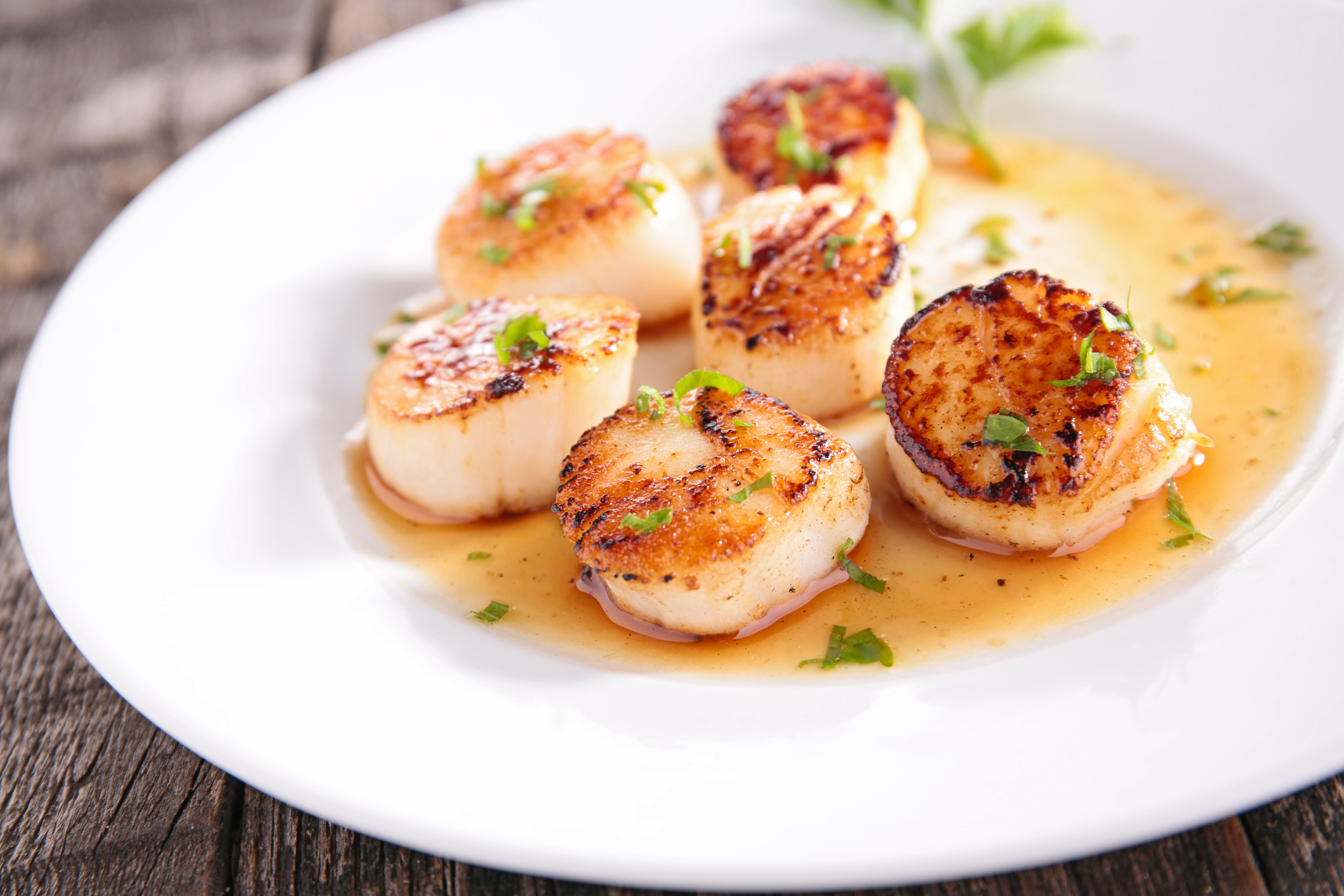 If you love scallops, you already know they're buttery and uniquely satisfying. Still, beyond their melt-in-your-mouth goodness, they're also surprisingly healthy.
Scallops can boost your physical and mental energy with protein, zinc, vitamin B12, and more key compounds. They're also rich in omega-3 fatty acids — healthy fats that can help balance your cholesterol levels.
Besides, our selection can't be beat! From Jumbo to extra-sweet Peruvian, all of our scallops are sustainably sourced to ensure seafood perfection.
Ready to catch the wave? Check out our favorite preparations and pairings to enjoy delicious scallops at home!
Our Guide to Scallops
Let's Get Cooking
Pan-searing and grilling are the most popular ways to make scallops, but there's also ceviche! Whether cooked or raw, here's how to make your dinner extra delicious.
Pan-Sear
Between the crispy exterior and the creamy middle, the texture of pan-seared scallops is pure decadence. Simply melt some butter or oil over a sauté pan and add your scallops. Sear each side for about 1 1/2 minutes before seasoning with salt, pepper, and a zesty squeeze of lemon. Yup, it's really that easy!
Grilled
For a slightly smoky and charred flavor, skewer your scallops through the sides and get to the grill. Scallop kabobs bring a unique twist to your BBQ menu while the grill enhances their natural sweetness.
Prepare your skewers by separating each scallop with a thin slice of lemon. Then, brush each side with a blend of salt, pepper, and Bristol Farms Avocado Oil. Grill each side for 1 ½—2 minutes before serving with grilled veggies and lemon wedges.
Ceviche
Ceviche is a South American dish that typically combines lime juice, raw seafood, and crisp veggies. There's no heat required here as the acidity of the citrus "cooks" the protein for a refreshingly light bite.
To start, simply stir fresh lime juice and chopped veggies — think tomatoes, cucumbers, and bell peppers — in a large bowl. Then, in a separate bowl, toss our smaller scallops with lime juice and a pinch of salt. After at least two hours in the fridge, you can remove the scallops with a slotted spoon and combine for delicious ceviche at home.
Perfect Pairings
Pasta
From a lemon butter linguine to a creamy garlic tagliatelle, scallops can make a great addition to your favorite pasta. Plus, it's a perfect way to elevate your weeknight dinner. Pan-sear your scallops on one burner while the water boils on another, and you'll have a sensational meal in no time.
Veggies
Fresh cherry tomatoes play well with grilled or pan-seared preparations, balancing their salt with a welcome burst of acidity. Looking to embrace the sweetness of scallops? Turn to red bell peppers or sweet corn. Or, for a classic pairing, consider a creamy side of roasted garlic mashed potatoes.
Pairings and Pro Tips
Dry wines like Chardonnay serve as a great counter to the natural sugars of scallops. However, if you're hoping to highlight even more of the sweetness, you can uncork some white Burgundy or even pop some Champagne. No matter what you choose, you'll be ready to toast to a masterful meal!