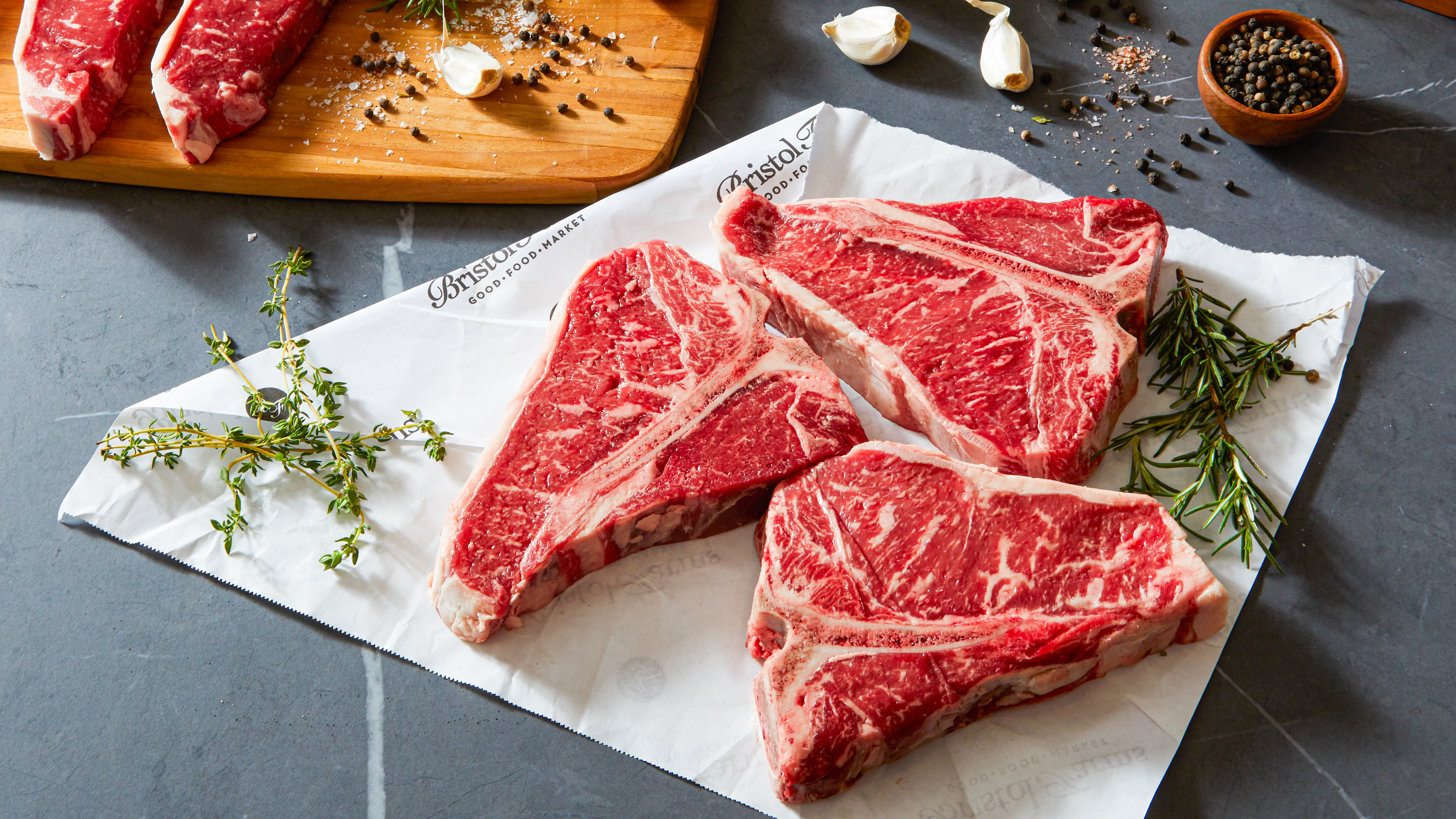 Our Guide to Steaks
They go by two different names, but are they really two different cuts? Yes and no. T-Bone and Porterhouse steaks both sport a T-shaped bone down the middle, with a New York Strip steak on one side and a filet on the other.
However, Porterhouse steaks are trimmed from the back of the short loin, leaving a larger portion of filet. They also tend to be heftier on the whole.
Does that mean Porterhouse beats T-Bone? It really comes down to personal preference and the occasion. If you're after NY Strip and shorter cooking time, T-Bone steak is a great choice. But, if you're more of a filet fan or seeking a steak for two, Porterhouse is probably the move.
No matter what, you can't go wrong — especially with our handy guide! From your first meal to the main course, we'll show you how to make your steak sizzle.
Selecting Your Steak
Remember, you've got the best of both worlds with well-marbled NY Strip and ultra-tender filet, all in one super-steak! The leaner part will cook faster, so choose a T-Bone or Porterhouse with a thick filet portion.
Want your steak to be truly special? At Bristol Farms, our beef is a cut above the rest. We bring you nothing less than the top 5% of all USDA Prime and Choice meats. We also have 21-day dry aged selections for a CUT experience you can enjoy at home.
Let's Get Cooking
The perfect Porterhouse or T-Bone doesn't need a ton of prep. First, take the steak out of the fridge and let it rest for about 30 minutes until it reaches room temperature. Then, rub it down with pepper and a generous sprinkle of salt to lock in the juices.
It's (almost) always sunny in SoCal, so you might as well get to the grill! Besides, that'll ensure even cooking for your meaty masterpiece. For a medium-rare 1½ inch steak, you'll want to grill for about 15 minutes in total, flipping only once at the midway point. The same goes for medium (17 minutes) or medium-well (19 minutes), just with a little more patience.
Cook with the New York Strip facing the hottest part of the grill, let the fire do its thing, let it rest for a few minutes to bring the juices to the surface, and voilà! It doesn't get any easier, or tastier, than that.
Pairings and Pro Tips
The steak? Simply delicious. All you need are some quick and tasty sides to match! Grilled corn, zucchini, and portobello mushrooms always impress while leaving ample time to soak up the sun.
When it comes to wine, Syrah / Shiraz is our go-to pairing. The meatiness of Porterhouse and T-Bone steaks calls for contrast, and that's what you get with all those luscious, juicy fruit notes. Cabernet Sauvignon will also serve you well if you're after a wine with a little more heft.
Show Off Your Steak
Feeling inspired? Tag us @bristolfarms – we can't wait to see your creations.