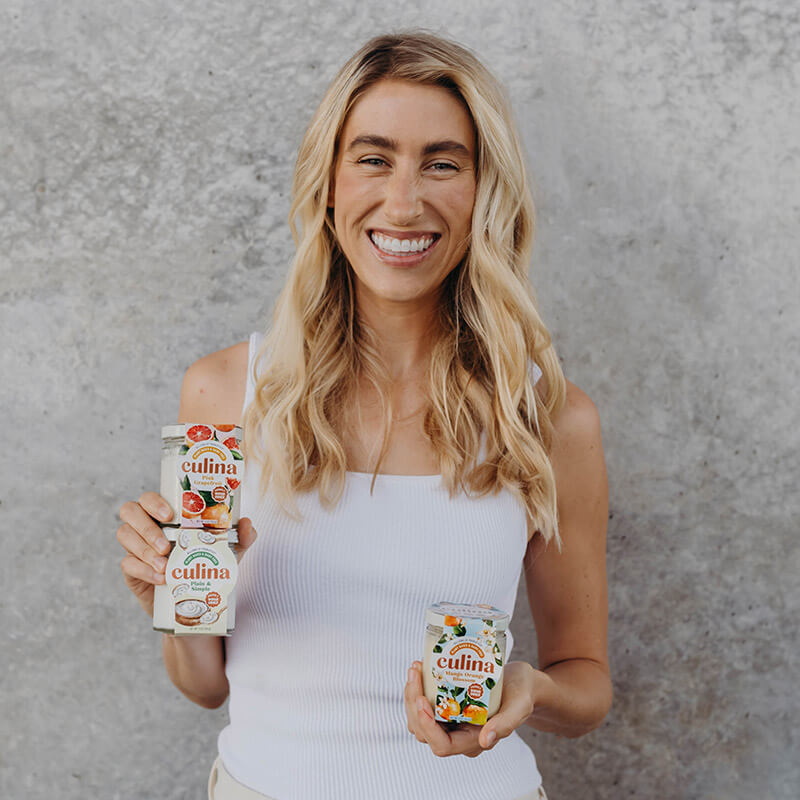 When health issues forced Erin Asaad to change her diet, she took matters into her own hands. After lots of trial and error, she created a special plant-based blend that her friends couldn't stop stealing from her fridge. Now, after perfecting and scaling her recipe, she's sharing Culina Yogurt with health-conscious snack lovers everywhere.
Every batch of Erin's carefully crafted yogurt requires no less than 18 hours of fermentation. It's true — the founder of Culina Yogurt takes no shortcuts while using zero dairy, cane sugar, or gluten. Ultimately, it all adds up to a thick and tangy coconut-based treat that's ready to satisfy anytime.
Flavors like Bourbon Vanilla, Strawberry, and Blueberry make it easy to eat clean and satisfy your sweet tooth all at once. Still, you should try the original Plain & Simple too — it's tasty by itself but even better as a tzatziki base.
Recently, we caught up with Erin to learn more about her journey and hear her advice for fellow entrepreneurs.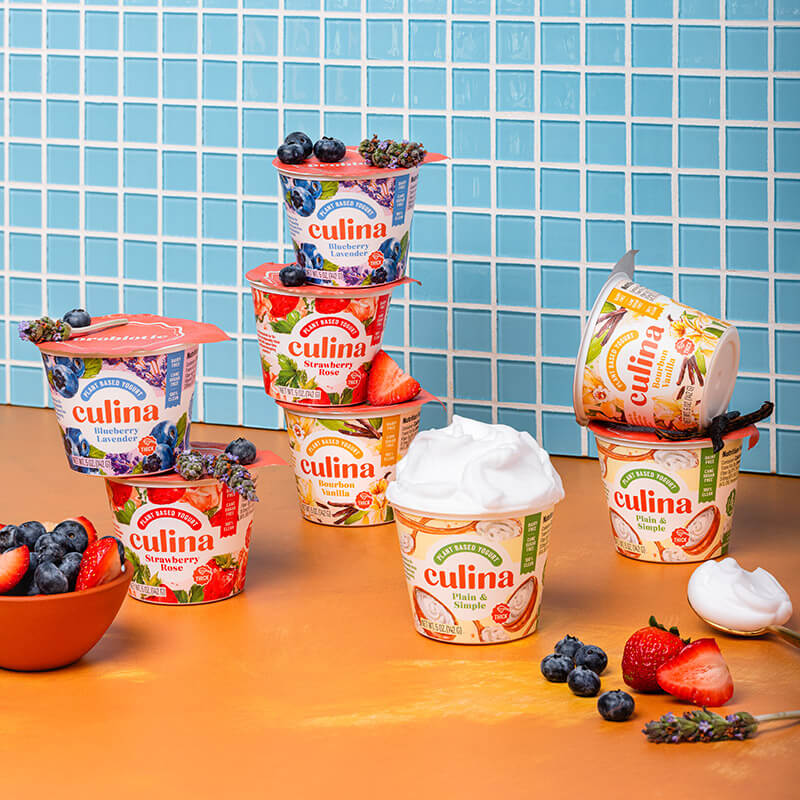 01 Why did you start Culina Yogurt?
I started having some health issues which forced me to remove dairy, sugar, and gluten from my diet. Basically, I had to eliminate everything that tasted good!
When I went to the store to find non-dairy yogurt, the only options available were full of sugar and starches. Plus, they didn't taste anything like yogurt. That's when I started fermenting coconuts in my kitchen to create a super thick probiotic coconut yogurt.
02 What obstacles did you face along the way?
So many! One of the biggest challenges has been continuing to scale my recipe as we grow the company without compromising on our ingredients. It would have been so much easier and cheaper for us to add things like starches, gums, and cane sugar to our yogurt. Instead, I found creative ways for us to grow without sacrificing on flavor, texture, or quality.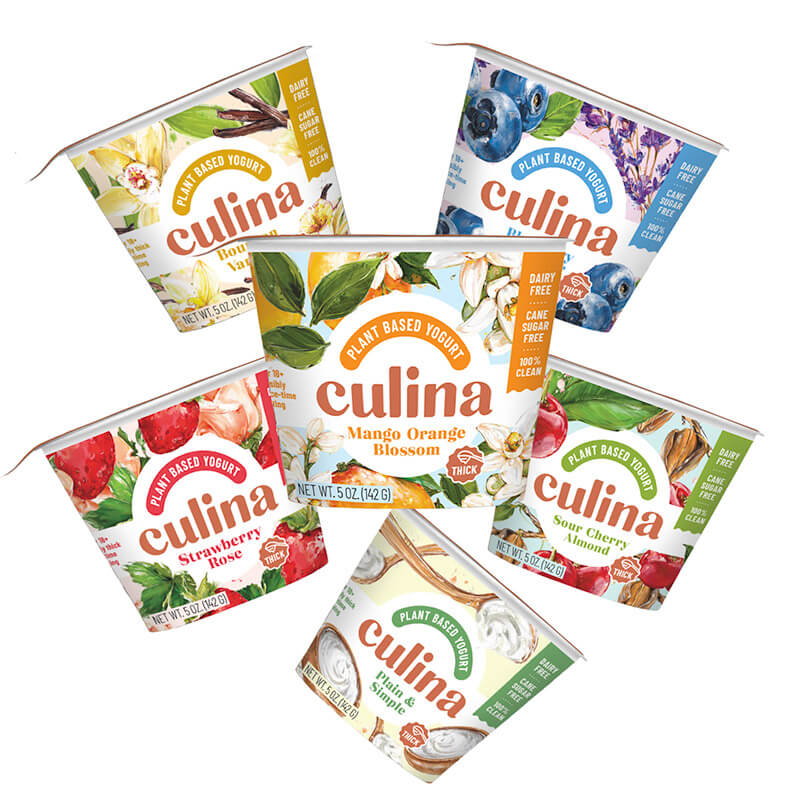 03 What lessons do you have for other entrepreneurs?
Read lots of books and build a good network! I've relied on new resources at every stage of my business, because there's no greater hack than learning from experienced entrepreneurs.
04 What's on the horizon for Culina Yogurt?
Big things! We're growing our team rapidly and adding new products to the Culina family.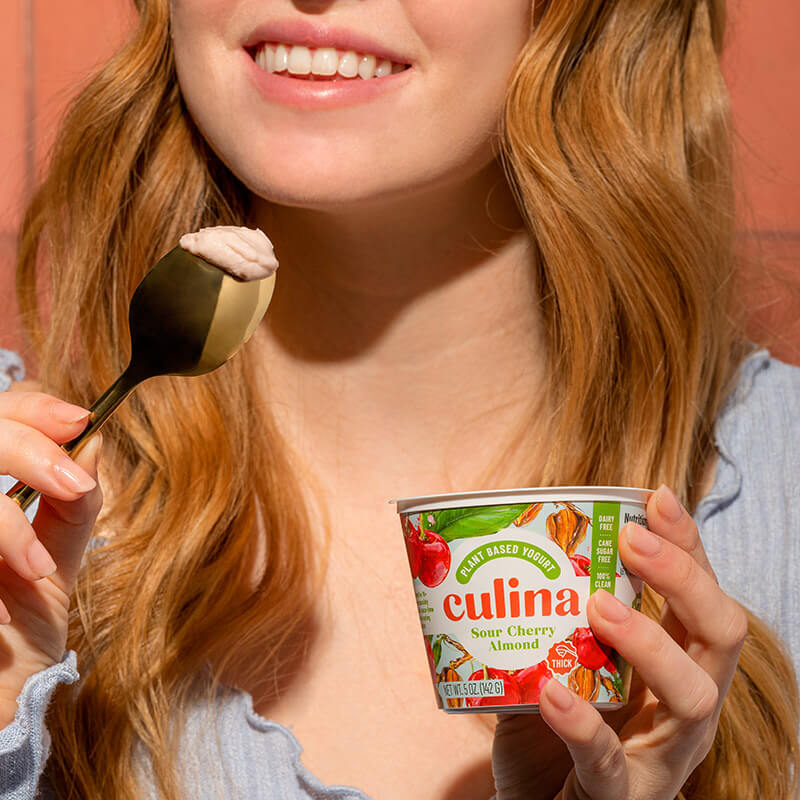 05 How do you keep work/life balance? What drives/inspires you?
Instead of actively thinking about my work/life balance, I focus on ways to calm my central nervous system. For starters, I try to get 20 minutes of sunshine every morning. I also like to unwind by sitting in a sauna, taking a cold plunge, stretching, listening to music, making fresh juice, and practicing gratitude.
It's all about finding small ways in my day to relax my body and mind. That's how I remind myself that every challenge is an opportunity.
Tags