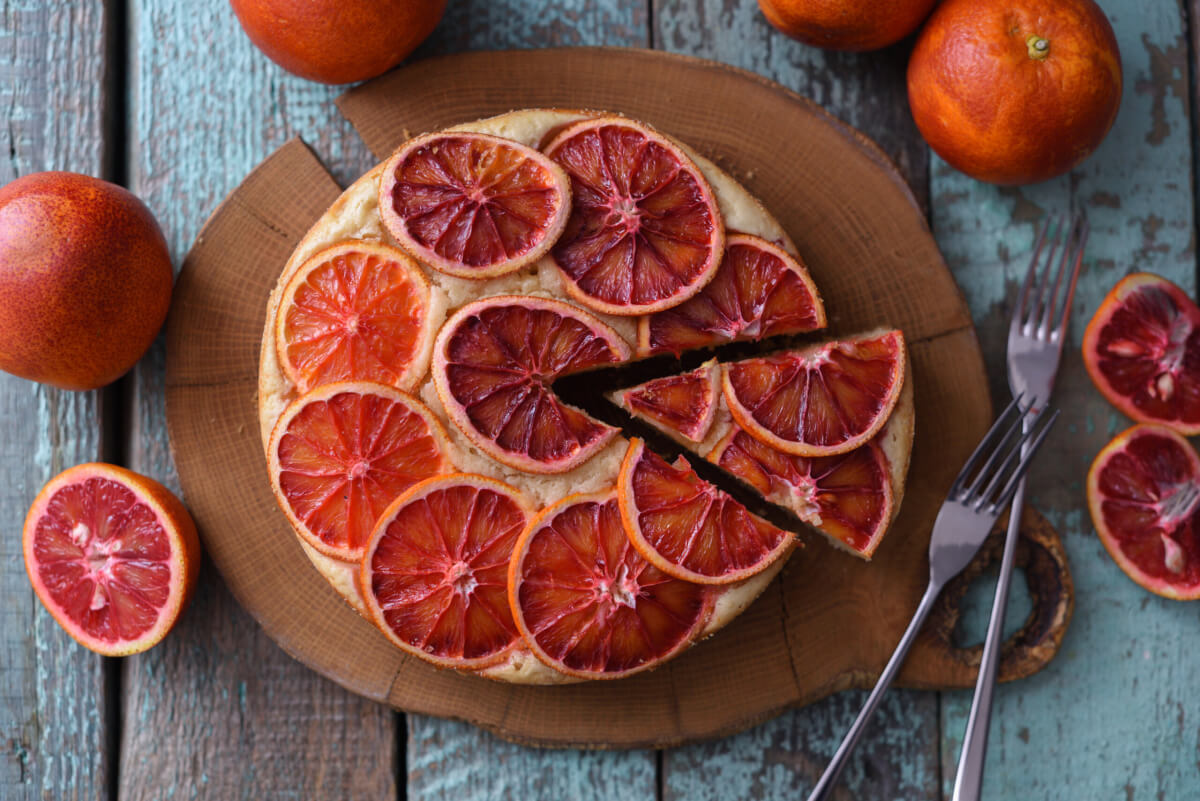 Did you know that blood oranges are also known as raspberry oranges? The nickname isn't just for their deep red color — they even have the aroma of fresh berries, plus notes of grapefruits and cranberries. Tangy, tart, and uniquely delicious, this is a citrus that pleases all of the senses.
Like all citrus, blood oranges are loaded with vitamin C and fiber. But, as a bonus, they're also rich in anthocyanin. That's the flavonoid that provides their pigment and gives you a potent antioxidant ally to fight inflammation.
More good news: their peak season runs through the winter months, and California grows the best blood oranges in the U.S. Get ready to take full advantage of the harvest with one of our favorite recipes.
Ingredients
3 cups flour

16 tablespoons unsalted butter, or two sticks, room temperature and cut into cubes

4 eggs

1 tablespoon baking powder

1 teaspoon salt

1 tablespoon vanilla extract

1 1/2 tablespoons blood orange zest

1 cup milk

4 tablespoons blood orange juice

4 blood oranges (sliced)
Directions
Preheat the oven to 350°F.

In a bowl combine flour, salt, and baking powder. Sift to combine.

In a separate bowl, combine sugar and butter. Once fluffy, add eggs one at a time. Beat until fully incorporated before adding another egg. Add blood orange zest and vanilla extract.

Alternate adding flour and milk until the batter is smooth. Stir in 4 tbsp blood orange juice.

Slice the remaining blood oranges into thin rounds, removing the skin with a sharp knife.

Place parchment paper on the bottom of two 9-inch pans. Add a layer of blood orange slices. Fill with batter.

Bake for 30-40 minutes, or until a knife inserted into the center of the cake comes out clean.

Let the cake cool completely in the pan. Then, run a knife along the outside to loosen. Turn the pan upside-down onto a platter. Enjoy!