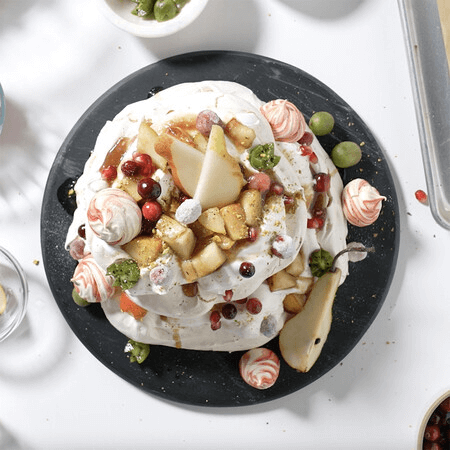 It's almost too beautiful to eat, but no one can resist this marshmallowy jaw-dropper of a dessert. Please take lots of pictures beforehand, because your cloud-like pavlova will quickly vanish into thin air.
Why settle for an ordinary meringue? Crispy on the outside and sinfully creamy on the inside, pavlovas are the perfect way to cap off a decadent holiday meal. They're also a fun way to get in touch with your inner artist. Consider the eggshell white tower your blank canvas, ready for candy-striped dabs and a palette of colorful winter fruit.
Grab your apron (and your camera) — it's time to make sweet, lasting memories with your very own pavlova.
For Meringue:
4 egg whites

pinch of salt

1 1/4 cups superfine sugar

2 teaspoons cornstarch

1 teaspoon white wine vinegar

1/4 teaspoon vanilla extract
For Topping:
3 pears diced

1/2 teaspoon vanilla extract

1 teaspoon aged balsamic vinegar

2 teaspoons superfine sugar

2 cups heavy cream

1 tablespoon superfine sugar

2 cups fresh cranberries

1 cup kiwi berries

1/4 cup pomegranate seeds

1/4 cup roasted pistachios

Fresh mint

2 cups granulated sugar (for cranberries)

1 cup water

1 cup superfine sugar (for dusting cranberries)
Directions
Combine 2 cups granulated sugar and 1 cup water in a small saucepan over low heat. Stir frequently and lower heat to a simmer until sugar dissolves. Gently stir in cranberries. Transfer mixture to a bowl, cover and refrigerate for at least 4 hours.

Strain cranberries over a bowl, reserving the syrup. Roll cranberries in a shallow dish of superfine sugar. Set aside for 1 hour to dry. Reduce syrup over low heat, adding sugar to achieve a light jam consistency. Set aside.

Set oven to 350°F. Place bowls upside down on a parchment-lined baking sheet and trace their outlines with a pencil. Flip the paper over and fasten with tape.

Beat egg whites and a pinch of salt in an electric mixer, gradually increasing from low to high speed. Once peaks begin to form, add sugar 1 tablespoon at a time until meringue stiffens. Turn off mixer. Gently fold in cornstarch, vinegar, and vanilla. Mound and shape within parchment circles, saving the remainder.

Drizzle cranberry syrup down the sides of a star-tipped piping bag. Add remaining meringue. Pipe the swirl mixture onto the parchment. Remove tape. Lower heat to 300°F. Bake for 75 minutes. Turn off oven and let cool on the rack for two hours.

Combine pears, balsamic, 1/2 teaspoon vanilla, and sugar in a bowl. Cover and let sit for 1-2 hours.

Whip heavy cream with 1 tablespoon superfine sugar in the mixer and refrigerate.

Gently peel off meringue and transfer to platter. Spoon on whipped cream, followed by some of the pear mixture and juice. Top with second meringue and repeat. Garnish with striped meringue pieces and remaining ingredients.

Serve and enjoy!