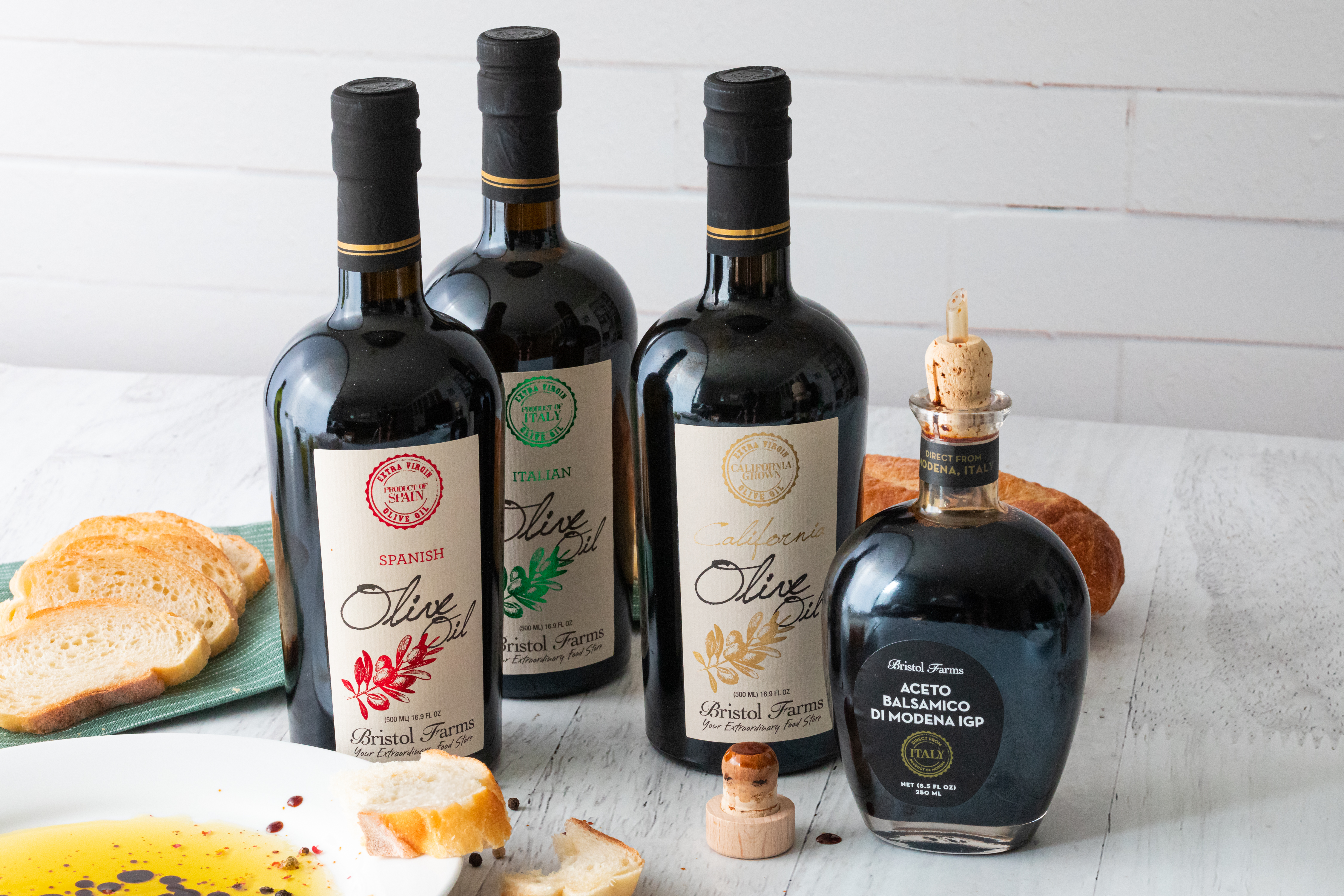 Want to start 2023 with a healthy diet and a happy new you? Look no further than olive oil, the kitchen staple that delivers a host of benefits with every delicious bite.
Before we get cookin' (and drizzling and dipping), it's important to remember that not all Extra Virgin Olive Oil (EVOO) is created equally. Here's a quick taste of our three globally-inspired varieties, starting in our own backyard:
Bristol Farms Californian Olive Oil is cold-pressed without solvents to yield a rich mouthfeel while preserving the fruit's naturally peppery flavor. Certified Extra Virgin by the California Olive Oil Council for its purity and low acidity, this EVOO can star in everything from savory pestos to sweets.
The orchards outside of Tuscany are surrounded by lush green hills and gleaming rivers, forming a picturesque backdrop for their world-class olives. Handpicked in the traditional shaker style throughout November, Bristol Farms Italian Olive Oil offers full-bodied, herbaceous aroma that will keep you coming back for more.
Bristol Farms Spanish Olive Oil is created from a select blend of Arbequina, Picual, and Hojiblanca olives. The end result? Brilliant aromas and unbelievably buttery flavors, underscored by distinct notes of ripe fruit.
They're delicious, molto bene, and muy deliciosa. Naturally, our EVOO also comes with tons of tasty health benefits including:
Healthier Hearts: Oleic acid is more than a good fat — it's a great monounsaturated fat that can help to regulate blood pressure and improve cardiovascular function.
Reduced Inflammation: EVOO is chock-full of phenols, a powerful antioxidant that can reduce free radicals and protect against oxidation. Here's to a healthier you in 2023…and beyond!
Anti-Aging Properties: The squalene in EVOO can promote healthy collagen connectivity, improve skin elasticity, and even stave off wrinkles. Pretty smooth!
You'll enjoy those health perks and many more with our line of artisanal EVOOs. We invite you to try the full trio, but don't forget about Bristol Farms Balsamic Vinegar! Imported from Modena, Italy, our balsamic is made with a 120-year-old recipe and carefully selected grapes, oak barrel-aged to yield a full range of red fruit flavor with balanced acidity.
Here's an often-overlooked tip: EVOO and balsamic aren't just for savory dishes. Get ready to delight everyone at your table with these unbelievable desserts for Griddle Corn Cake With Roasted Strawberrieswhipped Ricotta Balsamic Vinegar and Olive Oil Gelato With Macerated Blackberries
Feeling inspired? Tag us @bristolfarms – we can't wait to see your creations.