There's no better appetizer than a classic charcuterie board! Best of all, making these stunning boards is super simple and can be enjoyed year-round. No matter how big or small, they always bring a sense of fun and flair to any occasion! Build your perfect board in no time with these five easy steps:
Step 1: Pick your platter. A cutting board or serving plate will do, but you can also think outside the box! Craft yours with slate, marble, hanging mirrors, and other framed pieces — just be sure to clean and dry them thoroughly.
Step 2: Choose your meats. Charcuterie is a celebration of cured meats, so it's important to choose wisely. Here are a few of our favorites along with their perfect cheese partners! Be sure to also include some hard meats like soppressata and bresaola.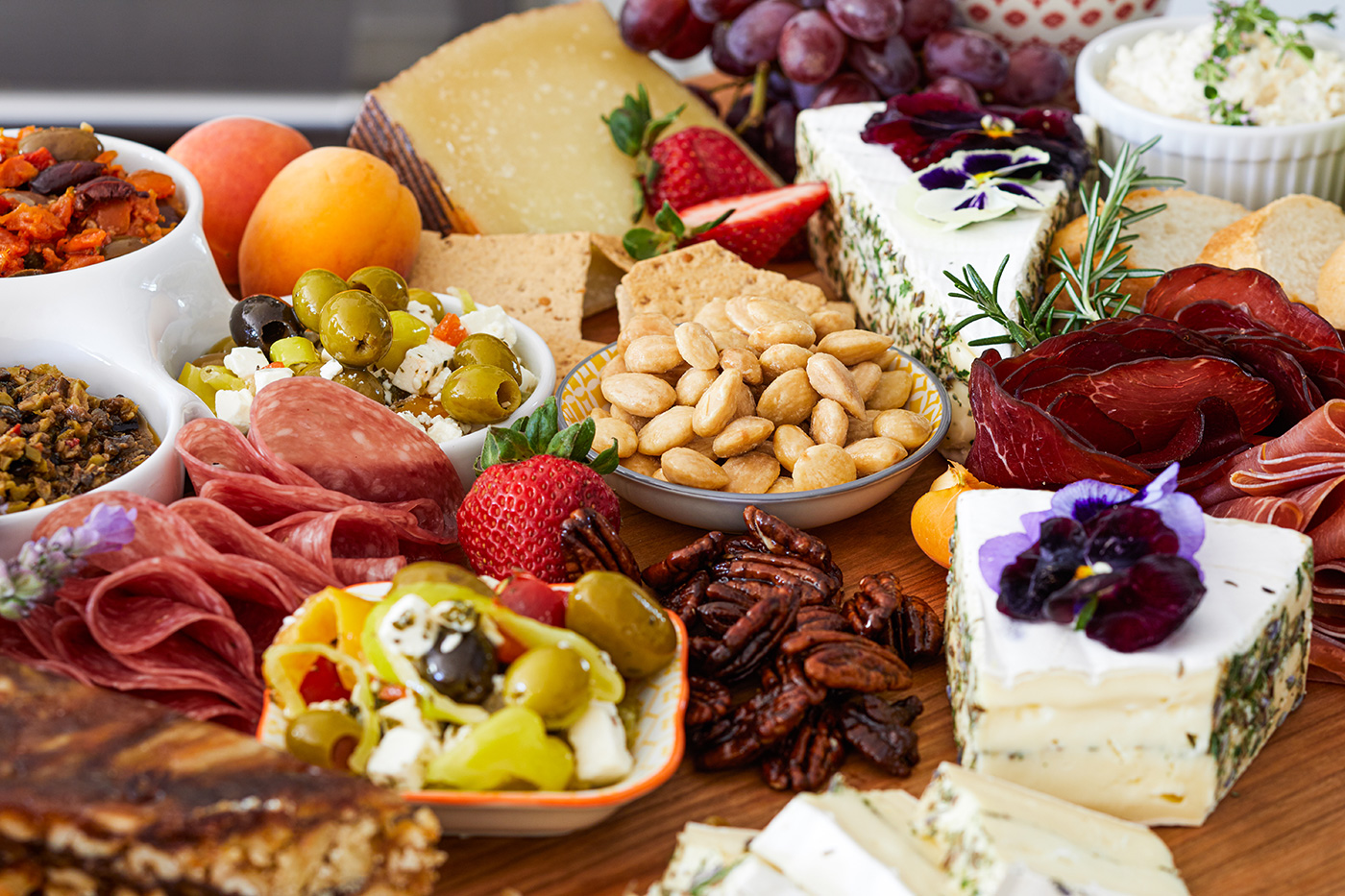 Step 3: Pick your cheeses. Charcuterie boards may shine a spotlight on meats, but the cheeses are just as important! Balancing textures and tastes is key, and it's best to have a variety of soft, hard, funky, and mild options. Need advice? Our cheesemongers are more than happy to help!
Pro tip: If serving as an appetizer, the rule of thumb is 3 ounces of meat and cheese per person. If this is your main course, double the portions to 6 ounces.
Step 4: Balance your board with sweet (fresh fruit, dried fruit, jellies, jams, and honey) and savory offerings (nuts, olives, mustards, hummus, tzatziki, and dips). Also, don't forget vessels (i.e. small bowls and ramekins) and spoons!
Step 5: Add crostinis, crackers, and crisps. Arrange a variety around your board in different shapes and styles! This season, we're loving Biddy Sticks from Southern California.
Finishing touches: Add sprigs of fresh rosemary and edible flowers or a sprinkle of flaky sea salt. No matter what, have fun with it and express yourself!
Feeling inspired? Tag us @bristolfarms – we can't wait to see your creations.