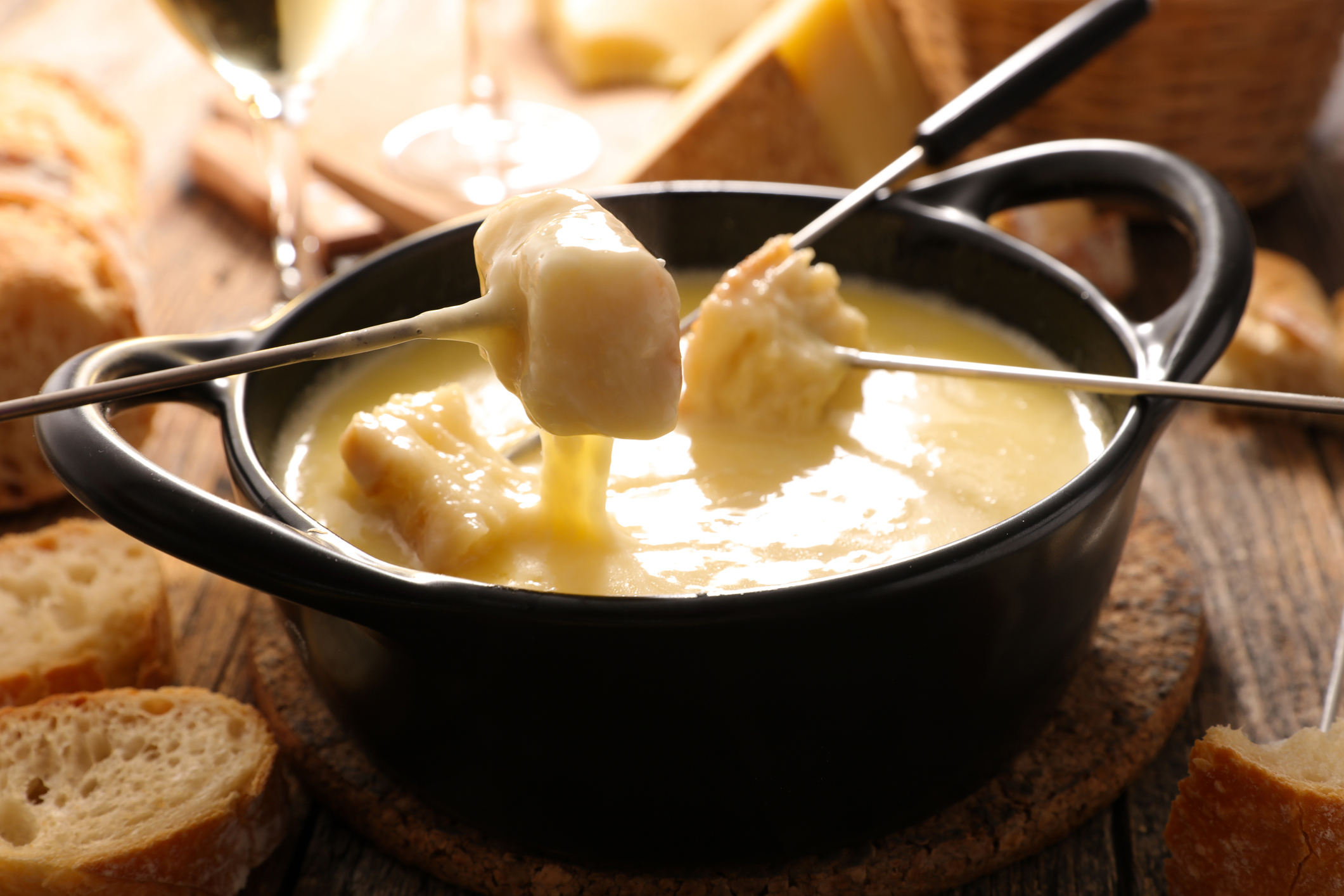 Fall in love over a creamy, aromatic, full-flavored fondue for two. This Swiss-originated delicacy encourages you to utilize your senses, creating an immersive and romantic dining experience. Who knew cheese could be so charming?
From sharp cheddars to gourmet Gruyère, fondue features a variety of flavors. Best of all — this decadent dish is far from difficult! All you need is a caquelon (or fondue pot), quality cheese, white wine, and a few household ingredients you can find in your pantry.
Follow these tips and tricks from our friends at Cheeses from Switzerland to celebrate love with an evening full of fondness and fondue!
Types of Cheese
While fondue can be made with nearly any cheese of your choice, AOP cheeses result in the richest flavor and most authentic taste. AOP stands for "Appellation d'Origine Protégée," which translates to "Protected Designation of Origin." To sum it up, an AOP cheese guarantees that it was manufactured in the same region that the milk was sourced from. From Gruyère to Appenzellar, Bristol Farms is proud to carry several delectable AOP-certified cheeses!
Gruyère – Gruyère is a cheese favored by fondue makers. While its flavor can vary depending on its age, Gruyère tends to be nutty, rich, and creamy.
Raclette – Rich, dreamy, and funky (in a good way), raclette is a traditional Swiss cheese that is meant to be melted into a smooth, buttery texture. In addition to fondue, raclette can also be prepared using a Boska Grill. Create a decadent dish that features mouthwatering melted cheese over your choice of veggies, pasta, or protein!
Emmental – Between the sweet aroma and fruity undertones, Emmental cheese is perfect for enhancing taste and taking your fondue to the next level.
Prepping Your Fondue
Though a fabulous fondue doesn't require too much prep, there are a few key tricks that can help you achieve consistently creamy results.
1. Stick to high-quality and aged cheeses. In addition to being more flavorful, mature cheeses melt smoother and easier.
2. Use a dry and acidic wine like Sauvignon Blanc.
3. Always grate or chop your cheese before melting! This ensures a smooth and cohesive texture.
4. Coat your cheese with an even layer of cornstarch. This helps with binding and prevents unsightly clumps.
Dipping and Dunking
While you may be tempted to take a spoon right into your cheesy concoction, there are tons of dippable goodies that will elevate your fondue feast! In addition to cubed bread (which is an absolute must), try anything from boiled potatoes to crisp carrots. Apples, tomatoes, and grapes are all refreshing options that create a unique flavor combo, and blanched veggies offer a savory tang.
Feeling inspired? Tag us @bristolfarms – we can't wait to see your creations!