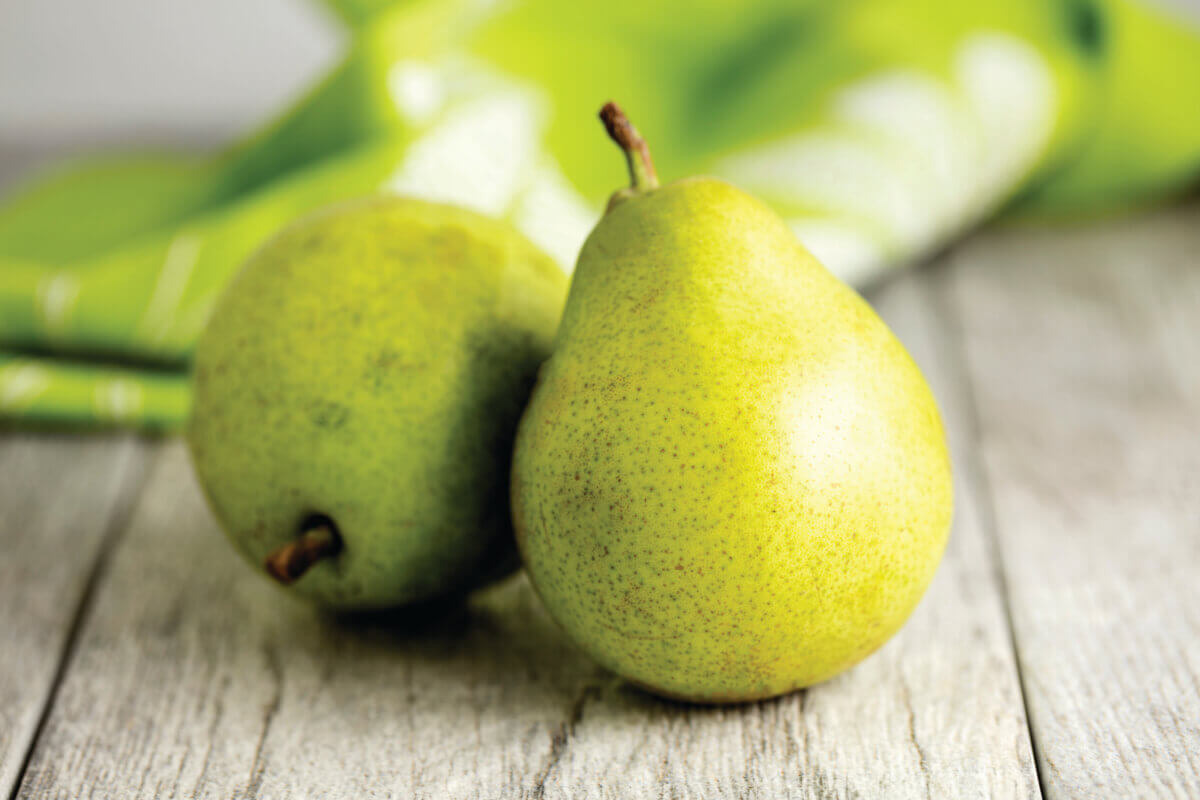 Packed with antioxidants and just flat-out delicious, pears are one of our favorite parts of fall. Fortunately, there are over 100 types of pears grown worldwide, providing us with limitless snacking, baking, and cocktail crafting possibilities.
Need some help paring it down? Start out with a few of our favorite fall varieties:
Our Favorite Pear Varieties
Bartlett
With pointed tops and rounded bottoms, perfectly pear-shaped Bartletts are ripe for the picking from late August to early January. They're extraordinarily juicy, making them ideal for sauces, purées, and other naturally delicious raw preparations.
Bosc
The Bosc pear is characterized by its brassy exterior and slender shape. It's also known for its firm texture, allowing it to withstand high-heat baking and cooking. You can enjoy the crisp bite of a raw Bosc pear, but they're even better when baked, poached, or grilled.
Comice
"The Christmas Pear" is a bit rounder and larger than other varieties. Like the Barlett, you'll want to skip the heat — ultra-aromatic Comice pears are at their tastiest and juiciest when they're fresh. Pro tip: pair your Comice pear with a soft cheese like Camembert or Brie for a truly top-tier nosh.
Warren
With hints of vanilla and spice, these extra-sweet pears are one of our favorite fall go-tos. Warren pears are also known for their uniquely buttery texture, making them a natural fit for pies, muffins, and all types of baked desserts. Our Warren pears come from the legendary Frog Hollow Farms, so you know they will be at peak ripeness when you see them in our produce department! Keep your eyes peeled for Warren and Red pears when they land.
Anjou
Also known as "D'Anjou," this popular variety comes in both red and green. They're roughly egg-shaped and remarkably versatile — they can be eaten raw and they can stand the heat. Whether in bread, cake, pie, soup, or snack form, you can't go wrong with an Anjou.
Concorde
Concorde pears are easy to spot due to their long, slender shape. While they can be enjoyed on their own, their crisp texture is perfect for cooking and baking. They're also slow to oxidize, making Concorde slices a popular pick for charcuterie boards and salads.
Feeling inspired? Tag us @bristolfarms – we can't wait to see your creations.