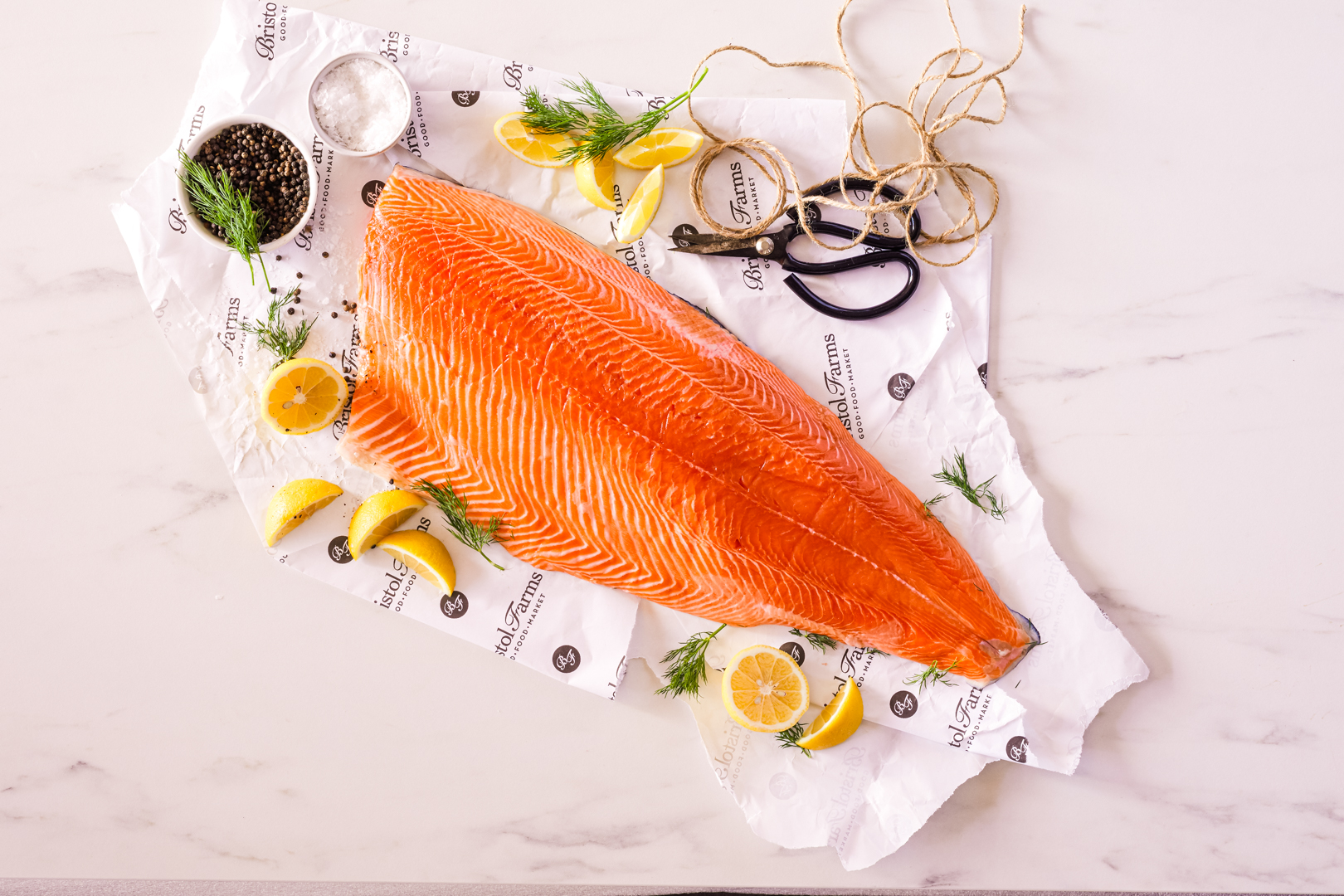 Salmon is almost too good to be true. Naturally buttery and nutrient-dense, it's positively packed with protein, vitamin E, antioxidants, and healthy omega-3 fatty acids. In other words, every delicious bite can bring long-lasting energy with vital support for your body and mind.
From bagels and lox to sashimi-grade sushi, this dynamic fish stars in nearly every cuisine. Cooked salmon, meanwhile, is one of the easiest — and tastiest — entrées you can make.
Whether paired with pasta, rice, or veggies, salmon is super simple — especially when you follow our handy how-to guide!
Our Guide to Salmon
How to Cook Salmon
Salmon can be cooked any number of ways or even served raw. Still, it's hard to beat the most popular preparations: baking, pan-searing, and grilling.
Bake
It's the simple way to ensure even cooking, every time. Start by wrapping the fillet in foil along with your seasonings as your oven preheats to 400°F. A foil tent allows the fish to absorb all the flavor as it cooks, so adding aromatic herbs like dill along with lemon and butter will go a long way. For a succulent and flaky finish, bake your salmon for no more than 15 to 20 minutes.
Grill
Grilled salmon is super simple, making it a great dish for backyard BBQs and quiet dinners alike. Once you master your method, you can enjoy smoky, crispy, and Instagram-ready salmon any night of the week.
Start by spraying the grates with a high-heat friendly oil like avocado or sunflower. As your grill heats up, coat both sides of the salmon with a little extra oil, salt, and pepper. Grill your salmon for about five minutes on each side, serve with a fresh squeeze of lemon, and soak up the compliments!
Pan-Sear
If you're craving crispy skin with a soft center, try pan-searing. Frying highlights the natural flavors and oils of salmon with minimal seasoning required. Start by heating your skillet over medium-high heat and let your salmon cook with the skin side up for about five minutes. Then, flip your salmon and crisp the skin for three minutes. Pair it with a refreshing salad or sautéed greens and, voilà — you've got a gourmet meal in minutes!
Wild Salmon vs. Farm-Raised Salmon
Between the color, texture, and nutritional value, there are several key differences between wild-caught and farm-raised salmon. When it comes to looks, wild-caught salmon tends to be a more vibrant shade of orange, while farm-raised salmon is fattier and duller in appearance. Though farmed salmon still has a high level of omega-3s, our premium wild-caught salmon always comes out on top in quality and taste.
Wild salmon has a higher level of vitamins and natural minerals such as iron and potassium, leading to long-lasting energy and brain support. From its stunning marbling to melt-in-your-mouth texture, wild salmon is always the wisest choice.
Pairings and Pro Tips
The naturally fresh flavor of salmon usually calls for lighter sides. If you're cooking in the kitchen, you can't go wrong with green beans, sautéed with a touch of olive oil and lemon zest. For carbs, consider an herbaceous couscous or a grilled sweet potato.
For the perfect pairing, choose a full-bodied white wine that can stand up to the healthy fat of salmon. Oak-aged White Pinot Noir, Chardonnay, and White Rioja all match up well with simple preparations. Meanwhile, for creamy sauces or sides, you can turn to low-tannin reds like Rosé.
Show Off Your Salmon
Feeling inspired? Tag us @bristolfarms – we can't wait to see your creations.