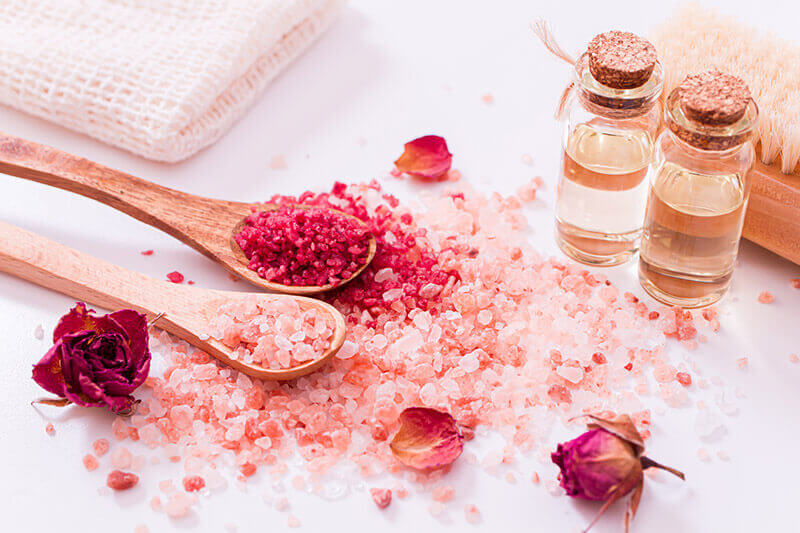 Whether for yourself or someone you love, self care is a great gift. It's easy to make customized bath salts to help you relax and unwind. And don't forget to pamper your skin with one of these DIY 15-minute face masks!
Bath salts are easy to make and even easier to enjoy. Epsom salts soothe and relax sore muscles, while sea salt and baking soda have cleansing properties to leave your skin feeling soft and healthy.
Start by choosing your essential oils, using roughly 30-50 drops per batch, depending on the strength. If you prefer lighter, more delicate scents, begin with a few drops.
Lavender essential oil is popular for calming and soothing the mind. Rose is stimulating and nourishing, peppermint soothes the muscles, and citruses—like grapefruit and lime—are bright and energizing. Choose one scent or use a few drops of each to create your own unique blend.
For silky smooth, moisturized skin, add a few drops of your favorite carrier oil (like avocado, coconut, or shea) to boost hydration.
Add a few teaspoons of dried flowers (rose petals, lavender, etc.) for a pop of color and a dash of festivity.
Store in airtight glass containers like Mason jars or Tupperware.
BASE RECIPE
3 cups Epsom Salts
1 cup coarse sea salt
1/2 cup baking soda
DIRECTIONS:
1. In a large bowl, add Epsom salts, coarse salt, and baking soda. Mix together with a spoon.
2. Then add essential and carrier oils, mixing constantly.
3. Once well incorporated, add dried flowers.
4. Then, using a spoon, add your mixture to your containers.
Lavender Lemon Soak
1 Base Recipe
1 tsp avocado oil
15 drops Lavender essential oil
10 drops Lemon essential oil
2 tbsp dried lavender flowers
Orange and Rose Bath Salts
1 Base Recipe
1 tsp shea oil (melted)
15 drops orange essential oil
15 drops rose essential oil
2 tbsp dried rosebuds
Coconut and Lime Bath Soak
1 Base Recipe
1 tbsp coconut oil (melted)
30 drops lime essential oil
3 tbsp calendula flowers
Have sensitive skin? Keep it simple and skip the essential oils for a fragrance-free relaxing soak.
Feeling inspired? Tag us @bristolfarms – we can't wait to see your creations.