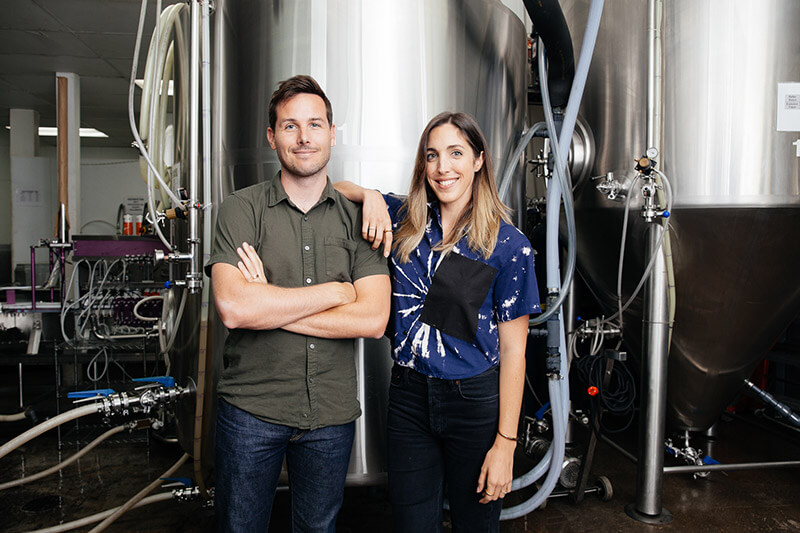 The founders of Better Booch believe that the whole is greater than the sum of its parts. After all, their powerful beverage is made with a simple blend of tea, water, sugar, yeast, beneficial bacteria, and a whole lot of time. For Ashleigh and Trey Lockerbie, that's more than just a recipe for kombucha — it's a microcosm for their overall approach to health.
Substituting soda for fermented tea may seem minor, but it's a little everyday choice that can yield significant benefits. With irresistible flavors like Cherry Retreat and oolong-infused Super Beauty, Better Booch makes it easy to work with your body. In turn, your body will work with you, creating a symbiotic culture for long-lasting wellness.
Recently, we caught up with Ashleigh to learn more about her journey and hear her advice for fellow entrepreneurs.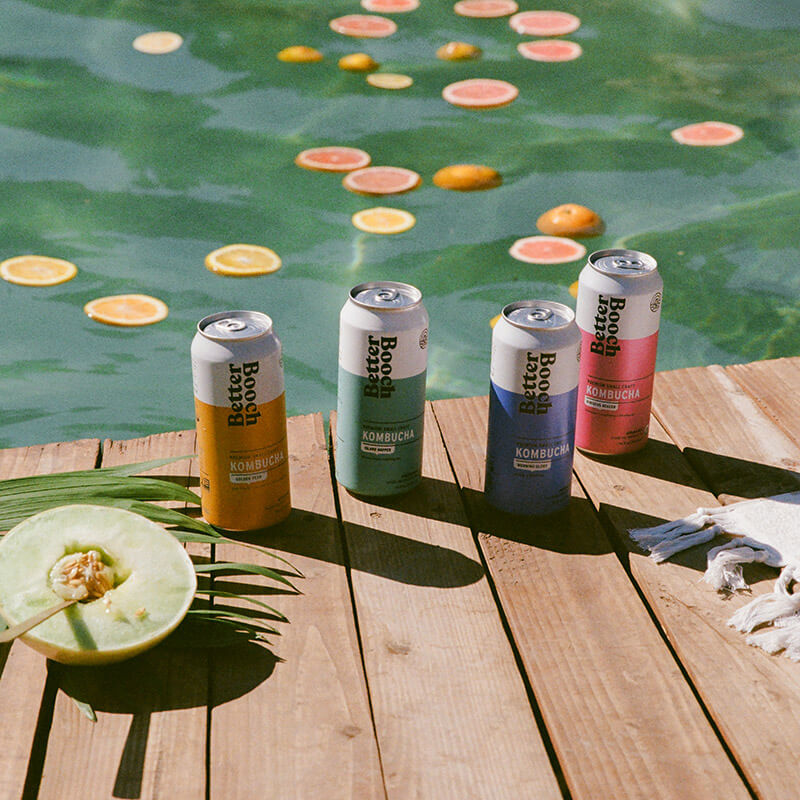 01 Why did you start Better Booch?
Trey's sister was diagnosed with breast cancer at the age of 24. After learning about the health benefits of kombucha, he started brewing it for her at home. At the time, he felt that the kombuchas available in stores were not as tasty.
Meanwhile, Trey and I were both a little burned out on our music careers. We wanted to do something fulfilling and creative that would allow us to earn a living without touring. After experimenting with different recipes, tea blends, and flavor profiles, we came up with a kombucha that was much more delicious than what was in stores.
We've always been passionate about making healthy choices, so this was something we could both get behind. We believed that more people would drink kombucha and reap its many benefits if it tasted better and had more accessible branding. Now, with Better Booch, it's easy for soda drinkers to choose kombucha instead.
02 What obstacles did you face along the way?
It feels like we've faced every possible obstacle. We were entirely bootstrapped for six years before we raised a single dime — that meant we had to be super scrappy. At one point, Trey was driving all around Los Angeles delivering 100 cases of kombucha a day out of our minivan!
We started by renting a commercial kitchen to brew and bottle our kombucha. When we realized that we needed more room, we signed for our own space in the valley. Unfortunately, it was misrepresented as having all the necessary manufacturing permits. We had to completely re-do the plumbing and electric in order to operate, which wiped out our savings. That was our first lesson in contracts!
To make the numbers work, we wound up sharing the space with a cold brew coffee company we met at a local farmers market. Ultimately, that turned into a great partnership that has been instrumental in the growth of both brands!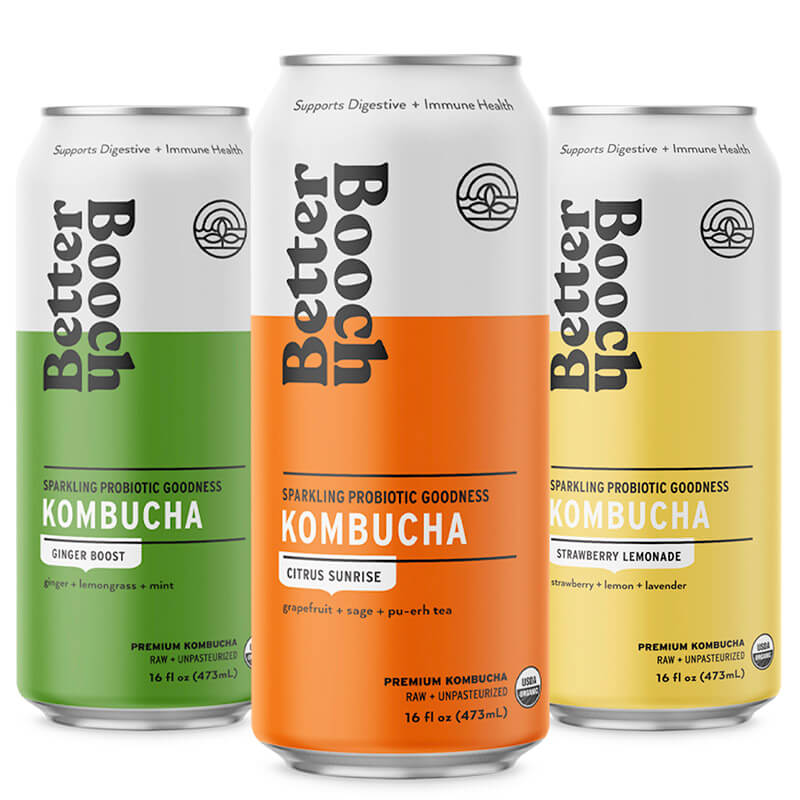 03 What lessons do you have for other entrepreneurs?
Find synergies with other brands wherever possible! Build a community of other entrepreneurs and find ways to work together, whether that's swapping contacts or sharing resources. We attribute much of our early success to those types of partnerships.
04 What's on the horizon for Better Booch?
Trey and I are thrilled to continue supporting music and the arts in a bigger way. We have some really fun music partnerships lined up for next year that we can't wait to announce.
We also just released two new flavors of Better Booch, with a third one just around the corner. We're also developing a new line of products that we're really excited about. Now that we're in retail stores in every US state (with the exception of Alaska), we can continue our mission of bringing Better Booch to as many people as possible.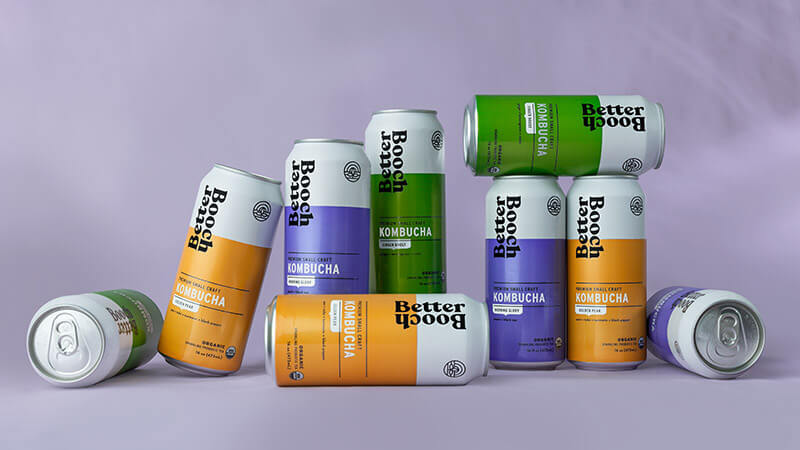 05 How do you keep work/life balance? What drives/inspires you?
We're constantly trying to find work/life balance. Trey and I have a 4-year-old and a 1-year-old at home and we both work more than 40 hours per week. Life feels pretty full at the moment, so we're diligent about self-care. It's not optional — it's a must. We also have hard and fast rules about when we allow ourselves to discuss work.
We are inspired by nature, spending time with our sweet boys, and making music. Beyond that, we are driven by our larger goal of sharing the health benefits and great taste of Better Booch with people everywhere. Even when work gets busy, that makes it fun to get out of bed in the morning!