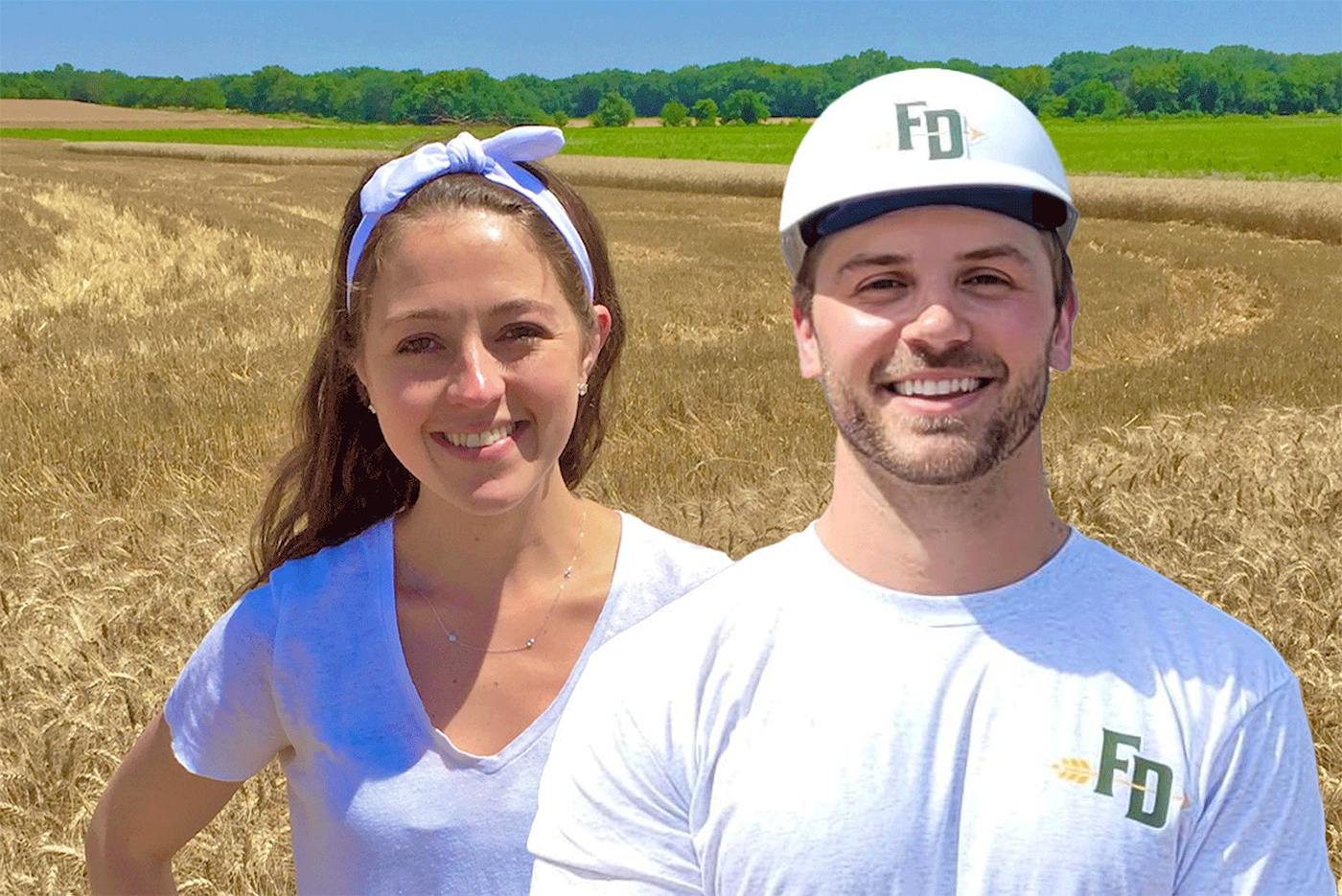 Industrial farming practices have impacted the nutritional value of our grains and the quality of our soil. Now, thanks to third-generation farmers Hayley Eckert and Keaton Hale, we can all enjoy flour that is healthier for everyone.
Farmer Direct Foods sources its wheat from Kansas growers who are dedicated to regenerative farming. Together, they yield grains that are 100% traceable to their ancestral fields as they save 40 million gallons of water per year. The end result? Pure whole grain flour that benefits farmers, people, and the planet all at once.
Recently, we caught up with Hayley and Keaton to learn more about their journey and hear their advice for fellow entrepreneurs.
1. Why did your family start Farmer Direct Foods?
Our journey was inspired by our family legacy in the farming and milling industry. We wanted to honor the values and traditions passed down to us by our grandparents, Joe Hale and Joyce Vanier Hale, while also embracing modern sustainability practices.
To that end, we saw something special in a group of Kansas farmers. Their regenerative agriculture practices were reminiscent of the way things used to be done, before the rise of industrial farming. They also used a unique process that allowed us to track the grain back to the field where it was grown for full field-to-flour traceability.
Our mission is to uphold our commitment to regenerative agriculture and American farmers while delivering products that are grown and processed from a responsible supply chain. This approach not only embodies tradition and sustainability, but also empowers consumers with transparency in their food choices.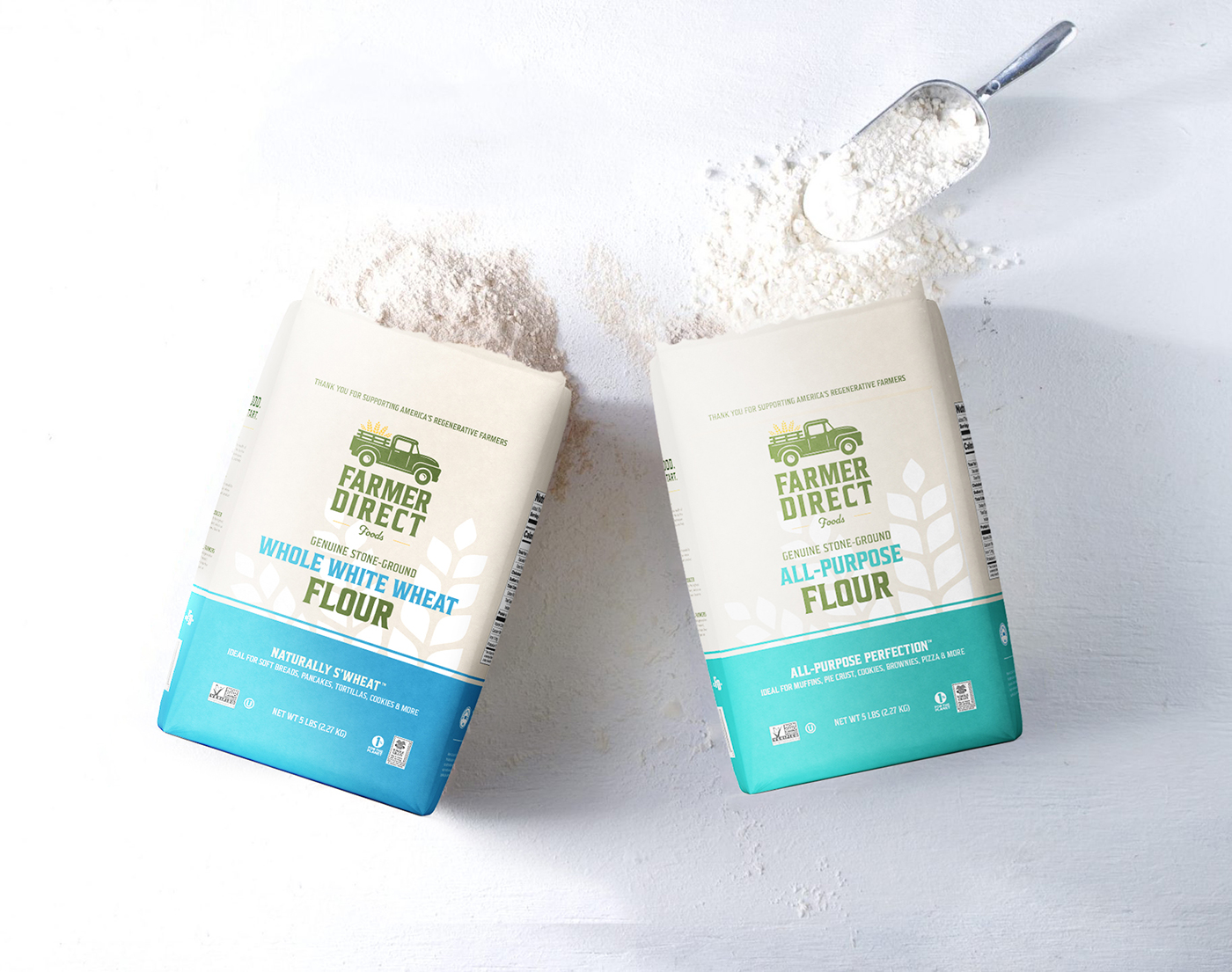 2. What obstacles did you face along the way?
Scaling to keep up with demand while also maintaining the integrity of our products has been a balancing act. Now that we've outgrown our current setup, we're in process of expanding our facility with a new warehouse as well as a second milling and packing line.
It's also been a challenge to educate people about regenerative agriculture. We've been regeneratively farming for decades, but many people are just becoming aware of the benefits. We're continuing to explore ways to educate people about these practices and why they deliver a superior product compared to what they might be used to picking off the shelf.
3. What lessons do you have for other entrepreneurs?
It's hard. There is no sugarcoating it. We have learned to embrace setbacks as opportunities to learn and improve.
Ultimately, we have found that relationships are everything in business. We would be nowhere without our farmers, vendors, employees, partners, and, of course, our customers. They challenge us to continuously improve and deliver more than we thought possible. I only hope we express as much appreciation as these people deserve. We strive to be better every day in support of these relationships.
4. What's on the horizon for Farmer Direct Foods?
The future is exciting for Farmer Direct Foods! We're eager to raise awareness of the brand and expand our product offerings and distribution channels to meet the demands of both home and professional bakers.
We also have ambitious goals of setting new standards for responsible agriculture, which we believe will create a ripple effect that emphasizes food quality, supply chain transparency, and environmental sustainability. We hope to convert more and more farmers to grow using regenerative farming methods, and we envision a world where consumers actively seek regeneratively produced products.
5. How do you keep work/life balance? What drives/inspires you?
Finding work/life balance is an ongoing challenge because we're still in "startup mode" at Farmer Direct. Hayley is welcoming baby No. 2 into the world and Keaton is planning a wedding this year, so there's no rest for the weary! We do find solace in being outdoors and staying active and spending time with loved ones. Our family and friends mean everything to us. We're also both big on prioritizing our health.
Our inspiration comes from seeing the positive impact of our efforts, from the environment to our farmers' well-being to our local community. The work we're doing every day helps to build healthier soil, save water, support American farmers, and create a more sustainable food system. That will always inspire us to keep pushing forward and work even harder.
Tags