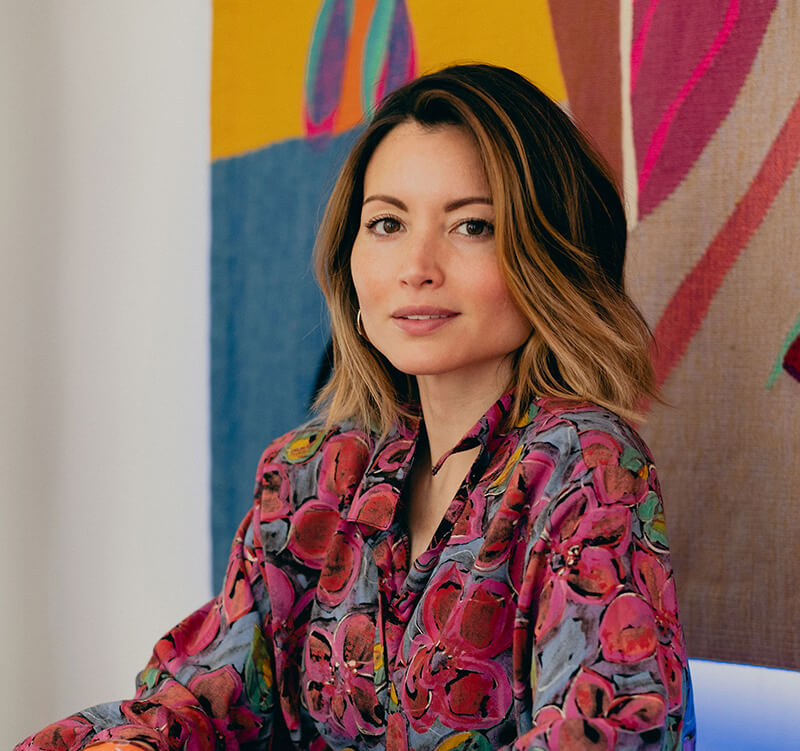 What if there was a natural way to make Happy Hour happier? That's the question Jen Batchelor asked — and answered.
Kin Euphorics beverages are designed to promote clarity, calm, and creativity, with zero hangover. Or, as Jen likes to say, it's "All bliss, no booze." Her blends of adaptogens, botanics, and nootropics have revolutionized – and uplifted – the world's oldest social tradition.
Recently, we caught up with Jen to learn more about her journey and hear her advice for fellow entrepreneurs.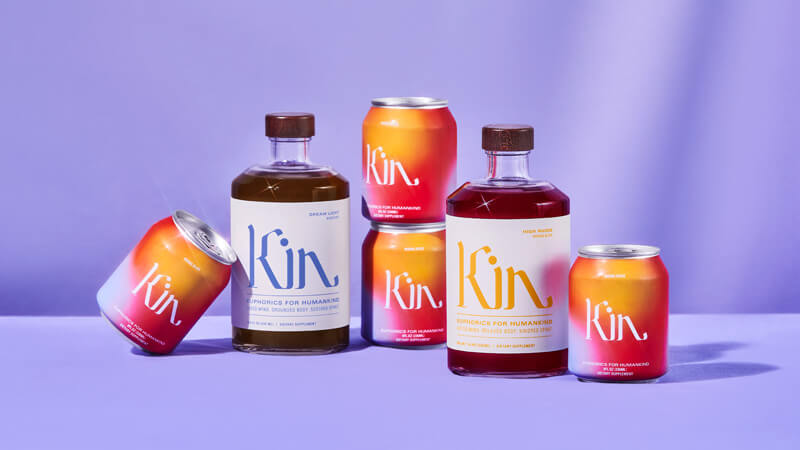 01 Why did you start Kin Euphorics?
Growing up in Saudi Arabia, my father moonlighted as a distiller of gins, beers, and wines out of our home. Our house also doubled as a gathering space for the local expat community. This inspired me because I learned early on that drinking fosters connections. But, at the same time, it's often fraught with messy consequences and social mishaps.
After a few years of working in hospitality and wellness, I set out to redesign the beverage category by creating a brand-new experience. My aha moment came when I realized that drink makers didn't seem to care or know that the brain is responsible for 100% of our moods. I don't just mean the brain in our heads — I'm also referring to the mind-gut connection and the importance of healthy hormone balance.
I wanted to create a way for people to seek bliss and communion over shared drinks and interests, without hurting their minds, hearts, skin, integrity, or endocrine systems. I made it my life's mission to bring this to every human.
02 What obstacles did you face along the way?
Creating an entirely new category was challenging. Kin is a functional beverage for modern rituals, not a replacement for anything that exists on the market. The hardest part about sharing the story of euphorics was explaining how the ingredients come together to deliver an effect greater than the sum of their individual parts. In other words, it's the entourage effect created through nootropics and adaptogenic herbs. When carefully combined, they can foster a specific mood that goes beyond the known functions of each individual ingredient.
The business of mood modulation and conscious connection is pretty unique. Ultimately, it was rewarding to educate our consumers on something completely new. Helping new customers understand euphorics and seeing people connect, gather, and share in moments of bliss is the ultimate highlight for me. We founded and crafted Kin with the intention of creating experiences with conscious social connections. For us, each day presents a new opportunity to bring more members into the community.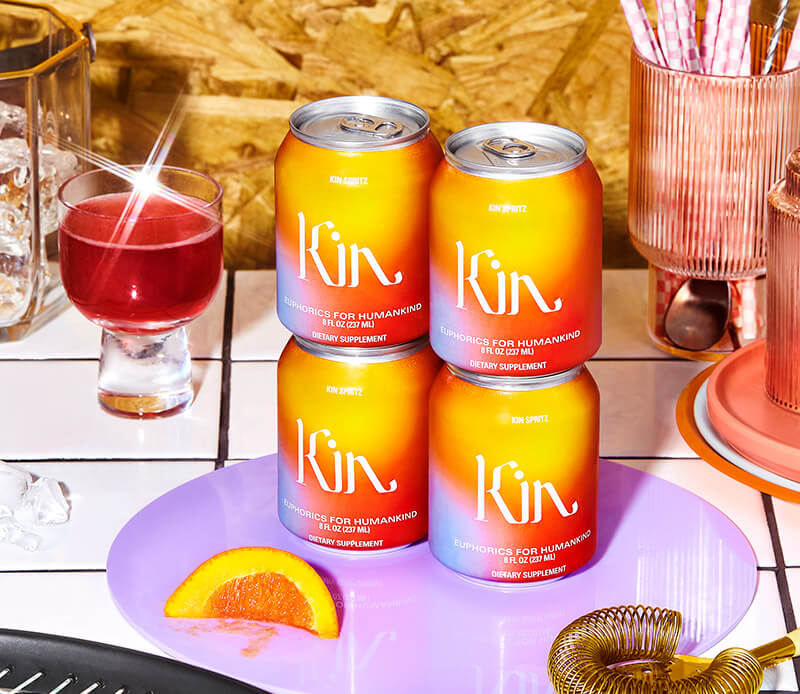 03 What lessons do you have for other entrepreneurs?
In the world of consumer packaged goods, it's tempting to launch a number of products, line extensions, and flavors early on. With so many look alike brands launching every day, there's a lot of pressure to stay top of mind with customers. Still, I don't think the answer is to keep rolling out new products, unless that's part of your unique ID as a company.
There's a lot to be said for nailing a hero SKU, building a cult following around that product, and getting your margins where they need to be. Also, it's critical to focus on nurturing your loyal guests and vendors while running an economical business. Those are all musts if you really want to build a strong foundation for longevity.
We don't get celebrated enough by the media or even investors for staying a strong course and being good business people. There's much more emphasis on being a great marketer. But, that doesn't always lead to the best outcome for founders or their top customers. I think it's important to share this with entrepreneurs that are still finding their way to defining true success for their businesses on the path to building a truly meaningful brand.
04 What's on the horizon for Kin Euphorics?
At Kin, we designed our beverages like a stereo. There's a product for every mood and shift throughout your day. Since launch, we've focused on the "Tune Up" (High Rhode and Kin Spritz) and "Tune Down" (Dream Light). We have a new R2D on the horizon launching in May to complete our bliss spectrum with more on the horizon throughout 2021. For updates, you can follow us on Instagram @kineuphorics.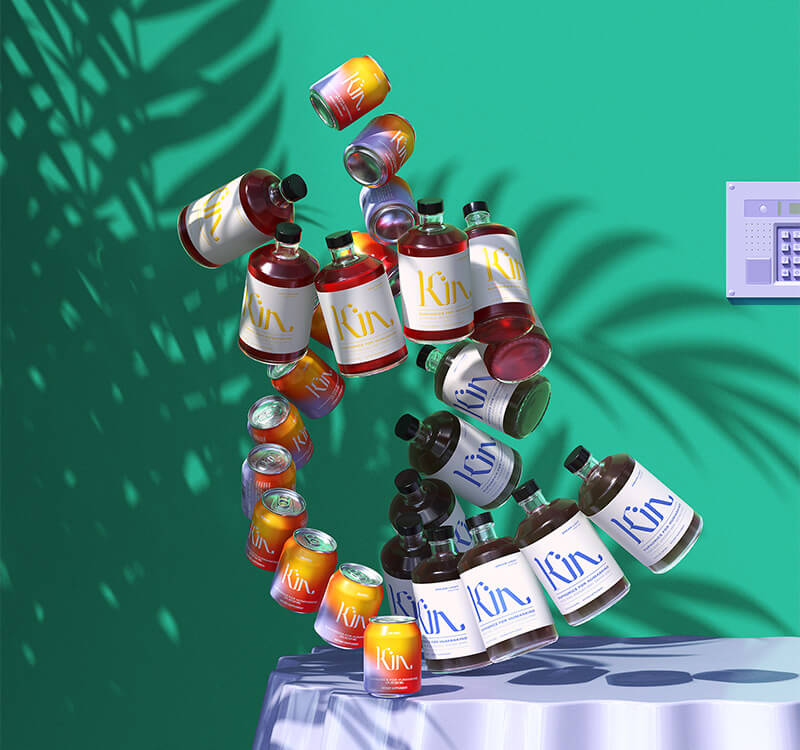 05 How do you keep work/life balance? What drives/inspires you?
As a founder and a new mom, I can't just pencil "self-care" into my schedule. Rather than trying to muster up the willpower or the sound reason for practicing self-care, I simply focus on integration.
I find it's easier to actively make my daily tasks a little slower and sweeter so I don't feel like I need a break from life when my day is done. For starters, I give myself until 10am before meetings start so I can take my coffee on the porch and catch up on emails in silence. I listen to guided meditations and liminal beats during breastfeeds and chant Kirtan in the shower. I doodle during conference calls *gasp* — despite what our grade school teachers said, it actually helps me focus more. This way, I'm not trying to answer Slacks during a group discussion.
At night, I make a point to turn off all tech and overhead lighting. I always manage to work in a little foot massage too, even if it's two minutes on each foot before my head hits the pillow.