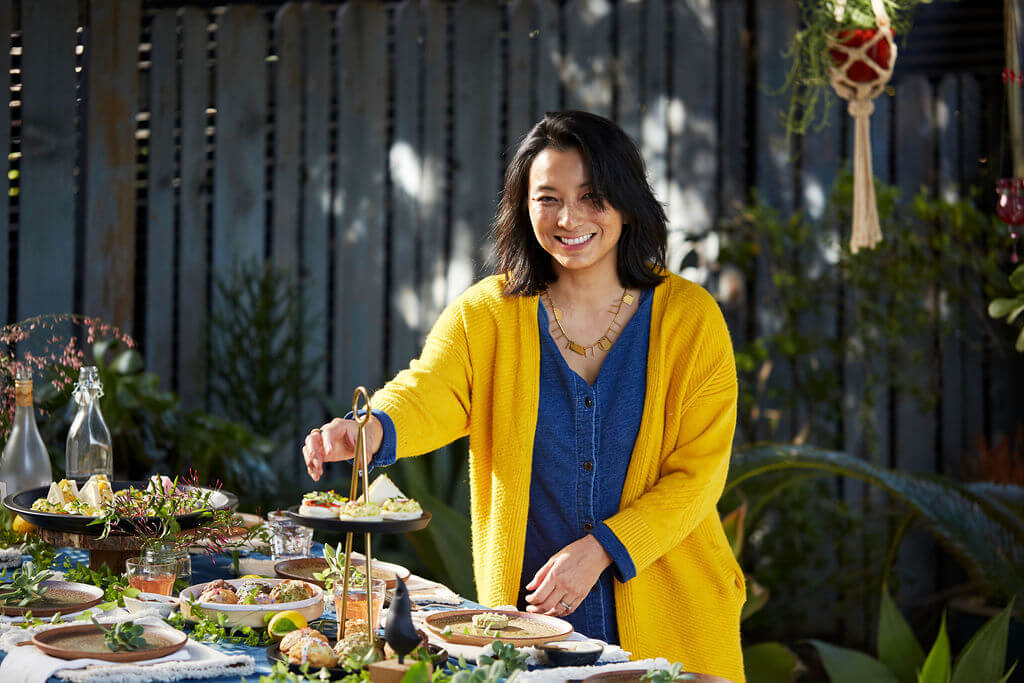 The founder of Silver Lake's Sugarbird Sweets & Teas prefers to go by a different title: Chief Scone Officer. Kei Okumura takes tea time seriously and she's dedicated the last 13 years to perfecting the classic pastry. The end result? Crispy edges, buttery bliss, and memorable moments for everyone's afternoon cup.
Recently, we caught up with Kei to learn more about her journey and hear her advice for fellow entrepreneurs.
01 Why did you start Sugarbird Sweets & Teas?
We opened in 2009 as a small farmers market stand in South Pasadena with five flavors of small batch teas. We quickly realized we needed to expand our lineup to include sweets. This organically turned Sugarbird into a tea and scone company.
Our goal is to inspire meaningful moments during afternoon tea through our fresh and unique flavors. When we started, scones just weren't sexy, So, we made it our mission to turn this humble classic pastry into a go-to favorite for everyone. They're buttery with a crunchy crumb top and an impossibly moist center.
Beyond that, our mission is to give you a moment to reset, be present, and connect with the people you love. Also, I'm proud to say that we are a minority- and woman-owned small business. At Sugarbird, we empower a diverse team of LGBTQ+ and minority bakers who are passionate about making sweets
02 What obstacles did you face along the way?
We had to pivot many times over the past ten years. Early on, we rented pizzeria and coffee shop kitchens to enable growth while keeping costs down. Then, a fellow entrepreneur referred us to a business accelerator called 10,000 Small Businesses. That's where I learned that you don't have to be independently wealthy to start your business because capital is available to borrow. In fact, it's actually welcomed — especially for women minority-owned businesses. That program led us to a retail location in DTLA. Unfortunately, it wasn't the booming breakfast and lunch scene I anticipated. We tried everything — food delivery, pop-ups, and cart service for offices – but we couldn't get anything to stick. It was a tough experience and we emerged with scars, but I don't regret it. We learned a lot over those three years and that helped inform our business model.
We narrowed to scale our core business — selling scones wholesale to café, restaurants, hotels, and online retailers. For two years, we hustled to land more accounts through catering and corporate events, plus baby and bridal showers. We also attended two farmer's markets per week, which gave us the customer feedback we needed to fine tune our menu.
In 2019, we had tea and scones with Lauren at Bristol Farms. That prompted our first order in March 2020, just at the start of the pandemic. Our wholesale and catering business disappeared overnight, so that opportunity enabled us to pivot once again.
03 What lessons do you have for other entrepreneurs?
Keep adapting. During the first lockdown, I knew that there weren't enough restaurants and cafes still open to sustain us. I started with local deliveries of bento boxes. Then, I partnered with a nonprofit that purchased prepared meals to be delivered to local healthcare workers.
Neither program was enough to sustain the business, so I got creative with direct-to-customer sales, including bake-at-home scones. I figured that if people couldn't come out for our products, the scones and tea sets could still come to them.
Looking back, these weren't easy adjustments, but we've flourished as a result. Today, we're in upscale hotels and gourmet grocery stores thanks to adaptability and our loyal customer base.
Invest in E-comm. We hired a digital marketing consultant — at a time when revenue was uncertain — was a gamble. But it was a risk that we had to take in order to survive. She helped us quickly ramp up our online advertising and the momentum from Mother's Day allowed us to continue offering the afternoon tea sets for all types of celebrations. Those orders allowed me to resume paying rent and enabled us to stay afloat.
I speak a whole new language now — pay-per-click, impressions, etc. Truthfully, I'm grateful for the huge push this pandemic gave me to take the plunge. I've spent much of the past few months letting go of a lot of "what ifs." Today, I lead with "just do it."
04 What's on the horizon for Sugarbird Sweets & Teas?
Going forward, we'll continue leaning into e-commerce, getting our frozen dough into more bakeries, and expanding a larger lifestyle brand. Ultimately, we want Sugarbird to make afternoon tea accessible for as many people as possible.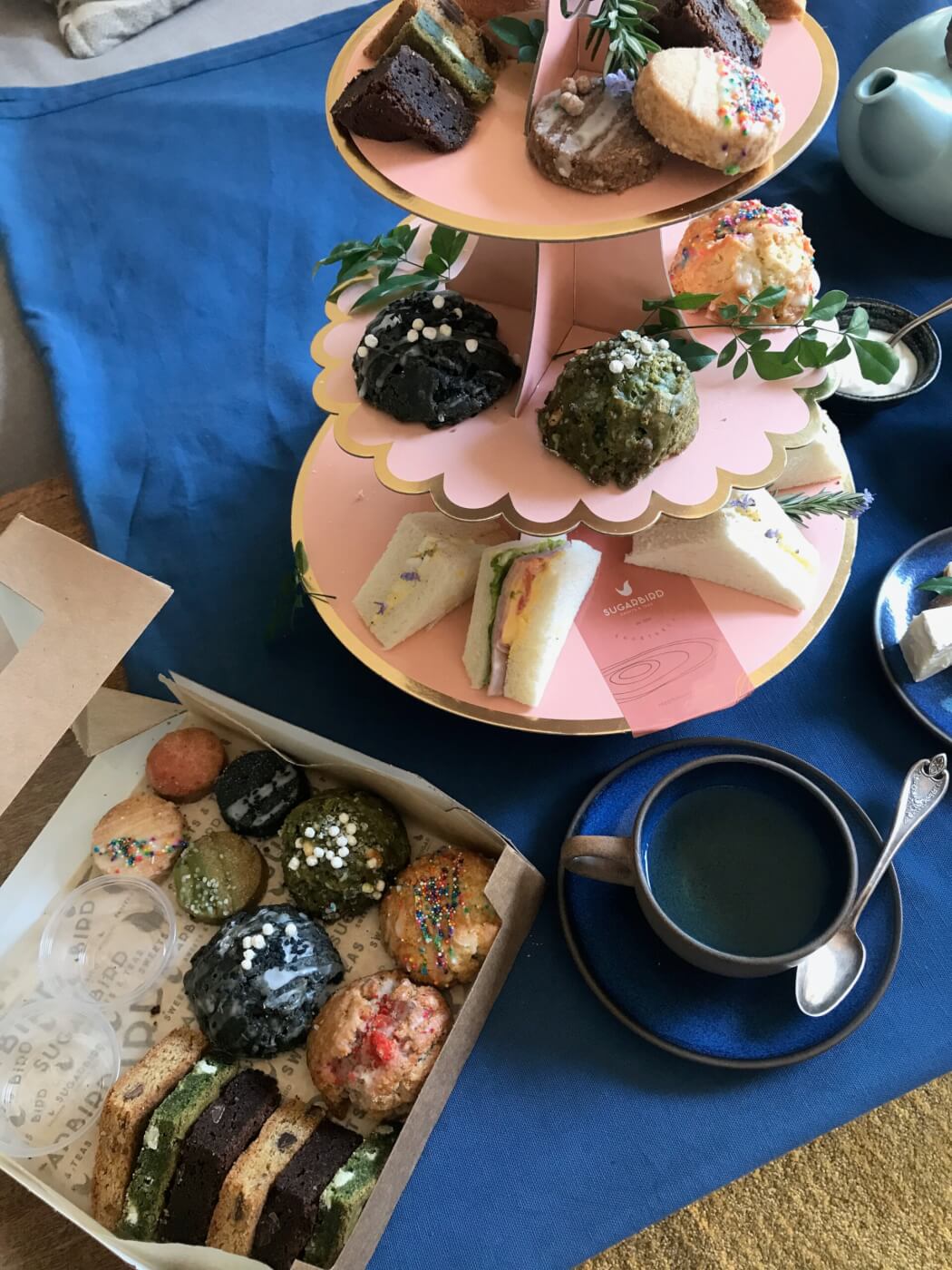 05 How do you keep work/life balance? What drives/inspires you?
My husband came on board during the pandemic and that's been a godsend for our company and my personal schedule. We're both inspired by nature, art, and connecting with friends and family. Even when life gets challenging, we believe there's always a way to stay connected. Meanwhile, we constantly challenge ourselves to learn more about our industry in order to be the best possible leaders for our staff.
We're driven by the connections we create for our customers through the ritual of afternoon tea. Through virtual parties and baby showers, we're bringing people together at a time when everyone is mostly isolated. We get super charged up when customers tell us how our scones have made the lockdown experience a little easier.
We're also inspired by our diverse team of bakers. At Sugarbird, we've fostered a strong and supportive team culture. Together, we'll grow Sugarbird into a national brand, one that's known for connecting people through simple rituals.