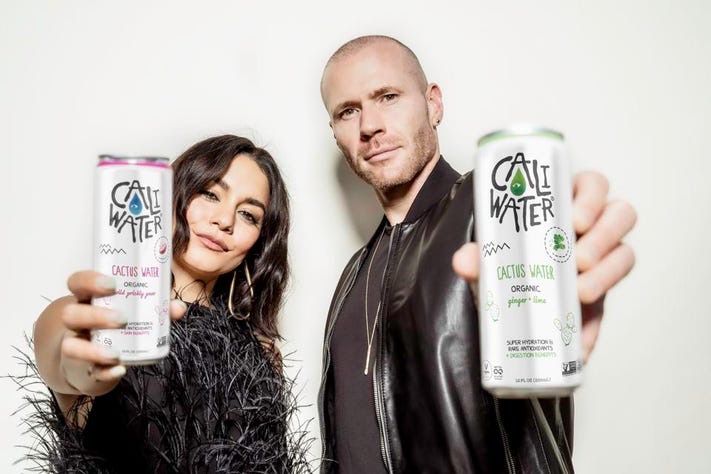 It all started when Vanessa Hudgens and Oliver Trevena discussed their shared love of eco-friendly activism over prickly pear margaritas. Together, the Hollywood stars created the perfect blend with Caliwater, the beverage that goes beyond hydration.
Caliwater combines prickly pear cactus fruit with organic ingredients for the ultimate summer sipper. The end result is refreshing in every sense with five naturally occurring electrolytes to boost hydration and just 25 calories per serving. Plus, with 200mg of prickly pear extract, Caliwater delivers skin-fortifying antioxidants and more health benefits to boost your natural glow.
In addition to consumer nutrition, Vanessa and Oliver are passionate about the fight against childhood starvation. That's why Caliwater donates five cents of every can sold to No Kid Hungry with the goal of contributing $1 million in 2022. It all adds up to one amazing drink that is good for you and others around the world.
Recently, we caught up with Vanessa and Oliver to learn more about their journey and hear their advice for fellow entrepreneurs.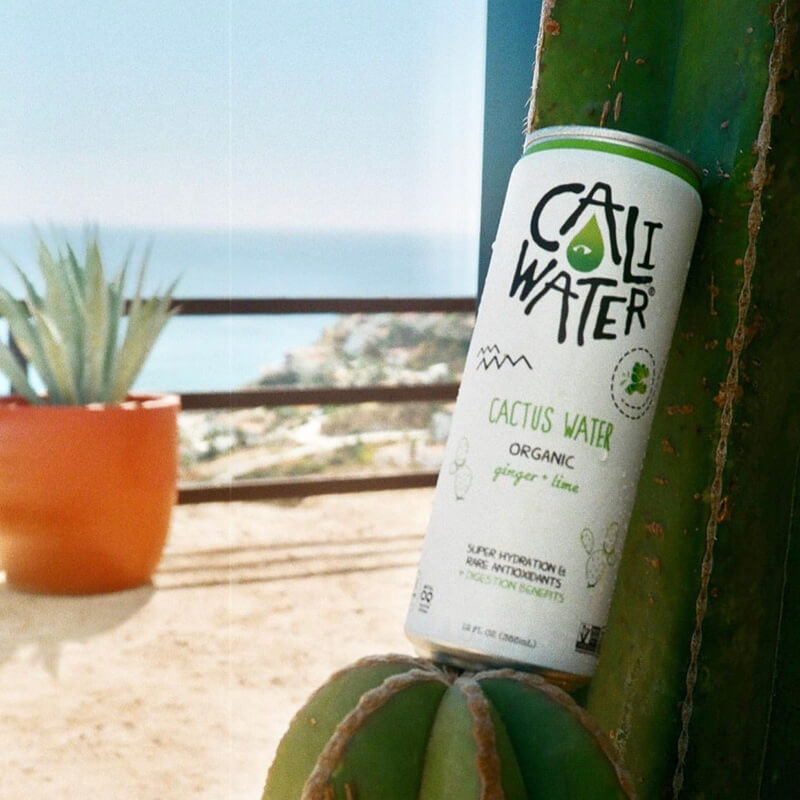 01 Why did you start Caliwater?
Vanessa: We have been close friends for over 14 years and really wanted to take on a business venture together. Caliwater was the perfect fit all around!
Oliver: Vanessa's knowledge and love for prickly pear came about after a trip to Mexico where the prickly pear margarita was discovered.
Vanessa: And Oliver is very known in the health and wellness space for having worked on so many successful brands. The two of us teaming up to take on, develop, and bring Caliwater to market was a natural fit.
Caliwater is a functional health beverage. It helps people in so many ways, and that is something we can really get behind. The digestive and health benefits are endless, not to mention the benefits to your skin and the high level of hydration it offers. It's so good for you and tastes amazing with less than half the sugar and calories of coconut water. Works brilliantly as a health beverage and also tastes lovely as an alcoholic mixer (especially with Tequila)!
Oliver: To us a Healthy lifestyle mixed with some fun is exactly what California is and that's what Caliwater is!
We also spent a long time fine tuning the flavors, designing packaging, and organizing a full brand launch and roll out. This took a couple of years as we wanted to get it right. We love a challenge and a passion project, and we knew launching a beverage would not be easy, but we were determined from the start as soon as we became obsessed with the idea and taste.
02 What obstacles did you face along the way?
Oliver: A beverage launch is certainly not easy, and there is a lot of trial and error involved. It took a while to perfect the flavors as we secured our vendors and ingredient sourcing during the pandemic. Many things were delayed, so we basically had to push our launch out by a year. That also gave us more time to align on everything and, like most things in life, it all plays out the way it's supposed to. Looking back, we can say that our timing was right.
Vanessa: Production was also tough in the beginning due to logistical challenges and shipping. But, now, we are in a ton of retailers — including our family at Bristol Farms — and the product is thriving. As the founders, we love seeing people's faces when they try it for the first time, it is such an exciting and rewarding experience! We put so much love and passion into this, it is our baby, so we want to see people enjoying it!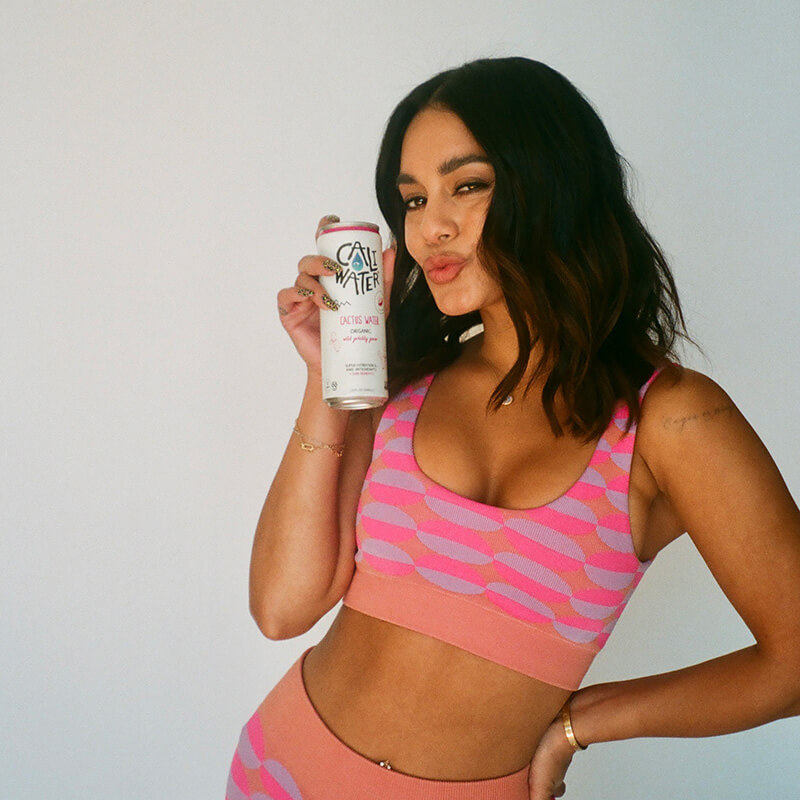 03 What lessons do you have for other entrepreneurs?
Oliver: Don't be daunted by the prospect of failure. Don't let failure stop you. It's inevitable, so just stay true to yourself and persist. We truly believe this. Just stay focused, and determined, and enjoy what you are doing.
You must LOVE what you are launching, and your product. It will reflect this way to others and in the product itself, as well as to your retail partners and customers. It has to be authentic!
Vanessa: Keep the belief in yourself, and your goals strong and consistent. And be able to amend changes in the plan, or deviants to the path. Being Flexible is also a quality of strong entrepreneurs.
04 What's on the horizon for Caliwater?
Vanessa: Our third flavor is on the horizon and we're gearing up for launch in August, so stay tuned! It will be super refreshing and exciting. We are also finalizing our kids pouches for launch this fall.
Oliver: There will be lots of expansion for Caliwater. Still, we're taking our time on each new flavor and element to ensure perfect products we can get behind. In addition, we have great programming like our Cali Fit Club — rotating fitness classes in LA with more cities to come as we expand retail.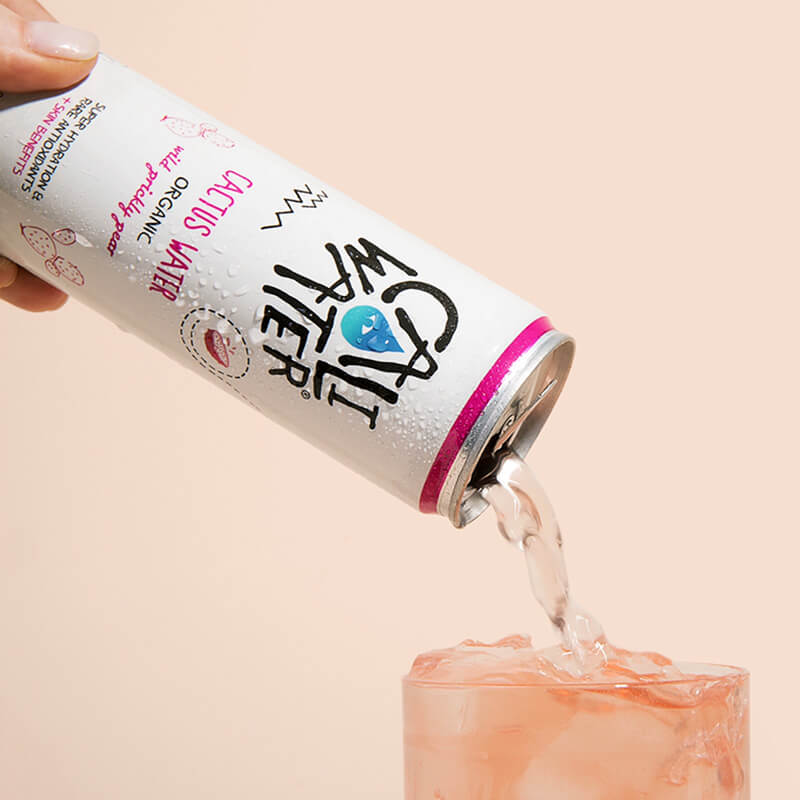 05 How do you keep work/life balance? What drives/inspires you?
Vanessa: You just have to. Traveling, spa days, breaks to enjoy friends, and family. This is something we started because we were passionate about it and had a vision, but it also was something we wanted to have fun with and be excited about.
We shot our summer campaign in Cabo at an incredible villa — elements like that help us visualize and make things happen as a team. That definitely contributes to a great work/life balance. The environments that surround you determine much of your success, mood, and motivation.
Oliver: We also love a great workout session at Dogpound. Their workout regimen is tough but it encourages you to focus, allowing you to unwind in an exhilarating way, while unleashing energy and feeling a gratification for success at the end. It is definitely one of our joint passions that we squeeze in as much as possible when back home in LA.
Vanessa: Avoiding burnout means finding balance. Put yourself first when needed. Say 'no' when you need to take care of yourself. And take spa days! A meditation class, a massage, or sauna session always makes for a good relief tactic.