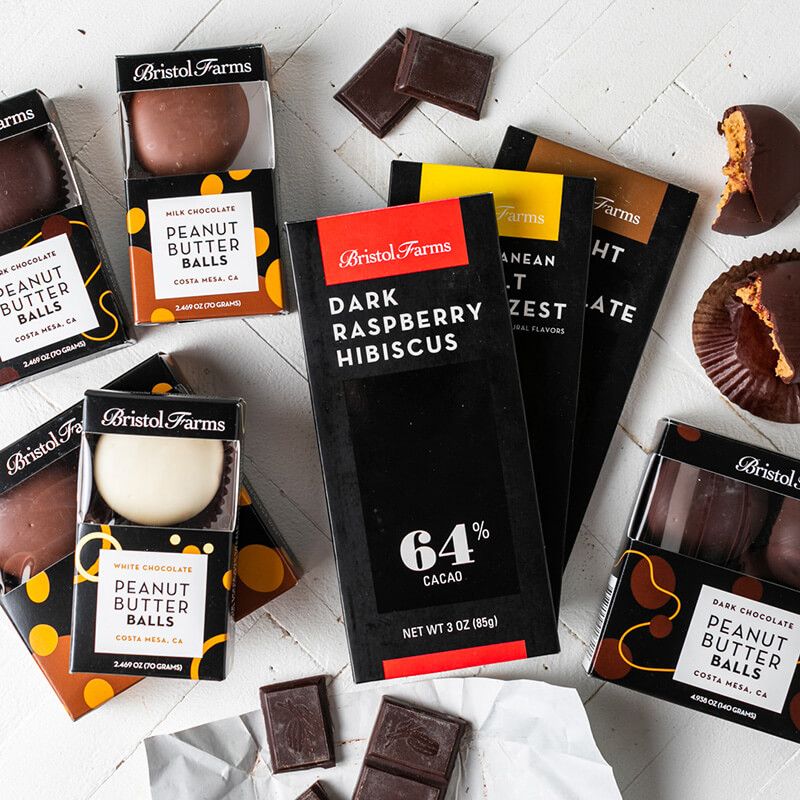 This is no ordinary chocolate. We've raised the bar to showcase the full spectrum of flavors in our premium-quality cacao:
Midnight Dark Chocolate: Fruity and floral aromas introduce the robust and rich flavors of this 85% cacao masterpiece.
Mediterranean Sea Salt Lemon Zest: Spiked with citrus and fleur de sel, this 72% dark chocolate bar will take your taste buds on a trip.
Dark Raspberry Hibiscus: Made with 64% cacao and crystallized bits of hibiscus to sweetly compliment the tartness of the raspberries.
Want to unwrap their full potential? Pair our bars with your favorite wine, or chop them into "chocolate chips" for these melty, dreamy cookies.
Serving Size

10

Cook Time

10 minutes
Ingredients
2 cups Bristol Farms Dark Chocolate Bar chopped

2 1/2 cups all-purpose flour

1 teaspoon baking soda

1/2 teaspoon salt

2 sticks butter or margarine softened

3/4 cup granulated sugar

1/2 cup light brown sugar packed

2 eggs

1 teaspoon vanilla extract

1 cup walnuts chopped
Directions
Heat oven to 350°F.

Stir flour, baking soda, and salt together in a large bowl.

In an electric mixer, beat butter, brown sugar, granulated sugar, eggs, and vanilla until creamy. Gradually add in flour mixture and chopped chocolate, mix until combined.

Evenly spread tablespoons of dough across an ungreased cookie sheet.

Bake for 10 minutes, or until lightly browned.

Let cool, serve, and enjoy!