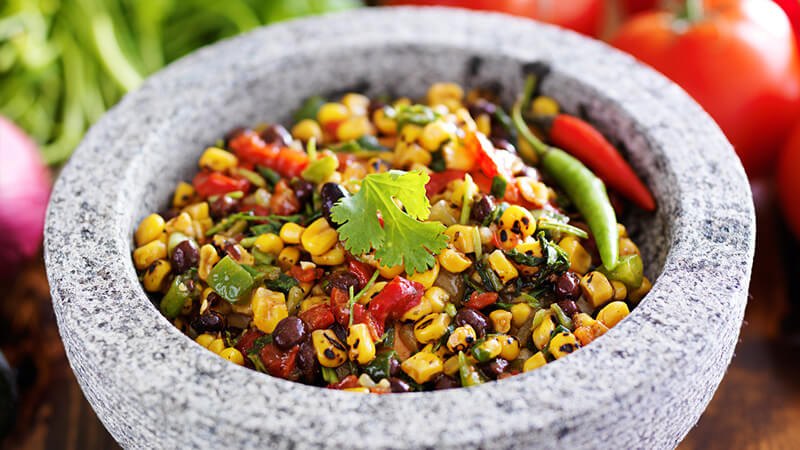 Summer means grilling season, backyard barbecues, and outdoor eating. It also means you're going to need some tasty snacks to tide you over while everything's cooking.
While you bask in the sun (with ample SPF, of course), treat yourself to some chips and salsa. Or tacos and salsa. Or veggies and salsa. Or pretty much anything + salsa!
Getting hungry? Dip into one of our favorite summer salsa recipes.
Ingredients
2 cups corn, cut from the cob

1 can (15 oz) black beans, drained

2 Roma tomatoes

1 small red onion diced

1 jalapeño seeded

1 bunch cilantro

1 lime

1/4 teaspoon paprika

1/4 teaspoon cumin

Sea salt & pepper
Directions
Grill your corn whole, or if you don't have a grill, slice the kernels from the cob and brown in a large skillet.

Dice the tomatoes and set into a small bowl. Add salt. Wait 10 minutes before draining all excess liquid and adding the remaining ingredients.

Add the red onion, jalapeño and black beans. Finely chop the cilantro and add to the bowl.

Season with paprika, cumin, and pepper.

Add grilled corn to the Roma tomato mixture. Top it off with a squeeze of lime.