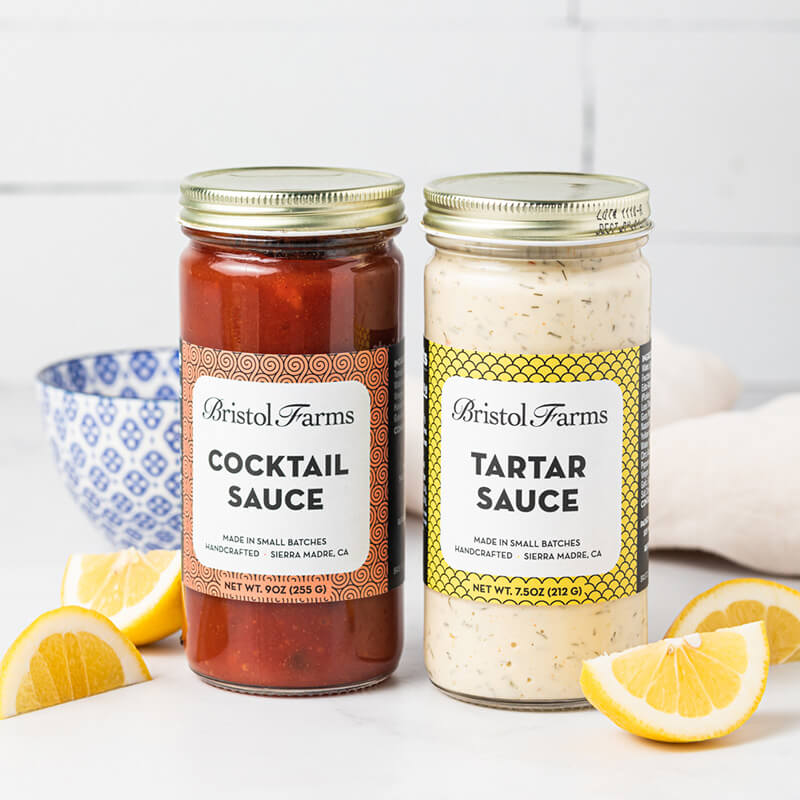 Ready for the ultimate seafood summer? From wild-caught fish to the perfect crab cake, we're ready with the tastiest seafood around.
To make things easy, we've got your condiments covered too! If you haven't tried our small batch Tartar Sauce, you're in for a real treat. Made in Sierra Madre, it's tangy, zesty, creamy, and the perfect partner for all things seafood. Plus, we bring fresh crispness with cucumbers and just the right amount of heat with diced jalapeños.
Let's get started with this recipe for sensational Shrimp Po'Boys.
Ingredients
1 jar Bristol Farms Tartar Sauce

2 pounds shrimp peeled and deveined

1/2 cup flour

1 teaspoon kosher salt

1/4 teaspoon paprika

1/2 teaspoon cayenne

1 teaspoon Old Bay seasoning

4 eggs beaten

2 cups panko breadcrumbs

Peanut or Vegetable Oil for frying

4 soft sub rolls

16 slices tomato

2 cups iceberg lettuce shredded
Directions
Set up a dredging station using three bowls. In the first bowl, combine flour with salt, paprika, cayenne, and Old Bay. Use a second bowl to whisk eggs. In the third, add panko breadcrumbs.

Heat oil to 350°F while preparing.

Dip each shrimp into flour mixture, then the egg, then the panko.

Shallow fry each shrimp until cooked, roughly 1-2 minutes per side.

Remove and let drain on a lined rack or paper towel while prepping rolls.

Spread a generous serving of Bristol Farms Tartar Sauce across both sides of each roll.

Add layers of iceberg lettuce and tomatoes.

Top with fried shrimp.

Enjoy!