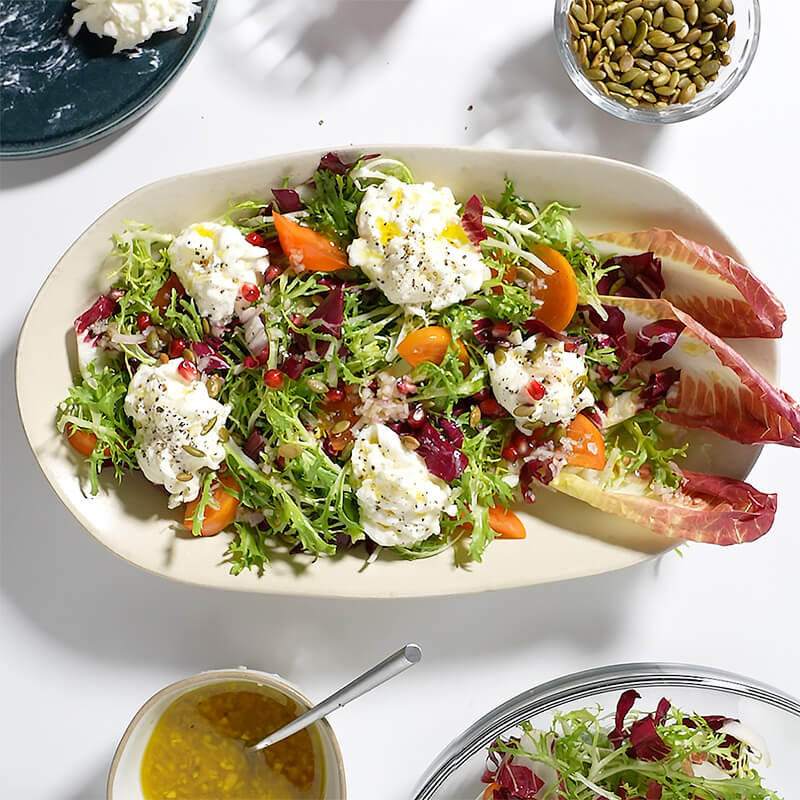 They hang like bright ornaments and peak in the winter, presenting bountiful notes of cinnamon and spice. Locally-grown persimmons will shine like never before in this jaw-dropper of a salad.
You'll see what we mean when you try this earthy blend of winter greens, perfectly balanced by persimmons, honey shallot dressing, and heavenly clouds of burrata. Crispy, sweet, creamy, and savory all at once, it'll make even the fussiest of eaters join the Clean Plate Club.
The presentation screams holiday starter, but why stop there? This salad is bright, colorful, and easy — simply perfect for every gathering of the season.
Ingredients
1/2 head treviso

1/2 head Belgian endive

1/2 head frisée

1/2 head radicchio

1 teaspoon salt

2 Fuyu persimmons wedged

8 ounces Bristol Farms burrata

1/2 cup Pomegranate seeds

1/2 cup roasted and salted pepitas

1 lemon

1 shallot finely chopped

1/2 cup olive oil

1 tablespoon honey

1/4 cup Meyer lemon juice

pinch of Maldon salt

Fresh cracked black pepper
Directions
Wash and chop greens into forkable, bite-size pieces. Combine and toss gently in a bowl with salt and lemon juice.

Place shallots and lemon juice in a separate bowl and let sit for 5 minutes. Slowly whisk in honey and olive oil until fully incorporated. Add salt and pepper to taste.

Plate greens and persimmon wedges. Spoon on half of dressing; reserve remainder.

Top salad with gently torn pieces of burrata. Season each bite with pepper and a drizzle of olive oil.

Garnish with the pepitas, pomegranate seeds, and a pinch of Maldon salt. Serve with extra dressing on the side.