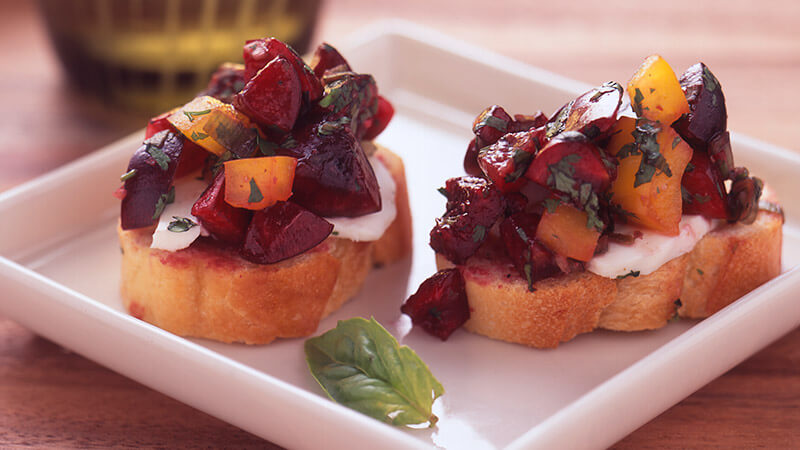 We all know red cherries are delicious on their own, but have you tried adding them to savory dishes? We asked our friends at Northwest Cherry Growers, a collective of passionate farmers, for a few of their favorite recipes.
Pro tip: if you don't have a cherry pitter, grab a chopstick or reusable straw. Push your chosen utensil at the point where the stem meets the fruit and push the pit straight through into a bowl. You can also use a paring knife to slice through the fruit (avoiding the seed) and pop out the pit.
Ingredients
18 (1/2 inch thick) small baguette-style bread

1 olive oil for brushing

1 1/2 pitted Northwest fresh sweet cherries, roughly chopped

1/4 cilantro chopped

1/4 yellow sweet pepper diced

2 green onions finely chopped

2 lime juice

1 lime peel grated

1/2 garlic salt

1/4 black pepper ground

2 ounces fresh mozzarella cheese

1 fresh basil thinly sliced
Directions
Toast one side of baguette slices at 350°F for about 4 minutes.

Turn slices. Brush with olive oil and bake for another 4 minutes, or until desired toast level.

Combine cherries, cilantro, pepper, green onions, lime juice, lime peel, salt, pepper and remaining olive oil mix in a bowl; mix well.

Top each slice of freshly toasted baguette with a thin slice of fresh mozzarella cheese, a heaping tablespoon of cherry mixture and sliced basil.

Serve warm or cold. Makes 18 appetizers.