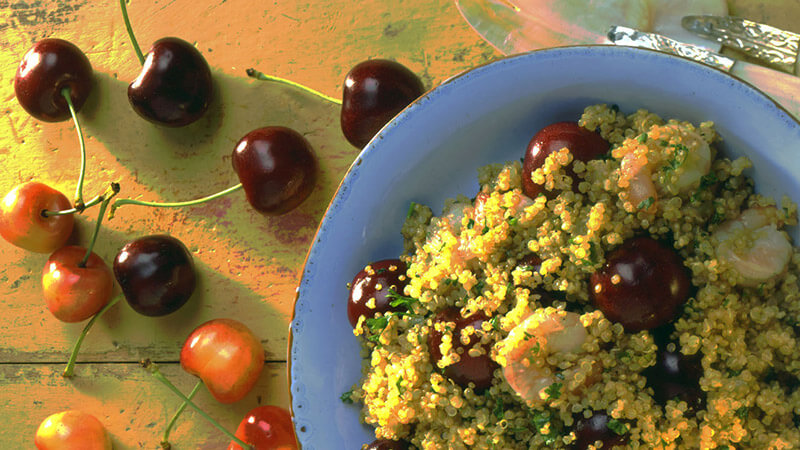 We all know red cherries are delicious on their own, but have you tried adding them to savory dishes? We asked our friends at Northwest Cherry Growers, a collective of passionate farmers, for a few of their favorite recipes.
Pro tip: if you don't have a cherry pitter, grab a chopstick or reusable straw. Push your chosen utensil at the point where the stem meets the fruit and push the pit straight through into a bowl. You can also use a paring knife to slice through the fruit (avoiding the seed) and pop out the pit.
Ingredients
2 pitted Northwest fresh sweet cherries

8 ounces small cooked peeled shrimp

1/2 onion chopped

1 garlic minced

1 vegetable oil

1 can (14 oz.) chicken broth

1 quinoa, rinsed and drained

2 Anaheim pepper chopped

1/2 salt

1/4 ground pepper

1/4 parsley chopped
Optional Ingredients
Directions
Sauté onion and garlic in oil. Add broth, quinoa, Anaheim pepper, salt and ground pepper.

Bring mixture to boil, reduce heat, cover and simmer for 12-18 minutes or until all liquid is absorbed.

Fluff mixture with a fork and gently stir in cherries, shrimp and parsley.

Serve with salsa if desired.