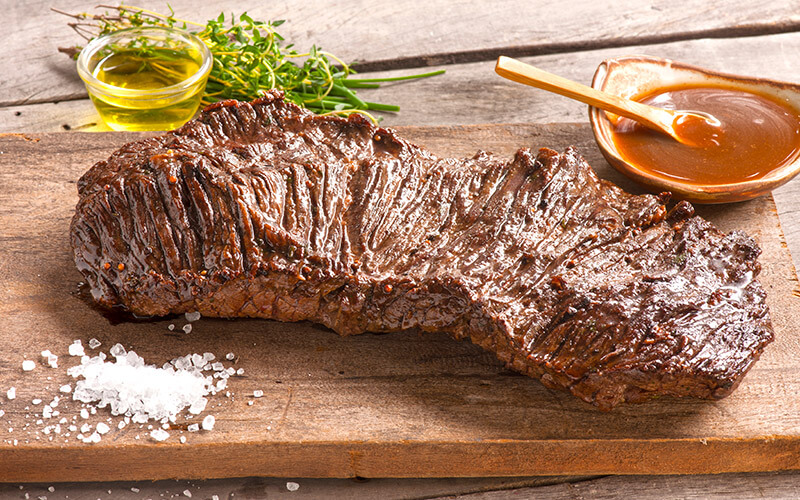 Similar to skirt steak, flank steak is a lean yet more tender cut of beef with an intense and meaty flavor. It's simple to prepare, making it a great go-to for any meal – think steak and eggs for breakfast, flank steak salad for lunch, and carne asada for dinner.
This tender steak cooks well on a super hot grill or pan (preferably a cast-iron skillet) over medium-high heat, requiring no more than 10 minutes on each side. To keep it juicy, we recommend cooking your flank steak to rare or medium-rare. Overcooking will make it tough, leathery, and lackluster. As with all meats, flank steak continues cooking once pulled off the grill, so let it rest before cutting. After about ten minutes, take your knife and cut against the grain, or perpendicular to the steak's visible lines.
Flank steak is also super lean, making it the perfect canvas for a delicious marinade, which infuses the meat with bold flavor and helps tenderize it for that just-right bite. Since it's not very fatty, a quick soak in any marinade will do, but marinating it overnight results in a deeper and more decadent flavor. That said, a simple coating of olive oil, vinegar, salt, and pepper will give you a juicy, flavorful piece of meat!
Looking to turn it up a notch? Carne asada is a traditional Mexican dish that can be eaten on its own or used in tacos, tostadas, burritos, enchiladas, and more. It puts a bold twist on a traditional marinade by combining citrus juices, garlic, and other Latin flavors to give your steak an undeniable punch for a full-flavored fiesta!
This classic fajita recipe is sure to turn up the heat and leave your taste buds sizzilin'. Our Citrus Marinade gives flank steak a zesty and refreshing kick. Get the fiesta started with some warm tortillas and fresh guacamole on the side!
Ingredients
1 1/2 flank steak

Bristol Farms Citrus Marinade

1 pkg Lawry's Fajita Seasoning

1 white onion sliced

2 green bell peppers sliced

4 garlic cloves chopped

1/4 Bristol Farms Olive Oil

1/4 cilantro chopped

Salt & Pepper to taste
Directions
In a bowl, combine Bristol Farms Citrus Marinade, chopped garlic, olive oil, cilantro, and 2 teaspoons of fajita seasoning. Mix together.

Place your flank steak in a shallow baking dish. Pour marinade mixture over steak and coat evenly.

Refrigerate for a minimum of 1 hour.

Once ready to cook, heat 1 teaspoon of olive oil in a skillet.

Season onion and bell peppers with fajita seasoning and sauté for about 5 minutes. Remove from pan and set aside.

Add 2 more teaspoons of oil to the same pan and add marinated steak. Cook for 2 minutes on each side.

Once done, remove from heat and let it cool for a few minutes.

Create tender and meaty slices by cutting against the grain.

Season with salt and pepper for taste and serve on a platter with onions and peppers