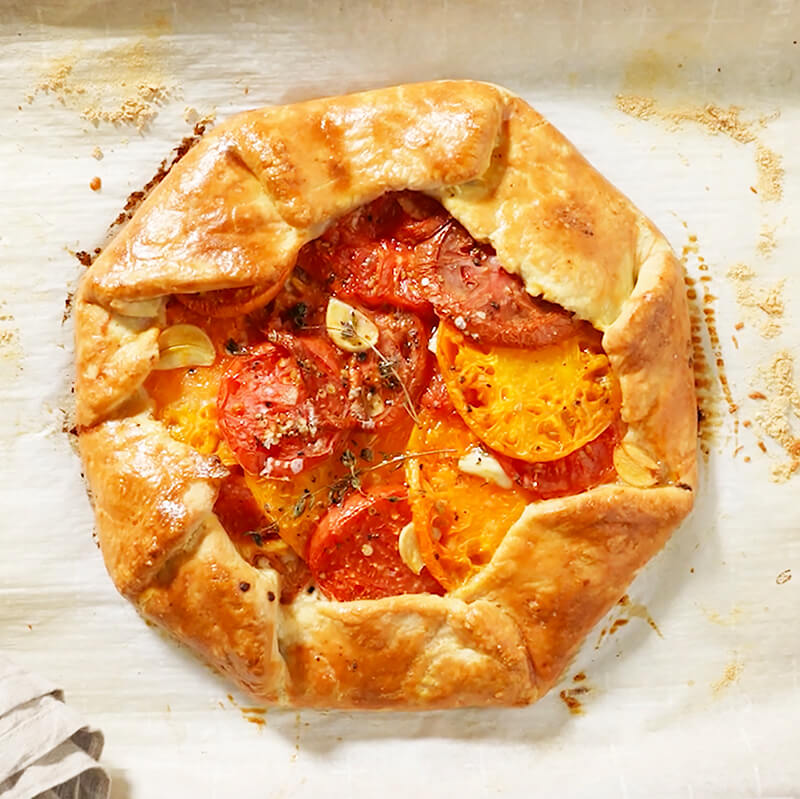 Galettes are sort of like snowflakes. They're always special and you'd be hard-pressed to find two that are exactly alike.
You'll see what we mean when you make your very own rendition, filled with melty asiago cheese and fresh heirloom tomatoes. Sure, there's some careful measuring involved, but feel free to shape your galette however you see fit. When all is said and done, this French masterpiece is still more of an art than a science.
Can't wait to dive into this literal gourmet pizza pie? Same here! Come join us in the kitchen for a galette that's sure to impress.
Ingredients
2 King Arthur all-purpose flour

2 1/2 salt

1 1/2 unsalted butter cubed

2 apple cider vinegar

1 1/2 heirloom tomatoes sliced to ¼ inch thickness

2 garlic cloves thinly sliced

Fresh thyme

3 asiago cheese grated

3 asiago cheese shredded

1 egg beaten

1 lemon

1 fresh chives chopped

Coarse kosher salt

Black pepper
Directions
Pulse flour and 1.5 teaspoons salt in a food processor. Add butter and blend until loosely combined before transferring to a large mixing bowl.

Add apple cider vinegar and 1/4 cup ice water, using a large fork to stir. Splash in additional water as needed and be careful not to overmix.

Gently knead the dough atop a board or clean counter to form a fully-moistened disc. Wrap tightly in plastic and refrigerate for at least 2 and up to 24 hours.

Preheat oven to 400°. In a separate bowl, gently toss sliced tomatoes and garlic with 1 teaspoon salt. Let sit for 10 minutes before straining out excess liquid and transferring to paper towel-lined plate.

Roll dough across floured parchment to about 14-inches round and 1/8 inch thickness. Transfer parchment to a baking tray and scatter asiago across the top, leaving a 2-inch cheeseless border around the edge.

Place tomato mixture and thyme atop the cheese layer. Fold dough edges over tomatoes and brush generously with egg.

Freeze tray for 10 minutes. If it's too large, carefully lift the parchment by the edges and transfer to a large plate.

Bake for 50-60 minutes, rotating once or twice to ensure even, golden browning.

Sprinkle galette with lemon zest and chives, plus pepper to taste. Serve and enjoy!