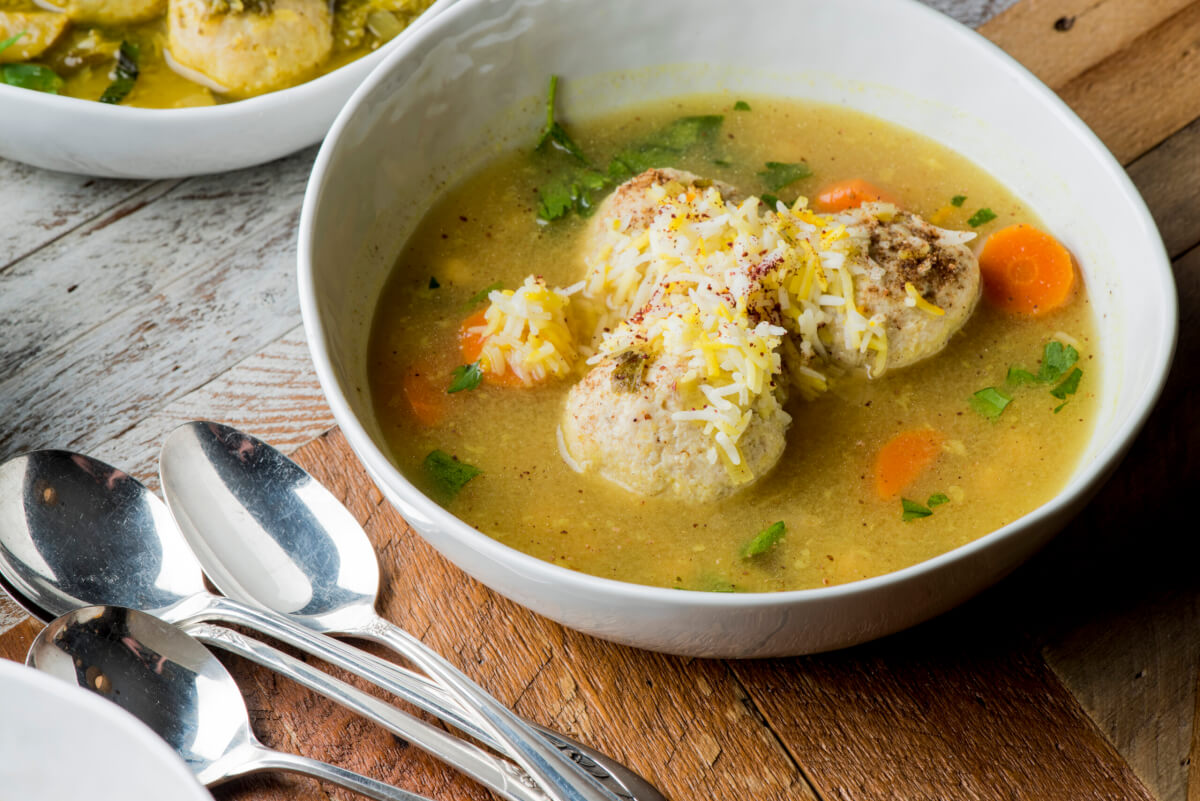 There is nothing more comforting (and delicious) than the perfect bowl of matzo ball soup. It's a favorite at Passover, when leavened grains are swapped for unleavened flatbread. Even beyond the holiday, this deli staple offers classic comfort for all to enjoy.
Matzo balls (a.k.a. kneidel) are made with eggs, chicken fat, and spices to turn those crunchy bites into simple, savory magic. Then, they're added to a deliciously fragrant broth for a warm, hearty meal that soothes the soul.
Everyone has their own preference when it comes to matzo balls. Some prefer "floaters"— light and fluffy kneidels that rise to the surface of the bowl. Others swear by "sinkers" — denser matzo balls designed to rest on the bottom.
Ingredients
1 chicken (3-5lbs) quartered

2 large onions quartered with skin removed

4 leeks chopped

8 celery chopped

8 carrots chopped

1 of garlic peeled whole cloves

14 canned whole tomatoes

2 bay leaves

5 paprika smoked

2 cumin

1 sumac

4 olive oil

Parsley to garnish
Directions
In a large pot, add olive oil, onions, and chicken. Let chicken sear until browned on all sides. Then, add 2 leeks, 4 celery, 4 carrots, garlic, tomatoes, and bay leaves. Fill with water, turn to medium heat, and let simmer.

Make 1 complete matzo ball recipe (directions above).

After simmering for about 45 minutes, remove chicken and set aside. Add paprika, cumin, and sumac.

Let the soup simmer for about 2 hours more, occasionally skimming the top for fat.

After two hours, remove bay leaves and use an immersion blender to combine until smooth. Add remaining chopped carrots, celery, and leeks.

Cook for another 45 minutes.

Serve with matzo balls and top with finely diced parsley.