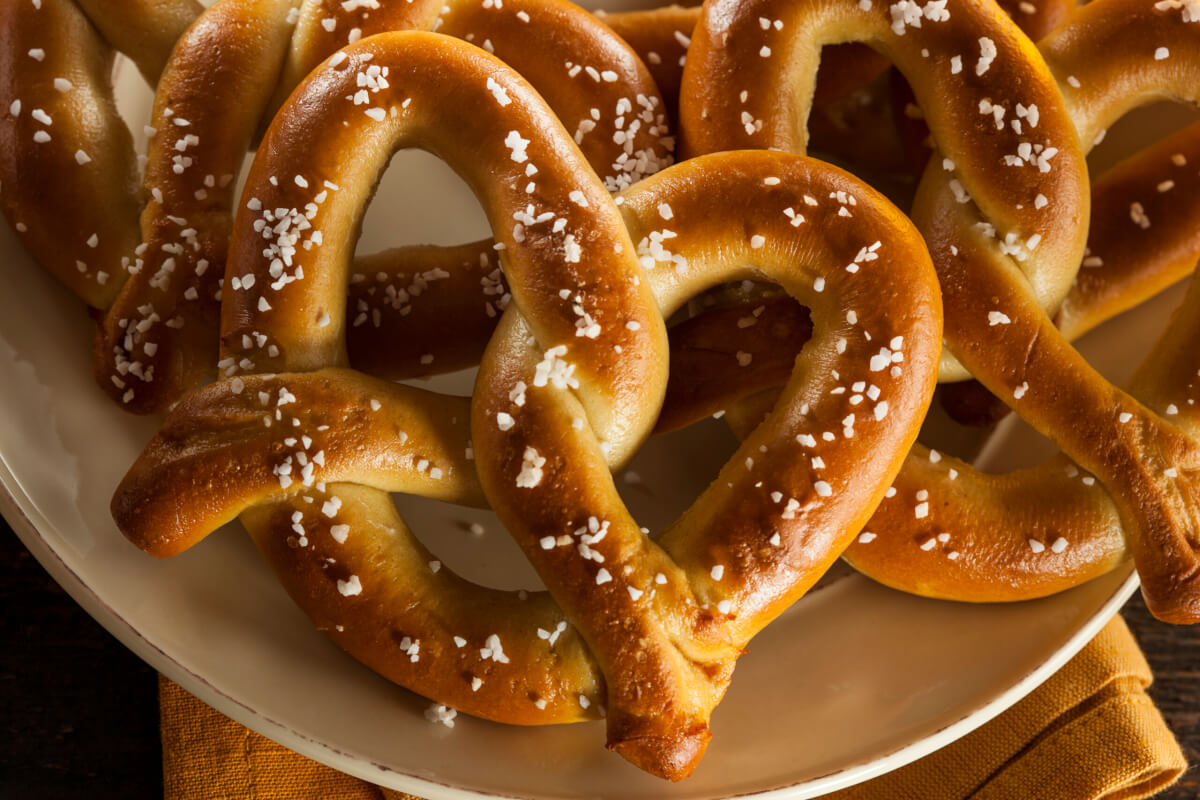 These pretzels will make the living room go wild on game day. Pillow-soft and buttery, they're the classic snack. Plus, fresh baked pretzels are super versatile. Team them up with loaded cheese dip, spicy mustard, or Green Goddess dressing for a championship-level nosh. Then, for a sweet twist, you can make the second half of your batch with cinnamon sugar and candied almonds.

Ready to kick things off? Let's go!
Ingredients
2 all-purpose flour

1 salt

1 sugar

1/2 slightly warm water

2 1/2 active dry yeast

2 room temperature butter
For Baking Soda Bath
4 1/4 water

3 baking soda
Directions
In a bowl, add sugar and yeast to 1/2 cup slightly warmed water (100-115°F). Stir and allow to bloom for 10 minutes.

In a separate bowl, sift all-purpose flour and sugar together.

Cut butter into small cubes and set aside.

Add bloomed yeast and cubed butter to the flour bowl. Knead well for 15 minutes, until the dough is supple. Add extra flour or water as needed to form a smooth dough.

Cover and let rest for 30 minutes.

As it rises, preheat the oven to 400°F and bring 4 1/4 cups of water to a boil in a large pot. Add baking soda. Expect a small reaction as the baking soda is added.

Cut the dough into 6 equal parts and roll into strands with tapered edges. Lifting the ends, twist the strands twice to form a pretzel shape.

Using a strainer or slotted spoon, gently lower each pretzel into the water solution. Allow to float for 6 seconds before flipping. Remove after another 6 seconds and place on a lined baking sheet.

Sprinkle with coarse salt and place into the oven. Bake for 15-20 minutes or until golden brown.