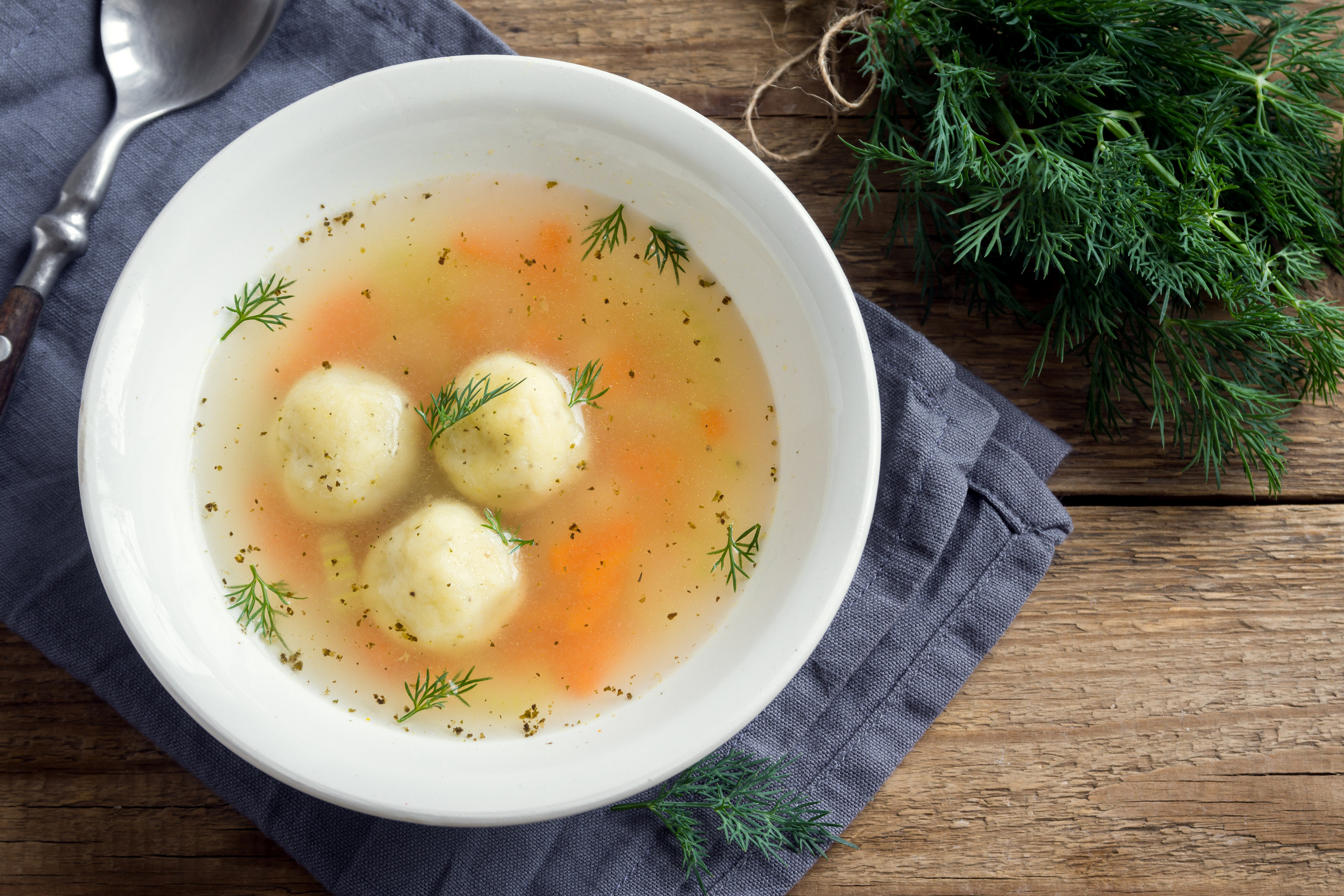 There is nothing more comforting (and delicious) than the perfect bowl of matzo ball soup. It's a favorite at Passover, when leavened grains are swapped for unleavened flatbread. Even beyond the holiday, this deli staple offers classic comfort for all to enjoy.
Matzo balls (a.k.a. kneidel) are made with eggs, chicken fat, and spices to turn those crunchy bites into simple, savory magic. Then, they're added to a deliciously fragrant broth for a warm, hearty meal that soothes the soul. Everyone has their own preference when it comes to matzo balls. Some prefer "floaters"— light and fluffy kneidels that rise to the surface of the bowl. Others swear by "sinkers" — denser matzo balls designed to rest on the bottom.
You won't miss the chicken with our vegan version of this classic! This recipe makes Floaters, so feel free to skip the baking powder if you're on Team Sinker.
Ingredients
2 tablespoons vegan chicken bouillon (or cubes)

1 tablespoon olive oil

2 tablespoons vegan butter

1 white onion quartered

3 carrots chopped

3 stalks celery chopped

3 cloves garlic minced

4 cloves garlic whole

2 bay leaves

1 teaspoon dried oregano

1 teaspoon dried parsley

1 teaspoon salt

1 teaspoon black pepper freshly cracked

10 cups of water (or until the pot is 3/4 full)
Directions
Bring a large pot to medium heat. Add olive oil. Once hot, add the quartered onion. Once golden, add minced garlic. Once fragrant, add carrots and celery. Stir.

In a bowl, mix together bouillon and 3 tbsp warm water. Whisk to combine then add to the pot, using a wooden spoon to stir, making sure nothing sticks to the bottom.

Add remaining garlic, bay leaves, dried oregano, dried, parsley, salt, and pepper. Stir.

Add water until the pot is full.

Allow to simmer as you prepare the matzo balls. In a small bowl, combine flax seeds and 3 tbsp water. Let sit for 10 minutes.

In a bowl, add matzo meal, baking soda, salt, avocado oil, flax seed mixture, and 3 tbsp water. Cover and refrigerate until mixture has reached a soft, pliable consistency (able to roll between hands and retain shape). Roughly 2 hours.

Shape them into small, golf-ball-sized rounds using wet hands (to prevent sticking). Place on a lined baking tray until ready to prepare.

Use a slotted spoon to carefully add matzo balls to the pot of soup (for flavor). Let boil for 30-40 minutes, or until matzo balls have floated to the surface.

Serve topped with parsley. Enjoy!