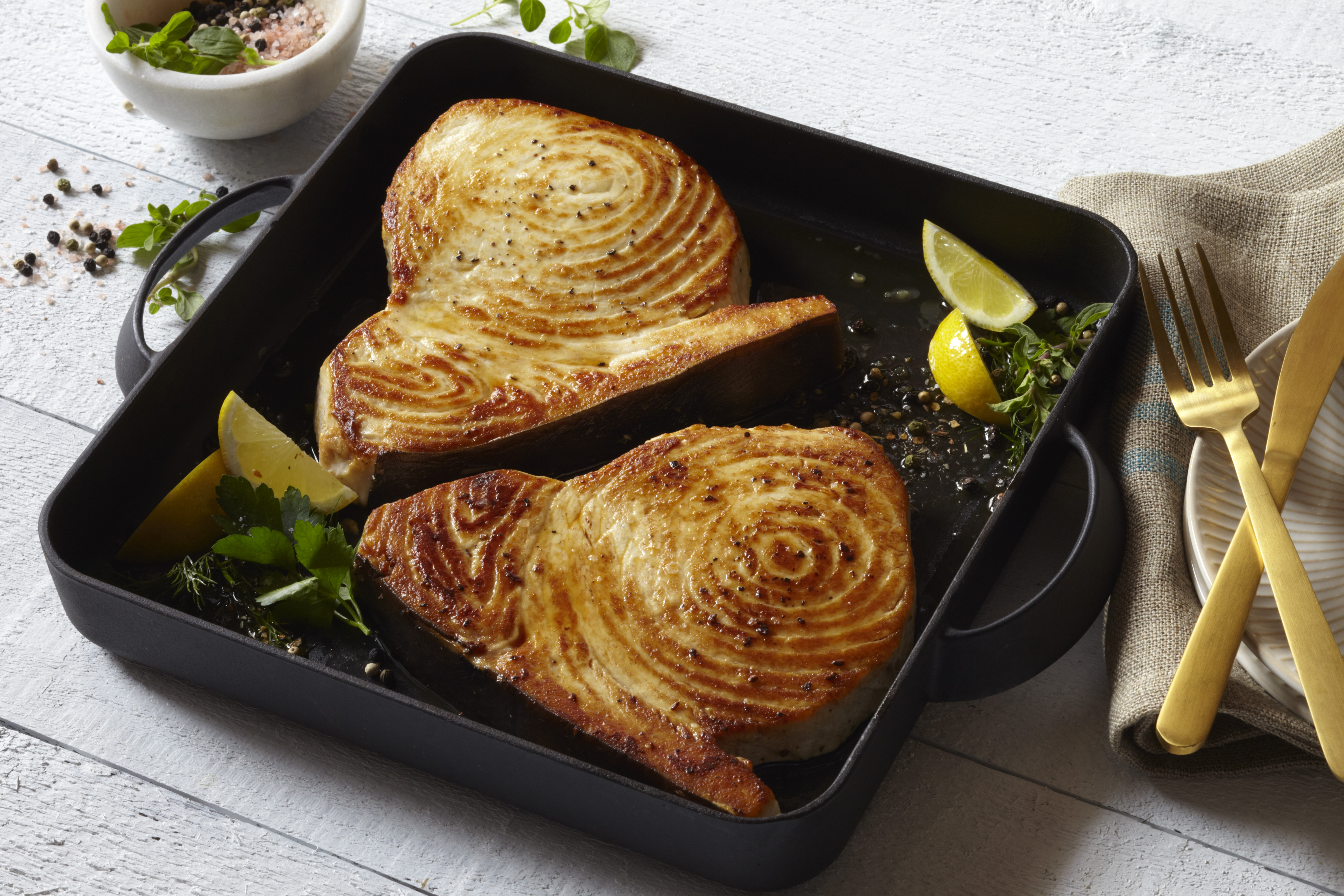 Our Seafood Department proudly offers wild-caught swordfish. Sold exclusively as steaks, it has a juicy, meat-like texture making it ideal for a variety of preparations. It's loaded with protein, omega-3's, vitamin D, magnesium, and selenium, a powerful antioxidant that contributes to bone health.
Hungry for more? Let's get started with a few quick tips:
Season: Swordfish shines with a simple mix of salt, pepper, lemon juice, and olive oil. It's also versatile enough to accommodate bolder flavors. Feel free to experiment with fresh or dry herbs like oregano, rosemary, and thyme. Or, for a new and easy twist, try a sweet and zingy Citrus marinade.
Cook: You want a browned exterior, with a slightly pink opaque interior. No matter the cooking method you choose, be sure to oil the cooking surface or pan. In terms of time, a good rule of thumb is 5-7 minutes per side for a 1″ steak, over medium-high heat in a pan, on the grill, or under the broiler. If baking, set the oven to 450°F and bake for 7–10 minutes total — no need to flip it. Your swordfish is done when the flesh feels firm and reaches an internal temp of 145°F.
Serve: Swordfish is best served with a salsa or compound butter, like BF's own Garlic Butter. Pro tip: cut these "steaks" into perfect skewers for your grill!
We asked BF's Chef Dennis for his favorite sweet and savory salsas for swordfish. Try this Mango Salsa the next time you grill swordfish.
If you're looking for a savory option, try this delicious Mediterranean-inspired recipe.