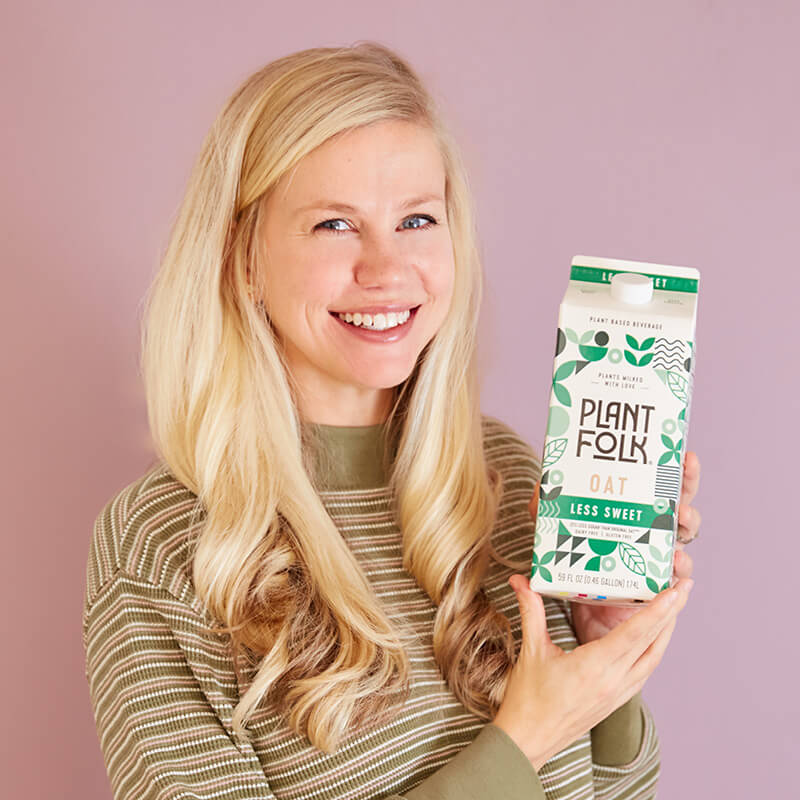 Emily Johnson grew up with dairy being a very integral part of her life. Even though her family had owned and operated their own dairy farm since 1927, Emily realized that her body preferred plant-based alternatives. After learning more about the benefits of plant-based nutrition, Emily inspired her family of fourth-generation farmers to make the switch from traditional dairy farming and create PlantFolk Foods.
This dairy-free brand places an emphasis on natural ingredients and clean production, making it GMO-free, gluten-free, and vegan. From coffee creamers to cashew milk, PlantFolk Foods offers a lactose-free experience that is seriously similar to the real deal. Whether you're lactose-intolerant or you simply prefer to follow a plant-based diet, PlantFolk makes it easy to start your day right and make your morning coffee consciously creamy.
Recently, we caught up with Emily to learn more about her journey and hear her advice for fellow entrepreneurs.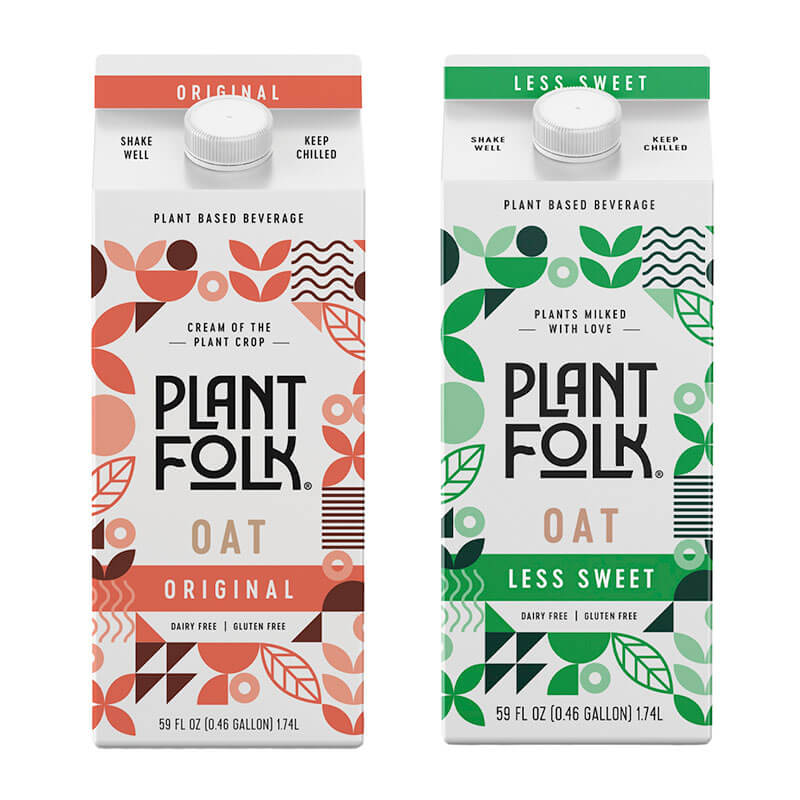 01 Why did you start PlantFolk?
Since I was a kid, I have always had an issue digesting dairy. Back in the 80s and 90s, it wasn't always easy to find dairy-free alternatives, which often meant being left out or having symptoms ignored. As I got older, I became more interested in healthy eating and how diet can influence health. I got my master's degree in Holistic Nutrition in 2016 and became increasingly aware of how prevalent food allergies and intolerances have become, as well as the benefits of plant-based eating.
My family has been in the traditional dairy farming and food production business for generations. As the natural foods industry began to expand, our family business saw an opportunity in plant-based foods and beverages. With our own facility and capacity to make our own products ourselves and meet this growing consumer need, we decided to jump in. I was so excited to leverage my nutrition knowledge (and personal experience) in living a dairy-free lifestyle through the creation of my family's brand. We wanted to provide quality products at a competitive price, with packaging and a brand voice that was approachable and friendly. That is how PlantFolk came to be!
02 What obstacles did you face along the way?
We have had a few challenges along the way launching PlantFolk. Introducing a new brand is always tough, especially in a saturated market. "Plant-based" is a relatively new category that has expanded rapidly, but there are a lot of competitors in the space with bigger names (and budgets) than us. The newness of the category can also make trying to predict consumer preferences more difficult.
We started dreaming up the brand in 2018 but planned to introduce it publicly at a well-known natural product trade show in March of 2020. However, days before the event, the organizers decided to cancel due to Covid-19. This was the beginning of pandemic-related obstacles that included supply chain issues and difficulty in getting meetings with potential stores. Our growth hasn't been as quick as we initially planned due to difficulties in finding a co-packing facility that sees our vision. Even with all of these obstacles, we are still excited about the future of PlantFolk and what is on the horizon.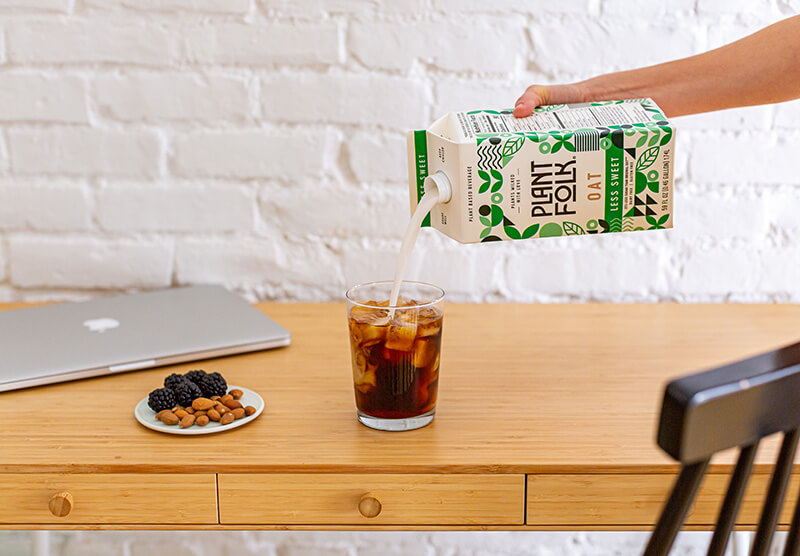 03 What lessons do you have for other entrepreneurs?
As an entrepreneur, you have to be 100% committed and passionate about what is in front of you. It is helpful to have a variety of influences in the industry and gather opinions and advice that will help you navigate important decisions for your own business. It is also important to be adaptable and willing to make changes to your initial vision, your timeline for brand growth, and sometimes, your budget.
04 What's on the horizon for PlantFolk?
We are very excited about what this year will bring for PlantFolk. We are currently developing a line of plant-based ice cream and yogurts. We have also recently developed an oat-based barista product that we are eager to launch with our foodservice customers and offer to coffee shops. We also have plans to expand our production to the East Coast and move our packaging offerings into aseptic packaging, both of which will further expand our distribution.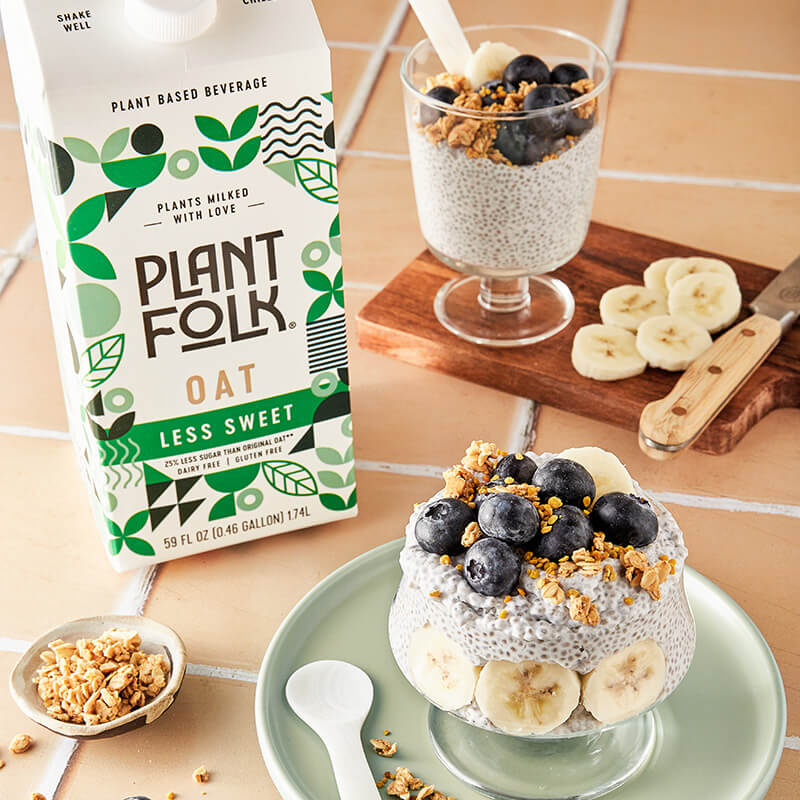 05 How do you keep work/life balance? What drives/inspires you?
I am personally passionate about healthy food that tastes good and I strive to provide nutritious meals for my family that help us thrive. It is a real privilege to do that on a larger scale with PlantFolk by identifying consumer preferences and filling the need.
As a busy mom of three kids, finding time to work, prepare healthy meals, and spend quality time with my family is a balancing act. I am thankful to have a supportive family that also happens to be my co-workers. The PlantFolk team is small but has a diverse skill set and we do a good job at playing to our individual strengths. Working with a great team makes my job all the more fulfilling.