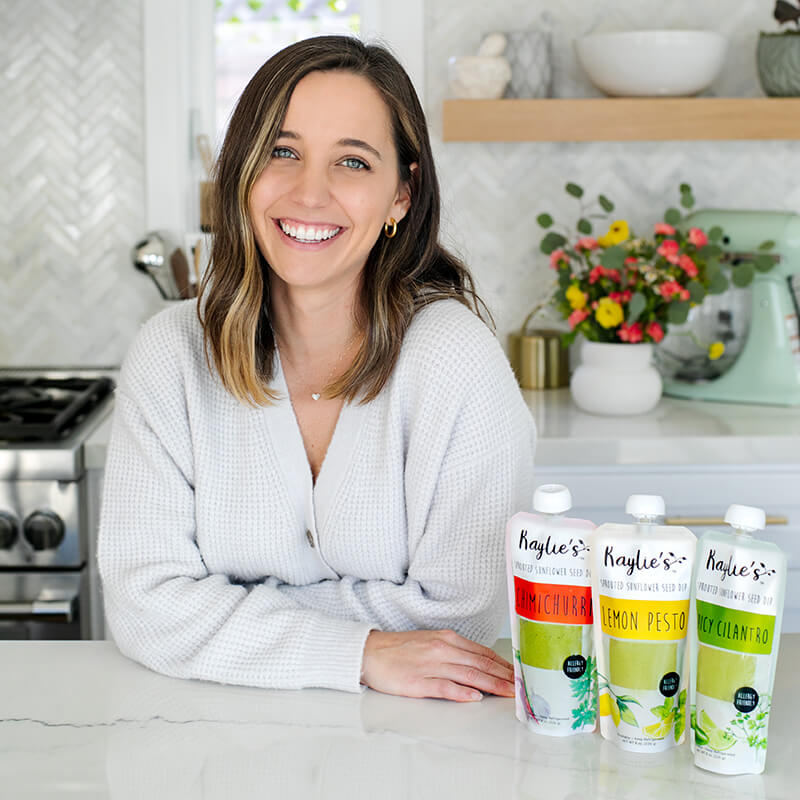 Kaylie Russell first fell in love with food as a toddler, sitting on the kitchen counter and watching her mother cook every night. Someday, Kaylie said, she'd be a chef too.
Her passion continued through college as she worked in restaurant kitchens and learned from Michelin Star chef Luigi Fineo. Kaylie later became a private chef, serving families with allergies and sensitivities. That's when she realized she could help millions of people rediscover the joy of food.
Kaylie's creamy Sunflower Seed Dips are allergy-friendly, nutritious, versatile, and, above all, delicious. Thanks to Kaylie's Kitchen, millions of Americans with major allergies now have a quick, easy, and tasty solution for every meal.
Recently, we caught up with Kaylie to learn more about her journey and hear her advice for fellow entrepreneurs.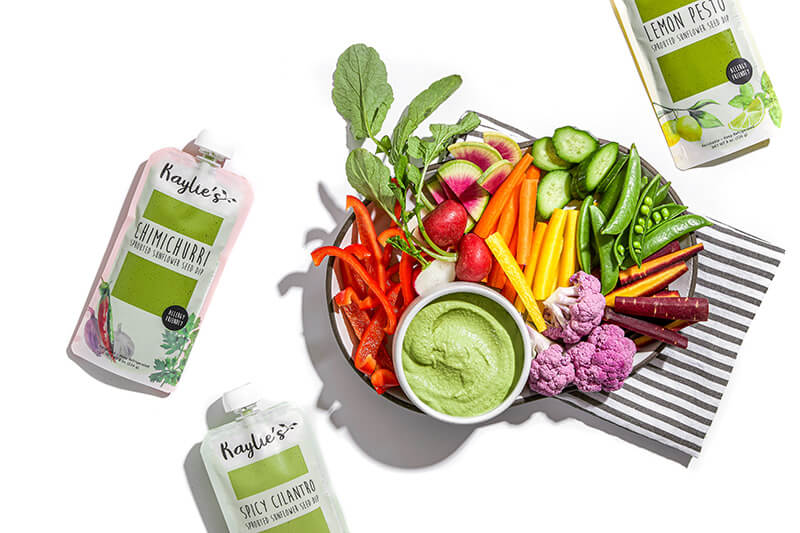 01 Why did you start Kaylie's Kitchen?
As a private chef and foodie, I value flavor just as much as I value nutrition. So, for the last six years, I've cooked for families with dietary restrictions and food allergies. It's something I'm very passionate about. Instead of boring and bland meals, I get to show people how easy it is to bring bold and delicious flavors to simple and healthy diets.
Over 32 million Americans are allergic to at least one of the top food allergens — tree nuts, peanuts, dairy, gluten, soy, fish, shellfish, and eggs. I wanted to add healthy flavor to their meals, so I started selling my line of Sprouted Sunflower Seed Dips
Our dips — Lemon Pesto, Spicy Cilantro, and Chimichurri — are made with only clean ingredients and free of the top eight food allergens. Each one can be used as a salad dressing, taco sauce, sandwich spread, veggie dip, sauce, and so much more.
02 What obstacles did you face along the way?
There's been a bounty of obstacles! One of the most difficult obstacles was finding a manufacturing partner who had the capabilities that we needed.
We use a special process called HPP (High-Pressure Processing), which allows us to keep all of our ingredients highly nutritious, full of flavor, and uncooked. I refused to compromise on this, since it allows for the best tasting and most nutritious finished product possible. However, there were very few facilities that offered HPP. After months of searching, I finally found an amazing partner who has helped us tremendously along the way.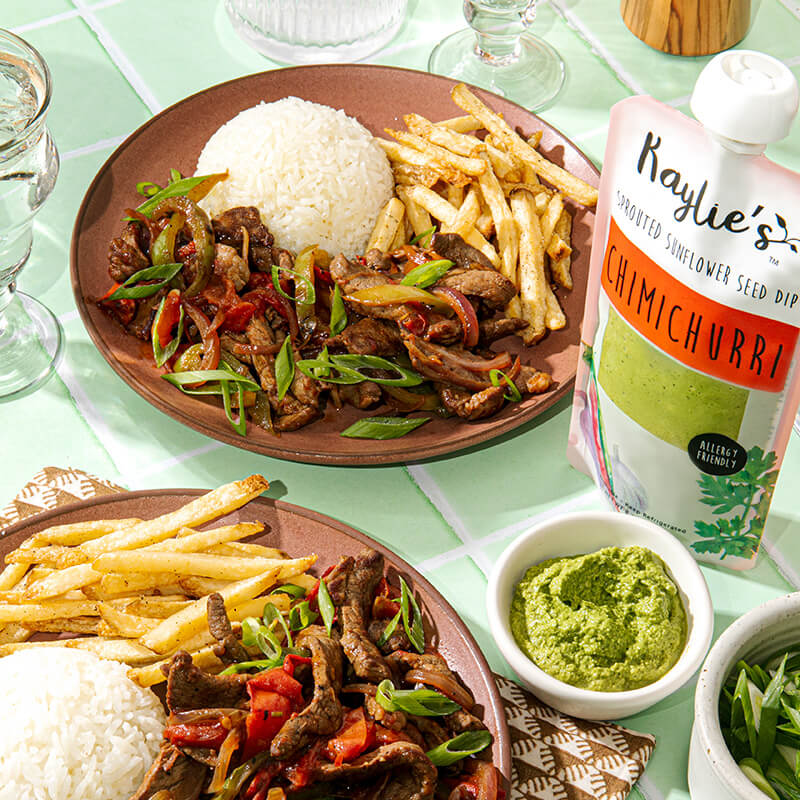 03 What lessons do you have for other entrepreneurs?
The ones who succeed are the ones who don't give up. Starting a business has been one of my most challenging, yet rewarding, journeys on so many levels. It's the ultimate roller coaster with doubt, tears of joy, nervous butterflies, imposter syndrome, empowerment, and every emotion you can think of.
The biggest lessons I've learned are to keep pushing forward, check your pride, adapt when necessary, and learn from the people who have done it before. Every entrepreneur I've met has been willing to spare 10-15 minutes to chat. Lean on them, ask for help, and show gratitude to everyone who offers their support.
04 What's on the horizon for Kaylie's Kitchen?
Tons of fun ideas for the future of Kaylie's Kitchen! I have several new flavors of dips up my sleeve, as well as ideas for other allergy-friendly products.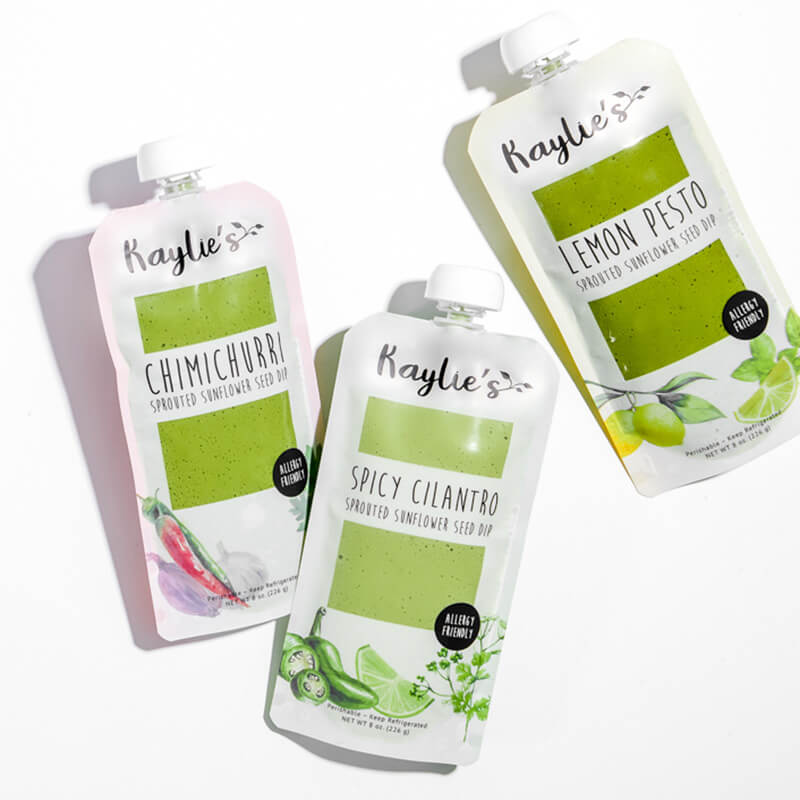 05 How do you keep work/life balance? What drives/inspires you?
Blocking out "flow" time in my schedule ensures that I'm at my best during the workday. Sometimes, that means a weekend getaway. But, on certain days, all I need is ten minutes to recharge.
It's important to prioritize your own mental and physical health while also being present for loved ones. My "flow" time is usually spent with them, whether it's exercising, cooking, skiing, meditating, reading, getting some sunshine, or going on a spontaneous date night with my husband.
I also get tons of inspiration from travel. In fact, most of my recipes are inspired by the places and foods that I've fallen in love with from around the world. I also draw inspiration and adrenaline from the process of growing my own business. Every week brings a new set of risks, challenges, inspirational people, and achievements to keep me stimulated.