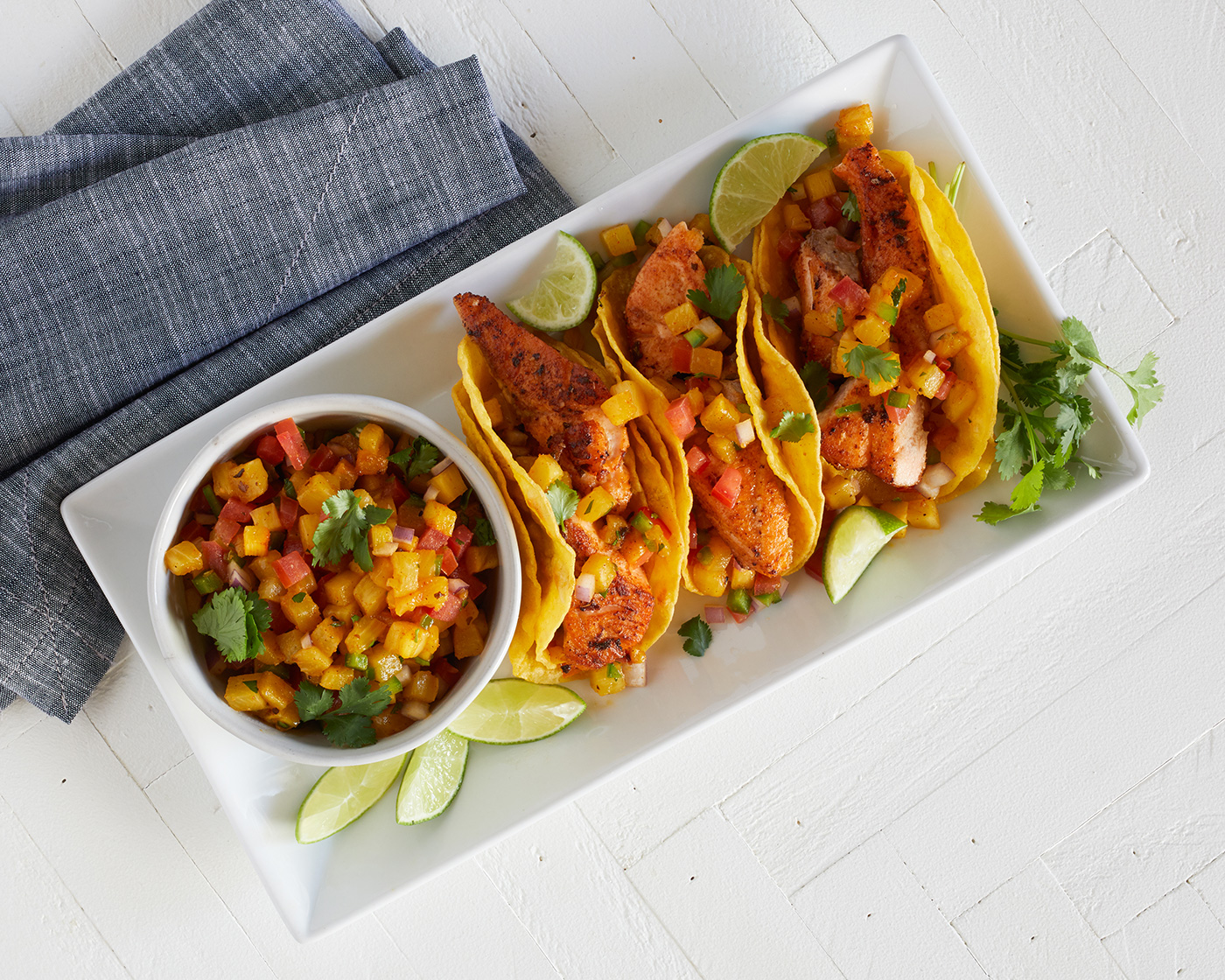 Nothing says summer like biting into a sweet, tart, and juicy piece of pineapple. Plus, they're at their peak in the late spring and early summer, so this is the perfect time to enjoy this tropical treat!
Because pineapples are so delicious, their nutritional benefits are sometimes overlooked. For starters, these fabulous fruits are loaded with vitamin C, which is essential for fighting colds and protecting gums. They're also rich in manganese, which promotes healthy cholesterol levels, and bromelain, an enzyme that aids in digestion and doubles as a meat tenderizer. (Fun fact — bromelain might make your tongue tingle!)
Ready to make the most of peak pineapple season? Here's a quick refresher on how to pick, prep, and cook with pineapple.
How to Pick
Look for a pineapple with a yellow tinge. That means it's fully ripe! Our favorites are extra sweet Honeyglow Pineapples
Press lightly on the outside of the pineapple, as you would with an avocado. If it has a little bit of give, that means it's ready to eat. If it is too soft, that means it's overripe.
Before you put the pineapple in your cart, give the bottom a quick sniff. If the bottom smells sweet, it should be ripe and delicious on the inside.
The leaves of the pineapple crown should also be able to release easily when pulled. (One pluck won't hurt, but please leave the rest for your fellow shoppers!)
How to Prep
Lay the pineapple flat. Use a cloth (if necessary) to hold the center of the pineapple. Slice off the top and bottom. Then, place it standing up on one side. Carefully carve in downward motions to remove the spiky skin, then slice around the inner core. From there, you can dice it into cubes, spears, or smaller pieces for this delicious recipe:
Ingredients
1 pound salmon

1 tablespoon kosher salt

4 tablespoons extra virgin olive oil

1 pineapple, peeled, cored, sliced into rounds

1/2 teaspoon cumin

1/2 teaspoon paprika

Juice of 1 lime

1 bunch cilantro chopped

2 jalapeños, sliced and deseeded

Salt and pepper to taste

2 medium tomatoes sliced

1 small red onion diced

Corn tortillas
Directions
Preheat oven to 450°F.

Place sliced pineapple on a lined baking sheet. Sprinkle with 1/2 olive oil, kosher salt, pepper, paprika, and cumin. Place in the oven and roast about 25-30 minutes, until golden brown and caramelized.

Pat salmon dry and season with salt and pepper.

Heat olive oil in a large skillet to medium heat. When the skillet is hot, add salmon. Cook on each side about 3-4 minutes, or until the flesh is opaque and the outside is nicely seared.

Remove from heat and let cool before flaking into small pieces.

Remove pineapple from the oven and let cool. Chop finely and add to a bowl with chopped cilantro, jalapeño, tomatoes, and red onion. Season with lime juice, salt, and pepper. Stir to combine. Let sit for about 10 minutes.

Heat the tortillas in a pan.

Assemble tacos with salmon and pineapple salsa. Enjoy!