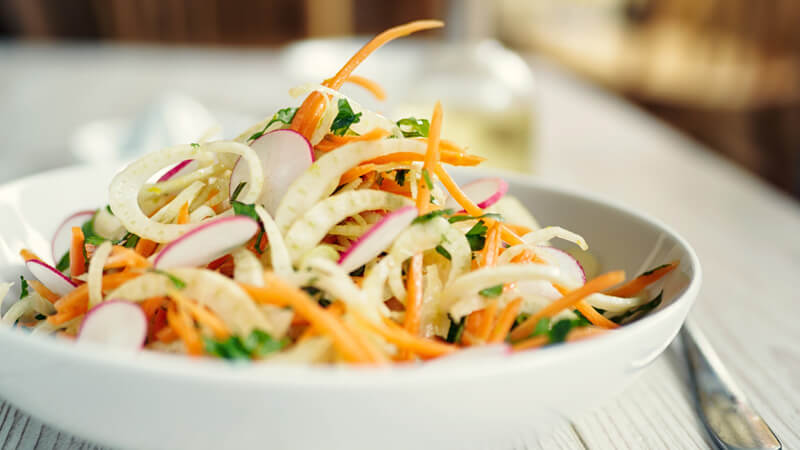 A backyard barbecue doesn't feel complete without a batch of fresh, colorful coleslaw. Known best as a cold salad made with cabbage and carrots, it's delicious as both a side or atop a burger.
Expand your horizons from only mayo-based sauces to tangy vinegars and even yogurt! Adding veggies like radishes, bell peppers, and arugula will bring a bright bite to your creations.
Ingredients
2 fennel bulbs, trimmed and sliced

4 radishes sliced

1 small red onion diced

2 spring onions diced

2 carrots grated or thinly sliced

1/4 green cabbage shredded

1/4 red cabbage shredded
Dressing:
1 garlic clove, crushed

8oz low-fat plain yogurt

1 teaspoon Dijon mustard

Juice of half a lemon
Garnish:
3 tablespoons toasted pecans

2 tablespoons sunflower seeds

3 tablespoons mint chopped
Directions
Mix fennel, radish, onions, carrots and cabbage in a large bowl.

Whisk the garlic, yogurt, lemon juice, and mustard. Pour dressing over salad, and mix.

Garnish with nuts, seeds, and mint. Optional, top off with fresh-ground black pepper.