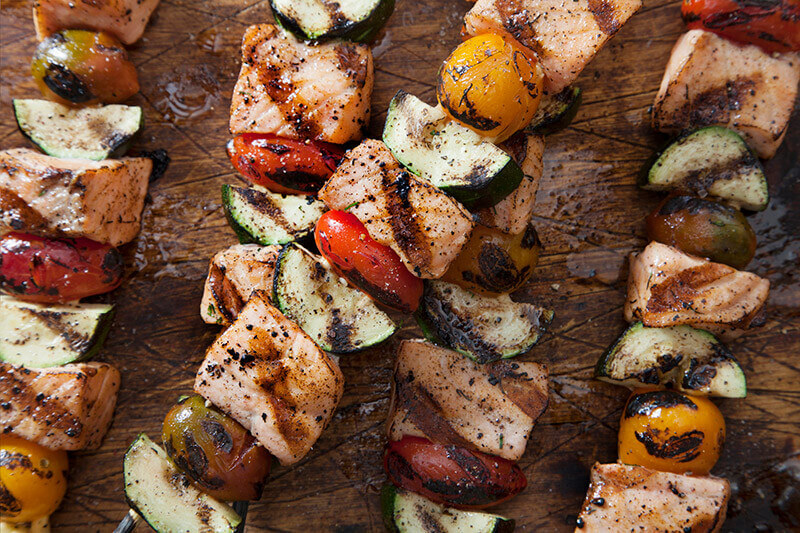 <p id="isPasted">When it comes to seafood, salmon is one of our favorite fishes! Buttery yet flaky, it&rsquo;s packed with protein, rich in Omega-3 fatty acids and loaded with selenium, a powerful antioxidant.</p> <p>Though salmon is typically served as a savory dish, it can also be paired with sweeter sauces like a tangy teriyaki or sweet chili marinade. This mild fish is also very versatile, and it can be cooked in a variety of ways. That said, grilling gives salmon a crispy skin, tender center, and smoky flavor that is perfect for summer. For some, the flavor of seafood can be a bit overwhelming. If you&rsquo;ve got finicky eaters, these super simple skewers might be perfect for your next gathering!</p>
Ingredients
1 1/2 skinless wild salmon

1 zucchini, sliced thin

1 cherry tomatoes

2 Bristol Farms Lemon Pepper Seasoning

1 salt

1/2 pepper

1 garlic powder

1/4 crushed red pepper flakes

Avocado Oil Cooking Spray

12 bamboo skewers, soaked in water for 1 hour

1/2 lemon, for garnish
Directions
Spray the grill grates with avocado oil (or your preferred high-heat oil). Bring your grill to medium-high heat.

Cut your salmon into 1-inch cubes.

Build your kabobs by sticking each skewer through the center of your salmon cubes, followed by a cherry tomato and a slice of zucchini. Repeat order until skewers are complete.

In a small bowl, mix salt, pepper, lemon pepper seasoning, garlic powder, and red pepper flakes.

Spray your skewers with a bit of avocado oil.

Coat both sides of your kabob with your spice mixture, ensuring that each piece of salmon is seasoned evenly and place them on the grill.

Cook your kabobs for about 4 minutes before flipping and grilling the other side for another 4 minutes.

Add a fresh squeeze of lemon over each skewer.

Serve with a crisp glass of Chardonnay and…bon appétit!