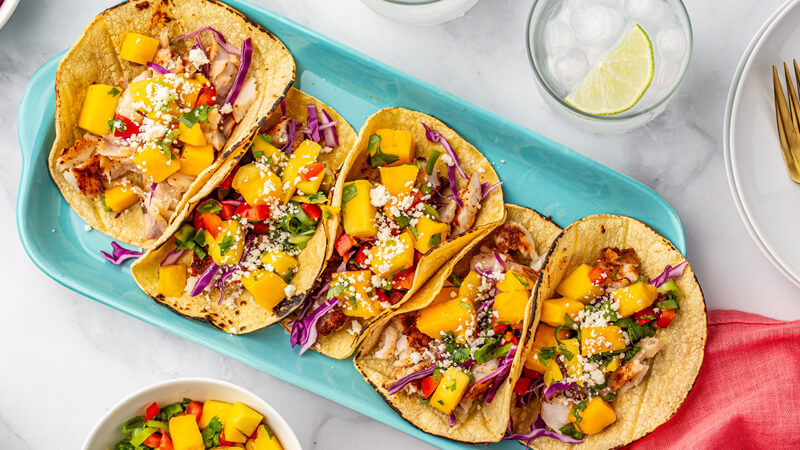 Mangos are a superfood – a 3/4 cup serving provides: 50% of your daily requirement for vitamin C, 8% of daily vitamins A and B6, 15% of folate and copper, and 7% of your daily fiber! Delicious in smoothies, salads, salsas and more, they're sure to bring tropical fun to your summer.
Mango Salsa
2 large ripe mangos peeled, pitted and chopped

1/4 cup red bell pepper minced

1 tablespoon lime juice

1 tablespoon fresh cilantro chopped

2 green onions sliced (green tops only)

1 small jalapeño pepper, stem, seeds and membrane removed
Tacos
1 pound cod fillets, rinsed and patted dry

1 teaspoon chili powder

1/2 teaspoon ground cumin

1/2 teaspoon Mexican oregano

1/2 teaspoon garlic salt

8 corn tortillas warmed

2 cups shredded green or red cabbage

1/2 cup crumbled cotija cheese (may substitute shredded Monterey Jack)
Directions
Preheat oven to 425°F. Stir together mango, bell pepper, lime juice, cilantro, onions and jalapeño in a medium bowl; set aside.

Place cod on 2 large sheets of parchment paper.

Stir together dry seasonings in a small bowl and sprinkle over cod.

Bring edges of parchment paper together and fold twice. Fold ends under to enclose fish.

Place packets on a baking sheet and bake for 15 to 18 minutes.

Open packets carefully to let steam escape. Place equal amounts of cod in each tortilla and top with cabbage, cheese and mango salsa.