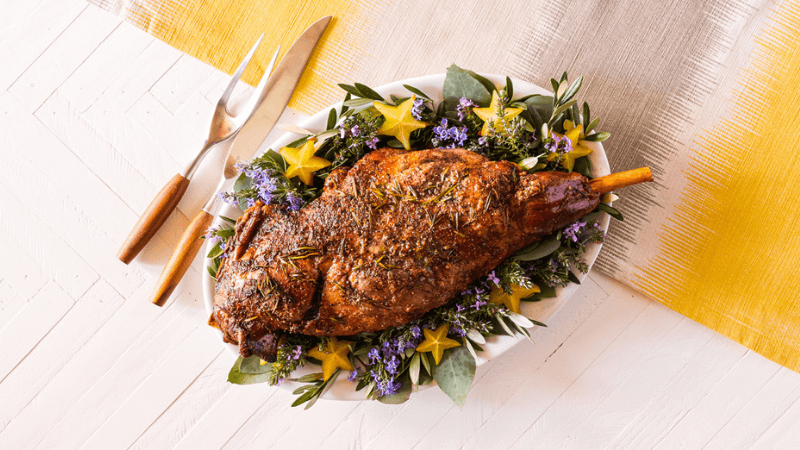 Delicately flavored and extraordinarily tender, spring lamb is truly special. Spring lamb season only lasts through May, so it's time to get cooking. You'll love this leg of lamb roast — especially when you pair it with one of our herbaceous sauces!
Ingredients
1 5-7lb boneless leg of lamb

8 cloves garlic

6 sprigs fresh rosemary

1 sprig fresh thyme

6 tablespoons olive oil

Freshly cracked black pepper, to taste

Kosher salt, to taste
Directions
Preheat oven to 350°F.

In a food processor, combine olive oil, 5 garlic cloves, rosemary, and thyme. Set aside.

Prepare leg of lamb by removing any casings and wrappings. Pat dry. Use butcher's twine to tie the roast evenly.

Sprinkle with salt and black pepper.

Slice the remaining garlic cloves in half, lengthwise.

Using a sharp paring knife, cut small holes in the meat, roughly 1 inch deep, just wide enough to fit the garlic. Insert slices into each pocket.

Using a brush, baste the entire roast with the olive oil mixture.

Place in a roasting pan and roast until the interior is 130°F to 135°F for medium-rare (about 20 minutes per pound).

Remove from oven and tent with foil for 10-15 minutes. Slice thinly and enjoy.