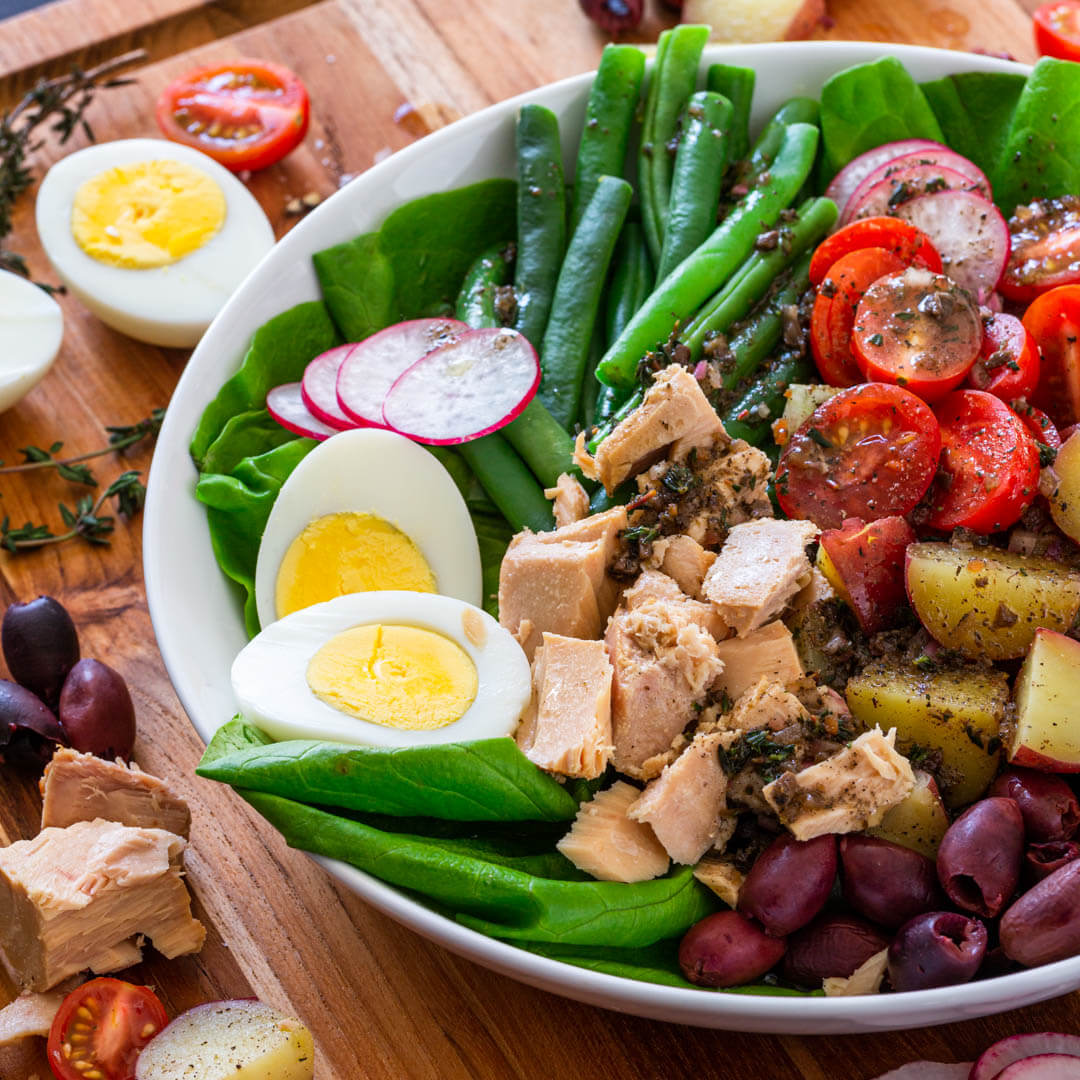 Our sashimi-grade Albacore tuna is blast frozen at sea and cooked in its own juices to lock in its natural goodness. The end result is a perfect, hand-packed fillet that's as fresh as you can get…without catching it yourself.
Unlike some other brands, our tuna is troll-caught to help protect dolphins and turtles. Plus, it has 3x the omega-3 fatty acids to promote healthy eyesight and boost your brain health. Combined with 14g of clean protein per serving, our tuna is a natural fit for any diet.
All those healthy fats make our Albacore simply delicious with just a pinch of salt and a squeeze of lemon. To make the most of our Albacore fillet, try this classic Salade Niçoise!
Ingredients
1 pound red-skinned potatoes sliced 1/3 inch thick

2 tablespoons dry white wine

10 ounces haricot verts or thin green beans, trimmed

4 large eggs

1/4 cup white wine vinegar

Kosher salt

1/2 shallot minced

2 tablespoons dijon mustard

1 tablespoon fresh thyme chopped

Freshly ground pepper

3/4 cup extra-virgin olive oil

8 cherry tomatoes halved

1 head butter lettuce, leaves separated

6 radishes, trimmed and quartered

2 Cans Bristol Farms Tuna, drained

1/2 cup niçoise olives
Directions
Put potatoes in a saucepan; cover with cold water and season with salt. Bring to a simmer over medium-high heat and cook until fork-tender, about 5 minutes. Drain and drizzle with wine and let cool.

Bring a separate saucepan of salted water to a boil. Add the green beans to the boiling water; cook until crisp-tender and bright green, 2 to 4 minutes. Drain and immediately plunge into ice water to cool; drain and pat dry.

Place the eggs in a saucepan and cover with cold water by about 1 inch. Bring to a simmer over medium-high heat, then cover, remove from the heat and let stand, 10 to 12 minutes. Drain, then run under cold water to cool. Peel under cold running water.

Whisk together vinegar, shallot, mustard, thyme, 1/2 teaspoon salt, and pepper to taste in a bowl. Whisk in the olive oil in a slow, steady stream until emulsified.

Toss the tomatoes in a small bowl with salt and pepper to taste. Add about 1/4 cup dressing to the potatoes and toss. Quarter the hard-boiled eggs.

Divide the lettuce among 4 plates. Arrange the potatoes, green beans, radishes, hard-boiled eggs and tuna on top. Pour any juices from the tomatoes into the dressing, then add the tomatoes to the plates. Drizzle with the dressing and top with olives.