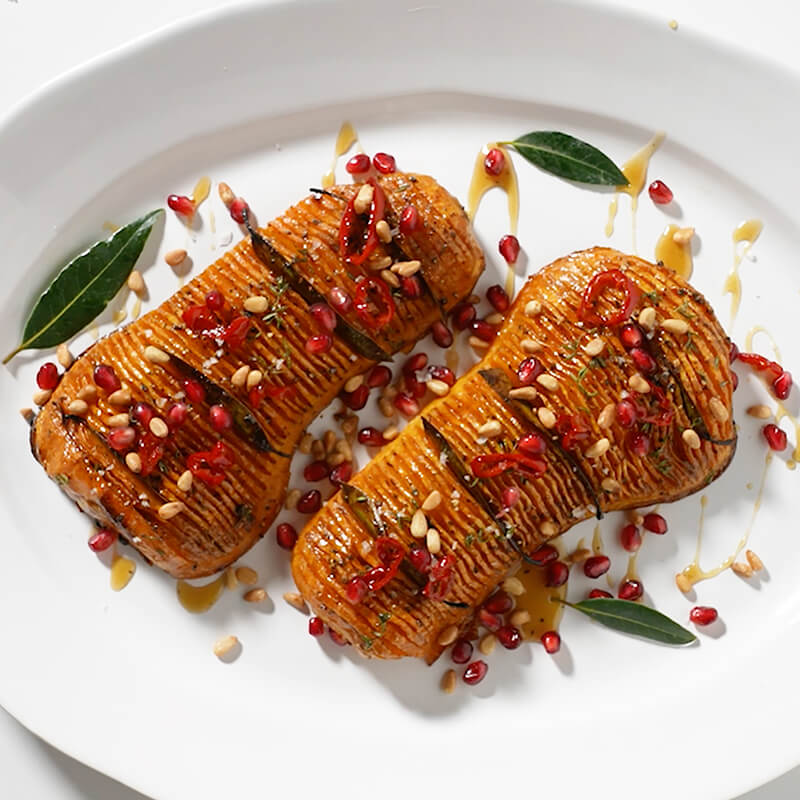 Feast your eyes on the ultimate side dish. Mmm…then again, this sweet, spicy, and downright gorgeous dish could be elevated to centerpiece status. Either way, our Hasselback Butternut Squash is sure to be a hit at your holiday table.
The Hasselback technique makes for a stunning presentation, but it's not just for show. The ridges allow for even cooking, yielding a tender, creamy interior and plenty of crispy edges to go around. You can't go wrong here — just be sure to avoid puncturing the bottom as you quasi-carve the squash.
It's worth the extra effort, because our glaze — made with butter, maple syrup, apple cider vinegar, and sliced chiles — will get into every nook and cranny. Oh, and did we mention the garnish of fresh pomegranate seeds and toasted pine nuts to top it all off?
Without further ado, it's time to get to the main event…or the side, whichever you prefer. No matter what, this Hasselback Butternut Squash will have everyone asking for seconds.
Ingredients
1 large butternut squash seeded, peeled, and halved lengthwise

1 tablespoon olive oil

1 Fresno chile or jalapeño seeded and sliced

1/4 cup pure maple syrup

4 tablespoons unsalted butter

3 tablespoons apple cider vinegar

8 fresh bay leaves washed and dried

1/4 tablespoon or microplaned nutmeg freshly grated

1/4 cup pine nuts lightly toasted

Smoked paprika

1/4 cup pomegranate seeds

1/2 teaspoon thyme fresh picked

Coarse kosher salt

Freshly ground pepper
Directions
Preheat oven to 425°.

Rub the squash with olive oil, salt, and pepper atop a sheet pan or oven-safe dish. Cook for 13 minutes, or until flesh can be easily pierced with a baking pin.

In a large saucepan, bring butter, maple syrup, apple cider vinegar, sliced chiles, and nutmeg to a strong simmer over medium heat. Reduce, stirring occasionally, until mixture coats the back of a spoon. Switch heat to low and keep warm.

Transfer cooked squash to a cutting board and let cool. Carving crosswise, use a sharp knife to create 1/8 inch slices without piercing the bottom.

Carefully transfer squash back to baking pan, cut side up. Season with salt and pepper.

Using a pastry brush, baste squash with syrup glaze. Insert 4 bay leaves into the pleats of each half.

Roast for 50 minutes, checking and glazing every 10 minutes with the drippings. After the fourth glaze, sprinkle with smoked paprika and fresh thyme. Reserve a small amount of glaze with ample chile slices.

Garnish squash with remaining glaze, pinenuts, and pomegranate seeds.