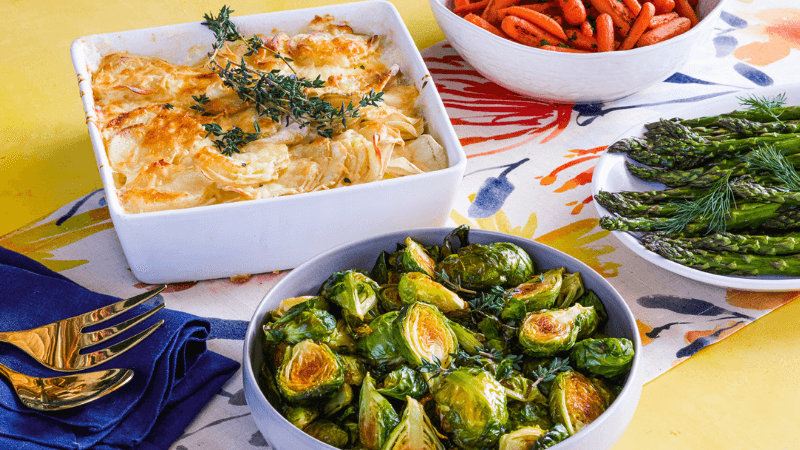 Staying plant-based is a breeze when you've got fresh spring veggies on your plate. Sure, that means lots of tasty salads, but why stop there? These showstopping entrées are healthy, filling, and made to keep you feeling good all throughout the season.
Ingredients
12 Impossible Burger

2 russet potatoes

8 white mushrooms thinly sliced

1 yellow onion finely diced

3 garlic

1 large carrot finely diced

2 celery stalks finely diced

1 fresh peas

1/2 fresh parsley chopped

1/2 fresh parsley sprigs, for garnish

2 vegetable oil

2 soy sauce (or tamari)

1 vegetable stock

4 plant-based butter (1 stick)

1/2 plant-based milk

Kosher salt and pepper
Directions
Peel and cut the potatoes into 2-inch chunks. Place the potatoes into a pot and cover with water. Add a generous pinch of salt. Bring to a boil and cook for about 20 minutes or until cooked through.

Preheat your oven to 400°F while the potatoes cook.

Place a sauté pan over medium high heat and add 1 tablespoon of vegetable oil into the pan. When the pan is very hot, add the Impossible Burger and break into pieces, allowing it to brown for 2-3 minutes. Season with 1 1/2 teaspoons Kosher salt and fresh pepper. Stir with a flat spatula while scraping the bottom of the pan. Continue until only a little red is showing, around 5 minutes. Remove from pan and set aside on a dish.

Reduce to medium heat. Add remaining oil and mushrooms with a pinch of salt and pepper. Cook for about 2 minutes, until the mushrooms release their liquid. Once reduced, add onions, garlic, carrots, and celery. Cook until soft, about 6-10 minutes. Add soy sauce, vegetable stock, and peas. Once brought to a boil, add the cooked Impossible Burger with chopped parsley. Set aside.

Mash the cooked, hot potatoes in a mixing bowl with a masher, hand mixer, ricer, or food mill. Microwave the milk for 30 seconds before adding to the potatoes with butter and 2 tsp Kosher salt. Mix until fully incorporated. Season to taste.

In a small casserole dish, place the Impossible Burger mixture on the bottom. Top with mashed potatoes, spread evenly. Bake for 30 minutes.

Remove from the oven and garnish with parsley sprigs. Serve while piping hot!