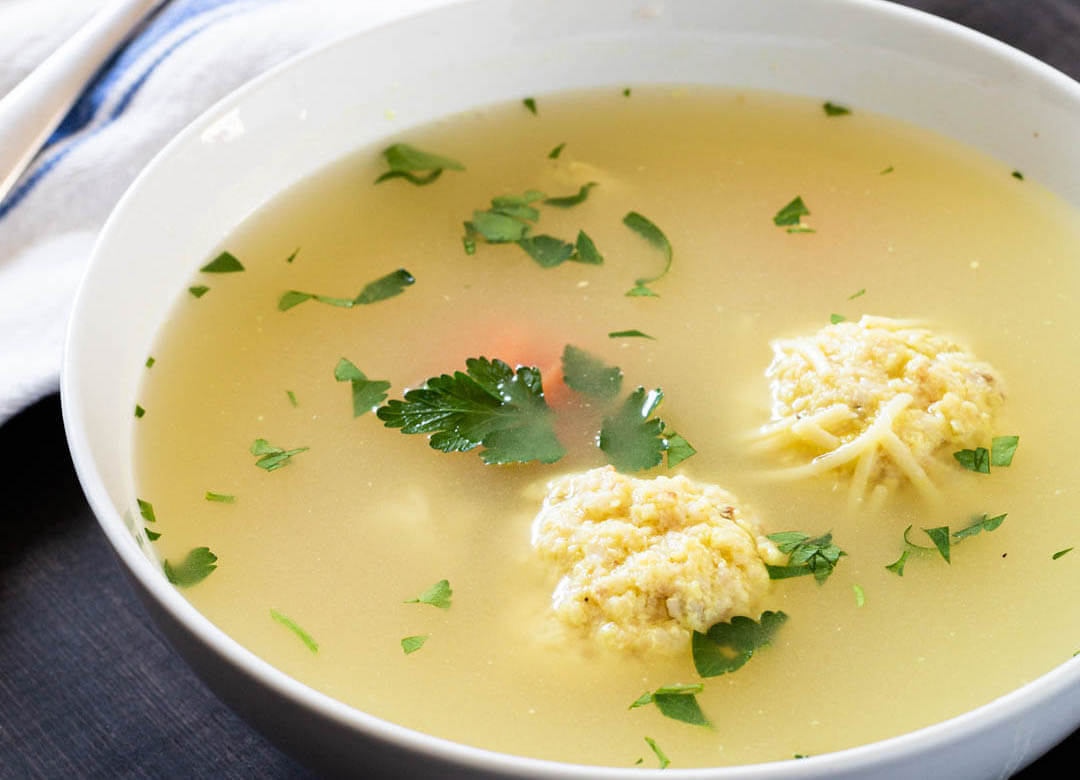 There is nothing more comforting (and delicious) than the perfect bowl of matzo ball soup. It's a favorite at Passover, when leavened grains are swapped for unleavened flatbread. Even beyond the holiday, this deli staple offers classic comfort for all to enjoy.
Matzo balls (a.k.a. kneidel) are made with eggs, chicken fat, and spices to turn those crunchy bites into simple, savory magic. Then, they're added to a deliciously fragrant broth for a warm, hearty meal that soothes the soul.
Everyone has their own preference when it comes to matzo balls. Some prefer "floaters"— light and fluffy kneidels that rise to the surface of the bowl. Others swear by "sinkers" — denser matzo balls designed to rest on the bottom.
Ingredients
1 chicken (3-5lbs) butchered

2 large onions quartered with skin removed

10 celery stalks chopped

10 carrots chopped

1 head of garlic peeled whole cloves

2 bay leaves

1 bunch fresh dill
Directions
Place the chicken, 1/2 of carrots, 1/2 of celery, onions, garlic, and bay leaves in a large stock pot. Fill with water and cover. Turn to medium heat and let simmer.

In a mixing bowl, combine matzo meal, eggs, shmaltz/oil, garlic powder, onion powder, black pepper, and water.

Mix together until smooth. Cover and place in the fridge to set for about 30 minutes, or up to 4 hours.

After simmering for about 45 minutes, remove and set aside the chicken breasts and thighs.

Let the soup simmer for about 2 more hours, occasionally skimming the top for fat.

As it simmers, prepare the matzo balls. Shape them into small, golf-ball-sized rounds using wet hands (to prevent sticking). Place on a lined baking tray until ready to prepare.

About 45 minutes prior to serving, remove bay leaves from soup, as well as bones, and add the remaining celery, carrots, and finely chopped dill. Add chicken.

Bring a well-salted pot to a boil. Use a slotted spoon to carefully add matzo balls to the pot. Let boil 40-45 minutes, or until matzo balls have floated to the surface.

Add chicken soup to a bowl. Add matzo balls and top with chopped flat leaf parsley.

Enjoy!