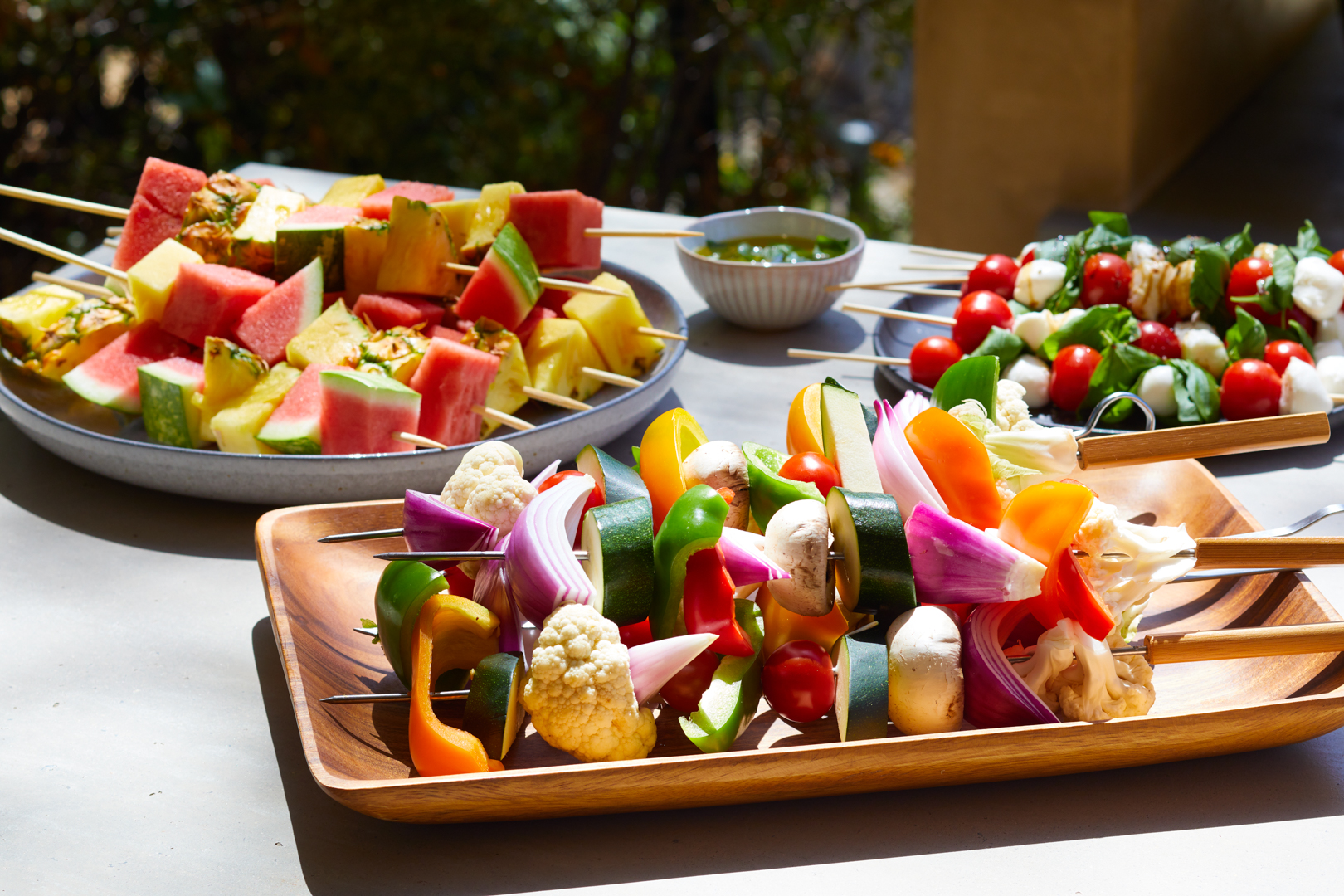 We're always ready for some BBQ, because every season is grilling season in SoCal!
Want to go beyond burgers, hot dogs, and steaks? Check out some of our favorite plant-based foods and get to the grill.
Favorite Plant-Based Foods for Grilling
Corn
Aw, shucks. Everyone loves grilled corn but people can't seem to agree on the best way to prep it. Don't worry — we're here to help settle the debate.
You can put the whole cob, husks removed, right on the grill, coated with olive oil or butter over medium-high heat, and rotate them to get evenly charred smokiness. For corn that's more steamed and tender, you can keep the husk on. Just be sure to remove the hairy part at the top! Then, peel back the husks to season and oil/butter your corn before putting it back on to cook. Eat your grilled corn on the cob with butter, just like the boiled variety, or create a salsa or side dish by cutting off the kernels.
Plant-Based Meat
Think meaty — but meatless — with flavors and textures to match the real deal. From plant-based patties to veggie sausages, plant-based meat is sure to satisfy your entire BBQ crew.
Mushrooms
Portobello burgers, anyone? Grilled mushrooms give meat and plant-based patties a run for their money. You can grill a big portobello mushroom and eat it between buns or like a steak, or skewer some button or cremini mushrooms and have some fun(gi) kabobs.
You can grill most mushrooms on medium high heat for 3-5 minutes, turning of course to get every side. Brush them with olive oil, salt, and pepper before placing them on the grill.
Tofu
Do you find that tofu is usually too soft? Grill your tofu for a firmer, crispier bite.
Start with a package of extra firm tofu and remove the excess water by wrapping it in paper towels. Once your tofu is dry, you can chop it into 1/2-inch strips for direct cooking or cut it into larger kabob cubes. Then, marinate your tofu with Bristol Farms Teriyaki for at least 30 minutes before grilling. Pro tip: Oil your grill grates beforehand to keep your tofu from sticking.
Zucchini
Zucchini is as tasty as it is easy. Simply slice your zucchini into 1/2-inch thick slabs before coating them in olive oil, salt, pepper, and other seasonings like red pepper flakes or lemon zest. From there, all you have to do is oil up the grill, cook on medium-high for 2-3 minutes per side, and serve!
Eggplant
Any type of eggplant will work on the grill — just be sure to pick one that's firm and glossy! The key to perfectly grilled eggplant is patience, because it takes a little bit of time to get all the moisture out.
Cut your eggplant into thick slices, add a bit of salt, and let it sit for about 30 minutes. Pat them with a paper towel and coat them in olive oil and minced garlic before grilling. Cook for 2-3 minutes per side, or until they're fork-tender, and enjoy!
Pineapple
Fruit plays well with the barbecue, too! Try serving up some grilled pineapple for dessert — it's a tiki-style treat that never fails to impress.
Start with a ripe green-stemmed pineapple and cut it into rounds for easy, even cooking. Once you preheat to medium and coat the grates with cooking spray, you can break out the brush and get creative! Mix butter with brown sugar or honey if you want an extra sweet dessert. Or, skip the added sugar for a healthier indulgence. Either way, grilling your pineapple for 2-3 minutes per side will yield sweet, smoky perfection.
Watermelon
It doesn't get any more summery than watermelon — until you grill it! For a can't-miss caramelized delight, cut your melon into 1/2-thick slices and season with salt, sugar, and lime zest. Let your watermelon sit and soak up the flavors while you fire up the grill to high heat and oil the grates. Give the slices a quick 2-minute sear on each side, serve with lime and Tajín, and take a bow because you're the new neighborhood grill master!