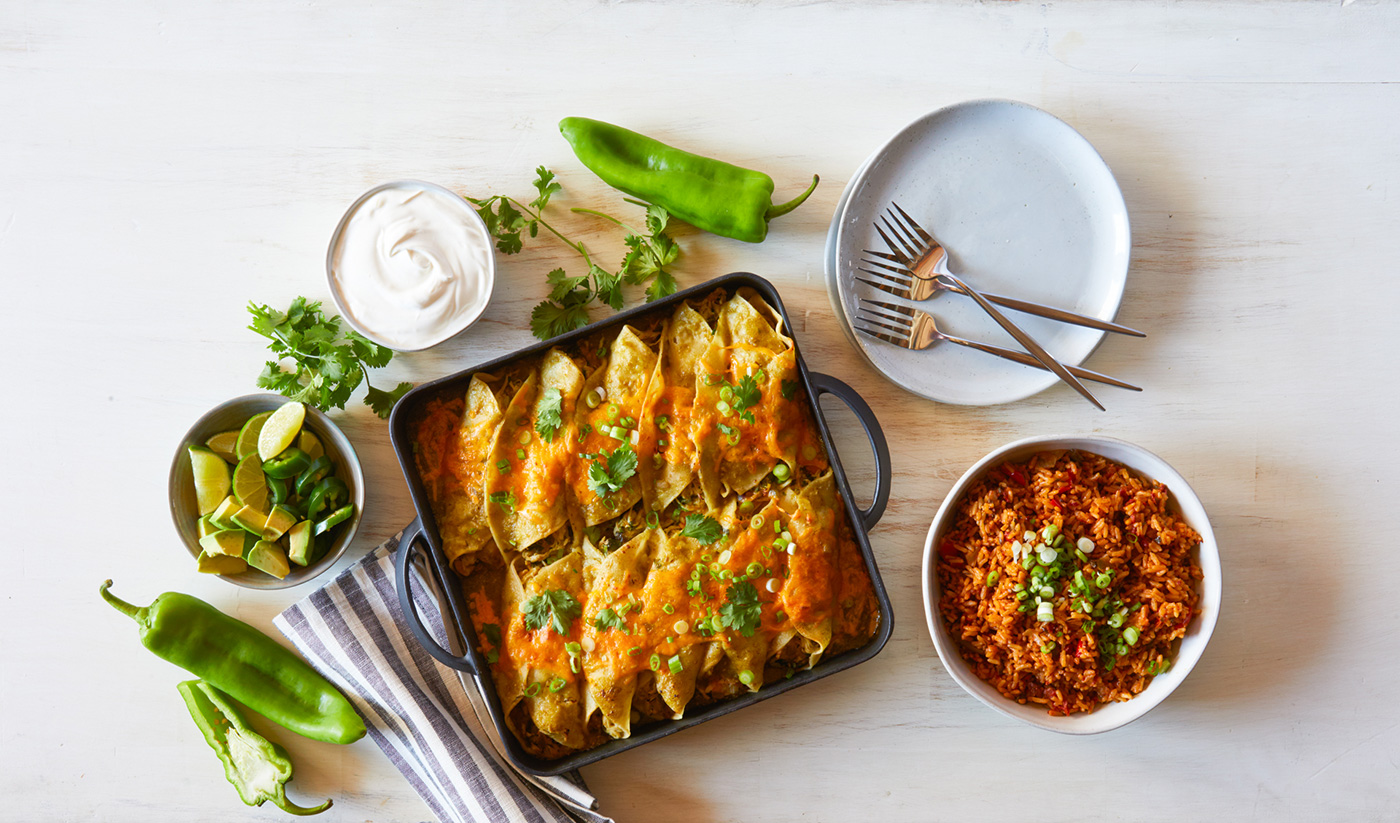 Enchiladas are a Mexican classic that always hit the spot. Whether you're celebrating the last days of summer or are hosting a low-key dinner party, these Hatch pepper enchiladas are cheesy, dreamy, and easy to whip up.
Ingredients
9 corn tortillas

2 cups cooked chicken, shredded

1/2 cup roasted Hatch peppers, chopped

2 cups red enchilada sauce

1/2 cup cheddar cheese, shredded

1/2 cup Monterey Jack cheese, shredded

Salt and black pepper to taste
Optional Ingredients
Sour cream, chopped fresh cilantro, and sliced avocado for serving
Directions
Preheat the oven to 375

°F

In the mixing bowl, combine your chicken, chopped Hatch peppers, shredded cheddar cheese, and shredded Monterey Jack cheese. Season with salt and pepper to taste.

Warm up the corn tortillas in the microwave for about 30 seconds on high, or wrap them in foil and heat them in the oven for 10 minutes.

Pour 1/2 cup of the enchilada sauce into the bottom of the baking dish.

Dip each warmed tortilla into the enchilada sauce to coat it.

Spoon about 2 to 3 tablespoons of the chicken mixture into each tortilla, then roll it up and place it seam-side down into the baking dish.

Repeat with the remaining tortillas.

Pour the remaining enchilada sauce over the rolled tortillas in the baking dish, then sprinkle with more shredded cheese.

Cover the baking dish with foil and bake for 30 minutes.

Remove the foil and bake for another 10 to 15 minutes until the cheese is melted and bubbly.

Remove from the oven and let the enchilada cool for a few minutes before serving.

Serve with sour cream, chopped fresh cilantro, and sliced avocado if desired.