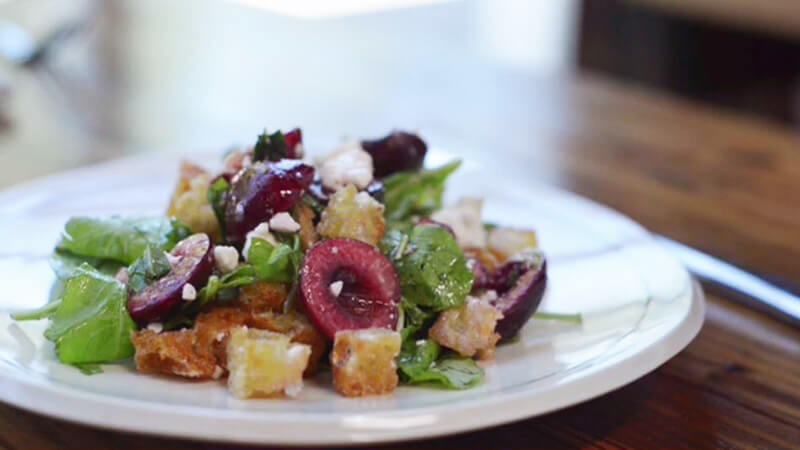 Ingredients
4 cups brioche, cut into 1-inch cubes

1 1/2 cups cherries, pitted and halved

10 large leaves basil, sliced into ribbons

10 large leaves mint, sliced into ribbons

2 ounces arugula leaves

1/2 cup crumbled feta

1 cup white balsamic vinaigrette or more as needed

Salt and Pepper to taste
Directions
Preheat oven to 325°F.

Place brioche cubes onto a sheet pan and place in the oven.

Bake until completely dry and lightly golden.

Once the croutons are cool they can be held for 1 to 2 days in an airtight container.

In a large bowl, toss croutons with 1/2 cup white balsamic vinaigrette. Allow croutons to soak up vinaigrette, 2-3 minutes.

Add remaining ingredients, season with salt and pepper and add a drizzle of vinaigrette. Toss to combine. Add dressing as needed to lightly coat all ingredients.

For the white balsamic vinaigrette, combine 1 cup balsamic vinegar, 2 cups extra virgin olive oil, 1 tablespoon of honey, zest of 1 orange and 1 large shallot (thinly sliced) in a bowl; stir together. Makes 3 cups.