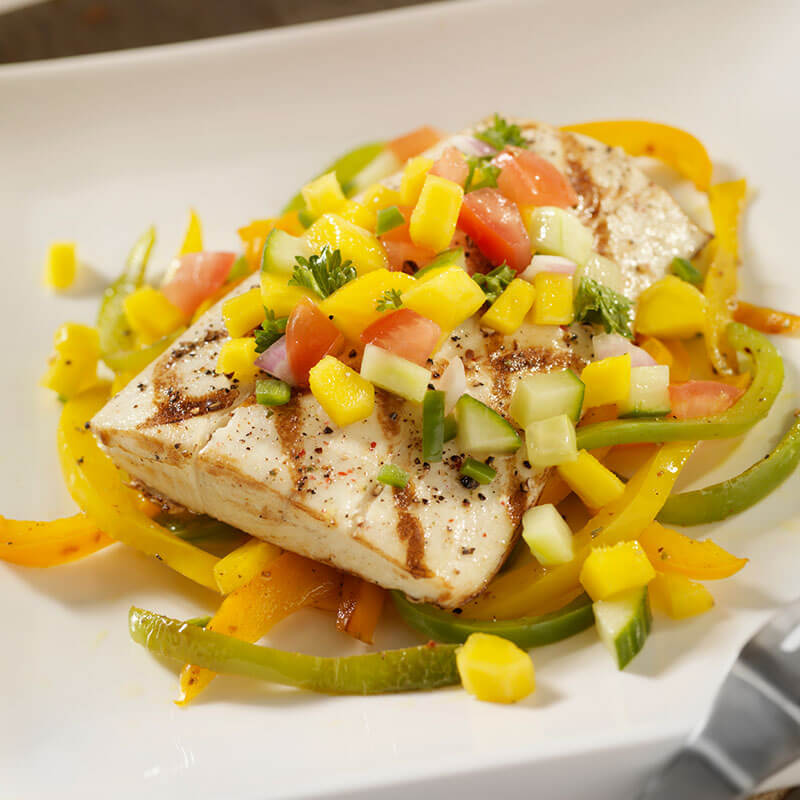 If you need a refreshing recipe to spice up your summer, we've got you covered! Halibut is a protein-rich fish that is flaky and firm when cooked properly. This lean protein pairs great with citrus-forward flavors like lemon and lime, and its mild taste is slightly sweet. If you want to keep your halibut as juicy and fresh as possible, cook it with care. This delicate fish dries out easily when overcooked, so basting it with oil or marinating it prior can protect its tender texture.

Since summer is the season of stone fruit, peach salsa is a perfect pairing that will bring out the natural sweetness of halibut. Peppers, on the other hand, bring some heat and create a tasty contrast.

Get the best of both worlds with this grilled halibut with peach and pepper salsa!





Ingredients
9 limes, juiced

4 teaspoons olive oil

1/2 teaspoon paprika

2 garlic cloves minced

1/2 habanero pepper seeded and minced

4 (6-oz) skinless halibut fillets

1 pound yellow peaches chopped and peeled

1 cup red bell pepper chopped

1/3 cup chives chopped

1/3 cup fresh arugula chopped

1/2 teaspoon salt

1/2 teaspoon pepper

Coconut Oil Cooking Spray
Directions
Start by chopping your peaches, bell pepper, green onion, chives, arugula, and habanero pepper.

Combine all of these ingredients in a bowl and then top with one clove of minced garlic, 1/4 cup of lime juice, and a sprinkle of salt for taste.

Mix well and let your salsa marinate for about 30 minutes.

Next, create your marinade by combining the remainder of your lime juice, olive oil, minced garlic, and paprika in a shallow baking dish.

Whisk your mixture thoroughly before placing each piece of fish in the dish, ensuring that the entire fillet is submerged. Cover your dish and let it marinate while you bring your grill to medium-high heat.

After 15 minutes, remove your fish from the marinade and sprinkle both sides of your fish with salt and pepper for taste.

Spray your grill with coconut oil cooking spray and then place each fillet directly on the rack.

Grill each side for about three minutes before plating and topping with your peach and pepper salsa.