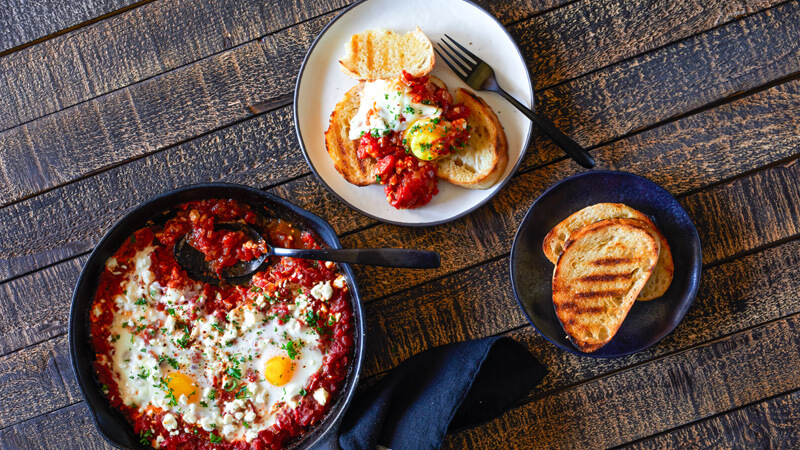 Eggs are an excellent source of protein, plus they contain healthy fats, which are important for brain and eye health. Eggs are also extremely versatile! We love a classic omelette but thought it would be fun to take a tasty trip with these internationally-inspired recipes. Let's start with this simple and delicious Middle Eastern Shakshuka.
Ingredients
1 extra virgin olive oil

1/2 white onion peeled and diced

3 garlic minced

1 red bell pepper seeded and chopped

3 tomato paste

4 medium or 2 cans (24 oz) diced tomatoes

1 mild chili powder

1 coriander seeds

1 cumin

1 paprika

of cayenne pepper

Salt and pepper, to taste

6 large eggs

1/2 fresh chopped parsley

1/4 crumbled feta
Optional Ingredients
Directions
Preheat the oven to 425°F. Heat a large ovenproof skillet over medium-low heat. Add coriander seeds, chili powder, cumin, and paprika. Toast for 1-2 minutes. Remove from heat and set aside.

In the same skillet, add 1 tablespoon olive oil and bring to medium-high heat. Add onion, garlic, and bell pepper. Cook, stirring occasionally, until the onion is soft, about 8 minutes. Add spices back and cook for 2 minutes longer.

Add tomato paste and stir. Add diced tomatoes and juices. Bring to a boil, reduce heat to medium-low, and simmer, stirring occasionally, until sauce thickens slightly, about 15 minutes. Add sugar (optional to cut the acidity). Season to taste with salt and pepper. Sprinkle feta evenly over sauce.

Crack eggs one at a time and place over sauce, spacing evenly apart. Transfer skillet to oven and bake until whites are just set but yolks are still runny, 5–8 minutes. Garnish with parsley. Serve with pita for dipping.