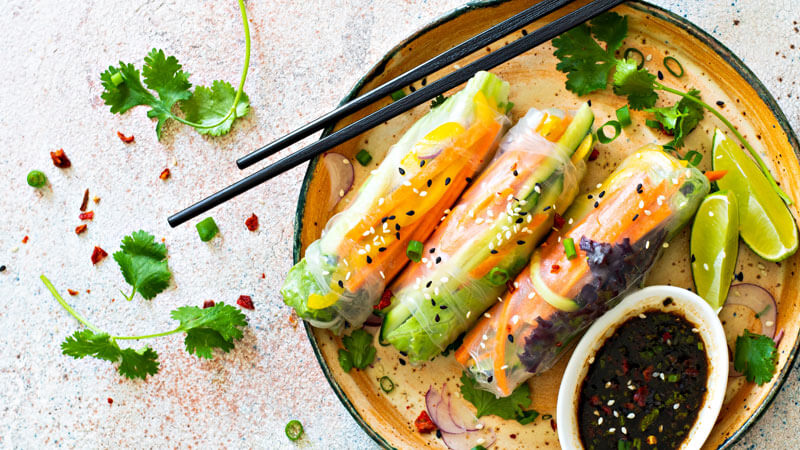 Originating in China, spring rolls have become a staple around the world. They're named for their incredible fillings of delicious fresh vegetables like cabbage, bell peppers, cucumbers, as well as herbs like mint, basil, and cilantro.
Let your cravings and creativity lead you down a path of endless possibilities! Added bonus: rice paper wraps are naturally gluten-free and can be customized to fit any diet.
Ready to roll? Get started with the fillings:
| Protein | Veggies | Herbs | Extras |
| --- | --- | --- | --- |
| Beef | Avocado | Cilantro | Edible Flowers |
| Shrimp | Lettuce | Mint | Mango |
| Chicken | Cucumber | Thai Basil | |
| Tofu | Carrot | | |
| Pork | Red Cabbage | | |
| | Bell Pepper | | |
| | Jalapeno | | |
Let's wrap it up with this delicious plant-based recipe with homemade peanut sauce!
Ingredients
8 (10 inch) rice paper wrappers

5 green leaf lettuce leaves torn into large pieces

1 fresh basil leaves

3/4 fresh mint leaves

2/3 fresh cilantro leaves chopped

1 matchstick carrots

1 purple cabbage shredded

1 red bell pepper thinly sliced

1/2 English cucumber seeded, and cut into long matchsticks

1 avocado halved, peeled, seeded, and thinly sliced

Kosher salt & black pepper to taste

1/4 creamy peanut butter

4 reduced-sodium soy sauce (or tamari)

1 lime juice freshly squeezed

1 chili sauce, or more

1 ginger freshly grated
Directions
To make the peanut sauce, whisk together peanut butter, soy sauce, lime juice, brown sugar, chili garlic sauce, and ginger in a small bowl. Whisk in 2-3 tablespoons water until desired consistency is reached. Set aside.

Working one at a time, wet rice paper for 10-15 seconds and transfer to a work surface. Place lettuce, basil, mint, and cilantro in the center of each wrapper. Top with carrots, cabbage, bell pepper, cucumber, and avocado; season with salt and pepper to taste.

Bring the bottom edge of the wrap tightly over the filling and then folding in the sides, rolling from bottom to top until the top of the sheet is reached, being careful not to tear the rice paper. Cover with damp paper towels. Repeat with remaining wrappers and filling.

Serve immediately with peanut sauce.