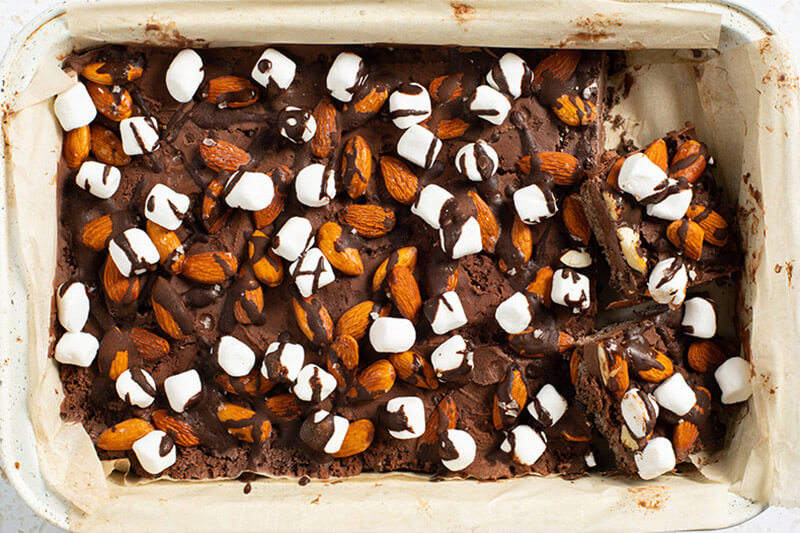 Within the blink of an eye, January is over and Valentine's Day is just around the corner. So, now is the perfect time to shine a spotlight on some of our favorite treats (that just happen to be vegan)! As we say hello to February, get ready to fall in love with plant-based pastries and decadent desserts that will make your heart flutter. From maple iced donuts to melt-in-your-mouth brownie bites, our Bakery has loads of plant-based pleasures to share with the one you love.
If you're more of a sweet and savory person, get the best of both worlds with warm and gooey caramel-infused pecan brownies. For extra indulgence, top your toasty brownies with some velvety vanilla vegan ice cream and feel your taste buds soar! Need to get your fix quick? Mug cakes are a speedy and easy way to satisfy your craving. From bold, chocolatey flavors to cinnamon confections that will make your mouth water, a little sugar is good for the soul.
Ingredients
1/2 cup Forager Project Butter

1 cup Chocolate Os Cereal

Kosher salt

1/2 cup raw almonds

1 pint Forager Project Bittersweet Chocolate Ice Cream

1/2 cup vegan mini marshmallows

1 tablespoon coconut oil

2 tablespoons Forager Project Cashewmilk

1 tablespoon maple syrup

2 tablespoons cocoa powder
Directions
Start by melting your butter in a skillet over medium heat. Set aside once melted.

As the butter heats up, line a 7-by-11 inch pan with parchment paper, leaving some extra paper hanging over the side of the pan.

In a food processor or blender, combine the cereal and a pinch of salt and blend until finely ground.

Next, add the butter and blend more.

Add the moist crumbs to the parchment-covered pan and pack the crust into an even layer across the bottom.

Place in the freezer for 30 to 45 minutes. The crust should be firm to the touch.

While the crust chills, add your almonds and a pinch of salt to the melted butter skillet and toast for three to five minutes. Toss frequently.

As the almonds cool, mix the coconut oil, Forager Project Cashewmilk, maple syrup, and cocoa powder in a separate skillet. Stir constantly over medium heat until everything is thoroughly combined. Set aside to cool.

Take your ice cream out of the freezer and allow it to sit for about five minutes or until it is easy to scoop. Spread the ice cream out all over the crust using a spatula to create an even layer of creamy goodness.

Top with the toasted almonds and marshmallows.

Finally, drizzle with your homemade chocolate sauce.

Cover with plastic wrap before setting the entire pan in the fridge for at least two hours.

Remove from the pan and place on a cutting board before slicing into squares or bars and serving immediately. Bon appétit!